An account of Paul Rudolph's life would make a good opera—a tragedy. Act One. The provincial rube, son of an itinerant Methodist minister in the South, studies architecture in Alabama. He designs his first house at 22, and joins an office in Sarasota, of all places. Goes to Harvard, and studies at Gropius's knee. The war interrupts. He returns to Sarasota, becomes a partner in the firm, and begins to design remarkable houses—as if Frank Lloyd Wright had attended the Bauhaus. He completes his Harvard degree and returns to Florida and continues to build. The houses are airy, light, delicate, romantic. Act Two. Rudolph acquires a national reputation. He designs an unbuilt embassy in Jordan, a campus building at Wellesley, and an office building in downtown Boston. All striking. He is appointed head of the architecture department at Yale, and builds the Art and Architecture Building—massive, concrete, brooding. Not Form Follows Function, but Form Follows Imagination. He leaves Yale to set up an office in New York. Act Three. It is the Age of Theories—postmodernism, populism, regionalism—but Rudolph is no theoretician; he is an artist. His romantic monumentalism appears outdated and he is left behind. The Yale building, increasingly unpopular with students, burns—perhaps arson— and in some undefinable way the architect is blamed. His commissions dry up. Rudolph continues to build in Singapore and Hong Kong, but he cannot recapture the old magic. He is forgotten. The curtain descends.
Until such an opera comes along, we have Timothy M. Rohan's forthcoming The Architecture of Paul Rudolph (Yale University Press). The book shows Rudolph to have been an intensively private man, an introspective romantic, and while Rohan covers the work (although the photographs appear awfully flat to me), his subject never quite comes alive. Rudolph's buildings, on the other hand sing out, forte fortissimo.
When I was a freshly-minted architect I had no commissions, so naturally I fantasized about having an office. My imaginary studio was housed in a truck, with dome skylights and windows, and a loft at one end. "The truck-office like having an office on a boat but instead it is on the highway rivers of America," I wrote in my sketchbook. "From city to city from one project to another." My sketch shows two figures standing outside the entrance–I suppose they were meant to be clients. I had read about Ralph Erskine's office in Sweden, a converted barge that was moored near Stockholm during the winter, and sailed to an offshore island for the summer. This is surely the most romantic office one can imagine, but architects have often made their workplaces special. Foster has a huge single room overlooking the Thames; Gehry has a similar "big room," although it doesn't overlook anything as scenic. Safdie's office in Somerville is in the shell of what was a factory, today covered with an ivy scrim. Bing Thom's studio is likewise in a renovated factory—at the foot of the Burrard Bridge in downtown Vancouver. But these are exceptions, most architects work in anonymous office buildings. It brings to mind the French saying: "Les cordonniers sont toujours les plus mal chaussés." Shoemakers always have the worst shoes.
Reed Sparling is with Scenic Hudson, an environmental organization opposing plans by LG Electronics to construct a corporate headquarters atop the Hudson River Palisades. LG's architect, HOK, proposes an 8-story slab that critics, such as Michael Kimmelman of the New York Times, maintains will despoil the scenic beauty of this National Natural Landmark. "LG is receiving the blame for constructing this building, and rightfully so," writes Sparling in an email. "But does/should an architect have moral or civic responsibility to say no if a potential design threatens highly valued (and irreplaceable) natural resources?" It's a good question. Architects are a service profession, and as such they tend to shed primary responsibility for the projects they design. "If we don't do it someone else will," is a common rationale. Or, as Philip Johnson famously put it, "Architects are pretty much high-class whores. We can turn down projects the way they can turn down some clients, but we've both got to say yes to someone if we want to stay in business."  Of course, architects say no regularly for a number of reasons: too small budget, too small project, too much other work. I remember as a student attending a lecture by Shadrach Woods. He made the claim that there were projects that architects should refuse to do on ethical grounds, and described an example of his firm (Candilis, Josic & Woods) turning down a commission for a parking garage. I think that Woods was right. Architects can't have it both ways. They are quick enough to claim the moral high ground when they design affordable housing or green roofs, so they can hardly claim immunity when they carry out projects with harmful environmental or social side effects.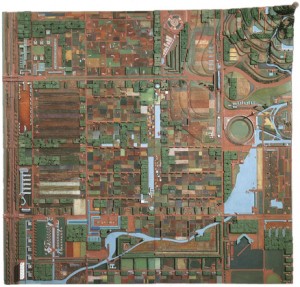 I saw the Frank Lloyd Wright exhibit at the Museum of Modern Art last night. The show is titled "Density and Dispersal" which, as far as I can make out, adds up to the fact that Wright designed Broadacre City, whose model was on display, and also designed tall buildings. That some of these buildings were to be in New York, Chicago, Dallas, and San Francisco, while others were in small towns, was not addressed. In fact, their context was ignored altogether, and characteristically, MoMA treated the buildings as art. But ignoring the intellectually slim conceit behind the exhibition, it was nice to see the drawings and models. The Broadacre model (which I had never seen), is a surprise because it is such an artful object, a sort of tapestry. It also remains a powerful tool to communicate Wright's idea, which really has little to do with sprawl or suburbanization, except to the extent that it recognizes the automobile (but it also includes a monorail link). It was interesting to see so many students in attendance (it was Free Friday Night), being introduced–I suspect for the first time in many cases–to the old magician. I hope they took away a lesson. Wright and his collaborators produced striking drawings: axonometrics, cut-away perspective views, the breathtaking taaaall section of the Mile-High skyscraper (much more poetic than The Shard, by the way). And all using T-squares and colored pencils—not a computer or laser printer in sight.
The Washington, DC Public Library System, which is planning a makeover of the Martin Luther King, Jr. Memorial Library, has released what it calls "preliminary design concepts" by the three architecture firms competing for the job: Studios  Architecture and the Freelon Group; Patkau Architects, Ayers Saint Gross, and Krueck + Sexton Architects; and Mecanoo and Martinez+Johnson. The MLK Library (1966) is a late work of Mies van der Rohe, completed after the master's death in 1969, although designed while he was still active, simultaneously working on the unbuilt Mansion House Square project in London. Usually I don't like to comment on unbuilt designs, but since the library is built, I will make an exception. The MLK Library is not a masterpiece, but it deserves better than the shabby treatment is receives from Studios and Mecanoo, who place fashionably skewed boxes above (and overlapping) the existing building in feeble attempts to bring excitement to the work of an architect who intentionally avoided excitement. "I don't want to be interesting, I want to be good," he once said. Only Patkau seems to have grasped that deference rather than contrast is the right design strategy. (Patkau adds a floor whose design is almost Miesian.) The library has announced that it "will work with community input to develop a redesign." Commendable but also scary. It requires architectural sophistication to square the circle that is the particular design challenge of this project. Subtlety is not the usual product of public meetings, where the noisiest often prevail. Poor old Mies.
Update: The library passed over the low-key Patkau proposal and chose the "exciting" Mecanoo scheme. It will be interesting to see if such an insensitive defacement of a modernist landmark will pass muster with the Commission of Fine Arts and the National Capital Planning Commission. Let's hope not.