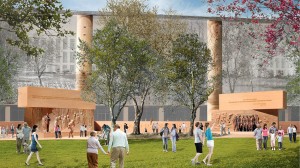 How much influence does fundraising for a president buy you? Apparently, not much. In September 2012, Frank Gehry joined Ed Ruscha, Richard Serra, Claes Oldenburg, and other prominent "Artists for Obama" in contributing to a portfolio that was presented to big donors and is estimated to have raised $4.2 million for the president's re-election campaign. This week the White House announced the appointment of the president's new representative on the commission that is overseeing the design and construction of the planned Eisenhower Memorial in Washington, D.C., which is being designed by Gehry The appointee is Bruce Cole, an art historian and former chairman of the National Endowment for the Humanities (under George W. Bush). Cole is also an outspoken critic of Gehry's  design. In The Weekly Standard, Cole called it "incoherent" and "unintelligible"; in the Washington Examiner, he went further, calling it "a cross between an amusement park and a golf course." Cole advocates terminating Gehry's contract and starting the memorial design process over, which is also the opinion of the National Civic Art Society, on whose board of advisors he serves. The NCAS has diligently stoked the public debate that has pitted conservatives–political and architectural–as well as members of the Eisenhower family, against supporters of Gehry's design such as the American Institute of Architects, and several architecture critics (including the author). President Obama has not previously expressed any strong opinions on architecture (remember the bland redo of the Oval Office?), so his endorsement of the NCAS position comes as a surprise. Not least, I imagine, to Frank Gehry.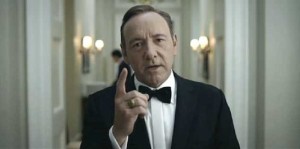 It's not often that politicians have anything penetrating to say about architecture. Even fictional politicians. Especially villainous fictional politicians. Kevin Spacey's Rep. Francis Underwood, in Netflix's House of Cards delivers this memorable aperçu: "Money is the McMansion in Sarasota that starts falling apart after ten years; power is the old stone building that stands for centuries."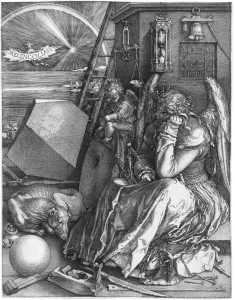 A recent article in the New York Times points out the youth and inexperience of many teachers in today's charter schools. In a related Slate piece, Sarah Mosle observes of her three years as a young Teach for America grade school teacher: "I was single, childless, and clueless about even the most basic aspects of child-rearing. My students' parents seemed like creatures from another planet, remote and distant from the job I thought I was doing. To the extent I understood family dynamics, it was solely from the perspective of the teenager I'd been just a few years before." There is a parallel here with teaching architecture. It has become increasingly common to hire young graduates, newly minted and fresh out of school, as part-time teachers in design studios. The advantages are obvious: young teachers are motivated, enthusiastic, energetic, and willing to spend long hours in the studio. And since the architect job-market is over-supplied, they are willing to work for less than full-time professors. Having been students themselves recently, young teachers are able to establish an easy rapport with their charges. I remember when I taught my first studio–I was three years out of school and I had exactly one commission under my belt, a summer cottage for my parents. The problem is that the unseasoned teacher tends to perpetuate the fictive atmosphere of the studio: clients and budgets are unimportant, practical concerns can be dispensed with, all that matters is design, the more imaginative the better. Of course, this makes the studio much more fun than dealing with the harsh and unglamorous matters that make up a large part of architectural practice. No wonder that young graduates are shocked–and often discouraged–by the exigencies of the real world. Nobody prepared them for it.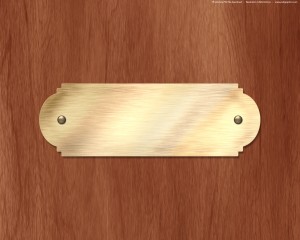 Michael Kimmelman in a New York Times article on a new Italian winery near Florence, identifies the architect as Archea. There is no Architetto Archea, it's a made-up name. While most architecture firms continue to be named John Doe Associates, the use of invented names is increasingly common. There are the mega-practices Aecom and Aedas, the mainstream Ennead (originally Polshek Partnership), cutting-edge SHoP, and the recently disbanded Office dA. Some of the made-up names involve arcane wordplay–Coop Himmelb(l)au, Mecanoo, Asymptote, Arch-Tectonics–and some seem calculated simply to grab our attention, like the Danish firm BIG (Bjarke Ingels Group), the London firm, FAT (Fashion, Architecture, Taste), or the Beijing firm, MAD (which doesn't seem to stand for anything). Pritzker Prize-winner Wang Shu's firm is called Amateur Architecture Studio; Snøhetta is named after a Norwegian mountain peak. Interestingly, firms practicing traditional or classical architecture, tend to avoid made-up names. Perhaps tricky names are a subtle form of architectural branding: I'm not stodgy, I'm hip, in fact, I'm not a firm at all, I'm a creative force.
There is also a practical reason to adopt a neutral name: not privileging the founding partners by attaching their names to the practice. Most firms change over time (Archea, founded in 1988, now has four principals and eight partners), partners come and go, and in any case, an impersonal name better reflects the collaborative nature of large architectural practices. Or at least, that is the theory. In some cases, the need to personalize reasserts itself. Morphosis was founded in 1972 by a group of architects, although today projects by the firm are usually credited to "Thom Mayne of Morphosis," a similar status is accorded "Rem Koolhaas of OMA," and "Joshua Prince-Ramus of REX." Several years ago the landscape architecture firm founded as Field Operations, began referring to itself as "James Corner Field Operations." What's in a name? Apparently, quite a lot.
Architectural curricula have changed in the last several decades. First, they are shorter. Architecture, since it concerns creativity, takes time. The original course of study at the École des Beaux-Arts recognized this; you simply kept at it until you were considered ready to leave. Modern architecture programs used to be five or six years. Since they devoted  time to general subjects, this usually meant about four years of intensive architecture study. In the 1970s, most universities followed Harvard's lead and made a three-year Master the professional degree. The problem was that a BA degree didn't really prepare students for a career in architecture, so while graduate students might be more mature, they still had to be taught the basics, just as before.  Compressing four years of material into three was made more challenging by the emergence of another trend: elective courses. When I was an architecture student my six-year program was composed entirely of required courses; today 20-25 percent of most programs is elective courses. These courses cover a large range of material, some essential, some peripheral, some downright arcane. Electives are popular with students, of course, and also with teachers, since they allow the teaching of highly focused subjects tailored to the instructor's own interest or research agenda. Deans like electives because they can be taught by inexpensive part-timers.
But curriculum design is a zero-sum game: teach this, and you don't have time to teach that. So, with less time and fewer required courses, what has been left out? Architectural history has taken the largest hit, compressed into one quick survey course, transformed into "history-theory," or just cut out altogether. One of my classes was life drawing, two hours a week with charcoal, easel, and a model; I can't imagine that many schools require this today. Another was an introduction to sociology–how people behave–important for an architect. Years ago, I taught a required course in specifications; today, that subject is generally folded into a catch-all class in "professional practice."
Architecture is not the only profession facing the challenge of streamlining. In the 1970s, many American medical schools, in an attempt to produce more graduates to meet practitioner shortages, switched to three-year curricula. Subsequently, many of these schools reinstated a fourth year, but consisting chiefly of electives. It was not an unqualified success. One study of medical education concluded that "A much greater emphasis on educational rigor in all fourth-year courses (especially electives) is necessary to address the reputation for academic laxity and grade inflation."
What is to be done? Extending graduate architecture programs by a year would be a start. It is not as if there is a shortage of architects–quite the contrary–so if a longer program reduced the number of graduates, that would not be a bad thing. The number of elective courses should be drastically curtailed. Important subjects should be mandatory; peripheral subjects such as furniture design (you can't learn to design furniture in twelve weeks), should be cut. With a bit of ingenuity, it might even be possible to make room for life drawing.