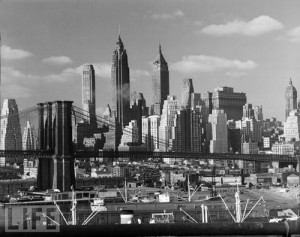 There was a Q and A after my Landmark West! lecture on New York's Upper West Side. One person wanted to know what I thought about the exceptionally tall residential towers that are radically changing Midtown's skyline. One57, Christian de Portzamparc's skinny 75-story condominium, under construction on West 57th Street is an example. I've written about this new trend. The current phenomenon is a function of globalization and real estate, and has little to do with  architecture. But, then, that was always the case with Manhattan. As late as the 1940s, the high-rise real estate development projects of numerous entrepreneurs produced a memorable skyline: animated, varied, and quite beautiful. But that skyline was a happy accident; there was no master plan, no rules, no grand design. This time around, I'm less sure of the outcome.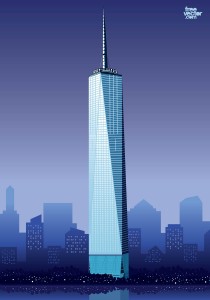 There are many problems with 1, World Center, its brutal and uninspiring silhouette, the rather bland curtain wall (that of 7, World Trade Center, by the same architects (SOM), is much better), its weak-kneed mast. But what scuttles it as a skyscraper is the chamfered geometry of its form. It leads the eye up and down at the same time. Towers should soar; in this one, the upward thrust of one facade is cancelled out by the downward thrust of the next. As a result it looks like an object, rather than a spire.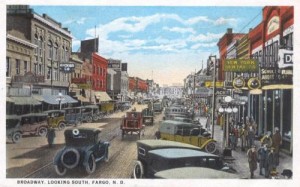 As this postcard shows, downtown Fargo, North Dakota in 1924 was a busy place. Broadway is not as crowded today, but it's much more lively than when I was here last, more than 20 years ago. The North Dakota energy boom is taking place a two-and-a-half hour drive away, but in some ineffable way the prosperity has trickled down. I am told that real estate values are way up, and apartment builders can't keep up with demand. The architecture school of North Dakota State University is celebrating its centennial and I am giving a keynote talk tonight at the Fargo Theater. In 1940, Duke Ellington's orchestra played a gig in Fargo, and the resultant  legendary recording is considered one of Duke's best. I hope I can do even half as well.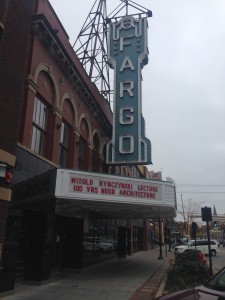 The on-going public debate about starchitects, in part prompted by my piece in the New York Times, was not elevated by James Russell's judgement that the debate was "stupid." Another common reaction was to affirm that the term itself is meaningless—if not actually a put-down. There have always been architectural stars, the argument goes, Palladio, or Bernini, or whoever. It is true that there have always been well-known architects, even celebrity architects, but the starchitect phenomenon is different. The term is an accurate description of a certain (small) category of practitioners today. Moreover, today's stardom is not analogous to architectural fame in the past. In his interesting new book, The Globalisation of Modern Architecture, the British architect Robert Adam quotes David Chipperfield: "It's easier to know about architects than architecture. A banker won't know about architecture but will know that 'Zaha Hadid' or 'Rem Koolhaas' is a brand." Moreover, the brand has quantifiable monetary value since it can be measured in terms of increased fund-raising, greater museum attendance, higher office rents or condo selling prices, or patron satisfaction in the case of campus buildings. In that sense, the starchitect is equivalent to the Hollywood star, an actor whose name on a film proposal makes it bankable. The analogy with Hollywood is useful: not all the best actors are stars, and the stars are not necessarily the best actors. It is not a measure of quality but of name recognition among the moviegoing pubic. So, too, in architecture; starchitects are not necessarily the "best" architects. "To be a starchitect, whether voluntarily or otherwise," Adam writes, "is to be a global brand, and star architects are chosen to give their brand value to projects."
Who was the first brand-name architect? It would surely have been Jørn Utzon, had he not resigned before the Sydney Opera House opened in 1973. My own choice would be Philip Johnson, who graced the cover of TIME magazine (January 8, 1979) with a model of the AT&T building. Most businessmen didn't know what Johnson stood for (if he stood for anything), but they recognized the name—enough to add value to Gerald Hines's Johnson-designed real estate development projects. Johnson was a national star. It would not be until 1997 and the opening of the Guggenheim Museum Bilbao that a starchitect became a global brand.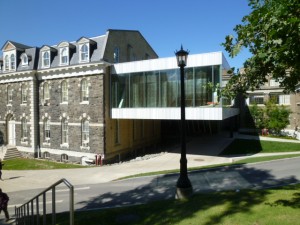 Milstein Hall, an addition to the College of Architecture, Art and Planning at Cornell designed by Rem Koolhaas, received an AIA Honor Award in 2013. The jury commented that "The dramatic insertion of the new program in relationship to the existing buildings and site creates exciting new conditions while posing a series of creative opportunities for future uses and artistic additions by the college." I was in the building earlier this week to give a lecture, and I must admit that I was puzzled by the award. The boxy wing makes an awkward appendage to the old building. The Crown Hall-like studio seemed adequate if a little impersonal, although it raises the question—as Mies's building does—of why a studio requires a column-free space, with the attendant structural complexity and cost. At $1,100 psf, Milstein is an expensive building, though the money does not appear to have been spent on details and materials, which are spartan. It was spent on a dramatic (the jury was right there) 48-foot cantilever that projects the building over the street—but to what end? Inside, there is a crit area in a cavelike space that, like most caves, has spectacular echoes. As for the auditorium, it was not a pleasant room in which to lecture. The seats are steeply raked, which is normally effective, but are separated from the podium by a large flat area that acts as a sort of no-man's land, since no student will sit there. Apparently the flat floor conceals a conference room (for the university board) that emerges from beneath at the push of a button. It's hard to imagine that this was really the most convenient solution. Any more than designing an auditorium that is surrounded by glass walls. But then so much about this idiosyncratic building defies logic. "Typically, after Koolhaas finishes his design, a sort of clean-up crew comes in and sorts out the problems," I was told. Maybe they should have gotten the award.