The first international style in architecture was not the white-box style of Le Corbusier and Walter Gropius but Art Nouveau, modernism's predecessor and in many ways its aesthetic and philosophical opposite. Art Nouveau flourished from 1890 to 1910, and along the way it produced a surprisingly large number of masters: Gaudí, Hoffmann, Horta, Mackintosh, Plečnik, Sullivan, Van de Velde, and Wagner. And that's just the leading architects; there were also painters, designers and craftsmen: Beardsley, Klimt, Lalique, Moser, Tiffany. Thirty years is a good long run as architectural fashions go, indeed, the International Style lasted barely that long, nevertheless, modernist apologists have always pooh-poohed Art Nouveau, promulgating the view that "the demise of Art Nouveau was attributable to some fundamental internal flaw," as Peter Kellow writes in a recent issue of American Arts Quarterly. The modernist apologists were understandably defensive; nobody would ever put a Gropius architectural fragment in a museum, as they would the work of Sullivan and Horta. Moreover, the anti-rationalism of Art Nouveau flew in the face of "scientific" modernism. Yet a quick glance at subsequent history reveals that Art Nouveau was the harbinger of a significant strain of modern architecture, visible in the work of Scharoun, Mendelsohn, Poelzig, the late Wright, and surviving today, though without the exquisite details, in the work of Gehry and Hadid. Though there was a brief revival of Art Nouveau, at least in graphic design, during the psychedelic Sixties, an architectural revival seems unlikely. But you never know. As Kellow writes. "Art Nouveau buildings are surely some of the most beautiful ever designed. Not necessarily the best, but the most beautiful."
We remember the past in different ways. World War II produced memoirs (Frank, Wiesel, Tregaskis), histories (Churchill, Shirer, Keegan), novels (Mailer, Jones, Heller), and innumerable films and television documentaries. So did the Vietnam War (Dispatches, A Rumor of War, A Bright Shining Lie, The Best and the Brightest, as well as The Deerhunter, Apocalypse Now, and Platoon). Of course, there are also built memorials, which form the focus of wreath-layings and commemorative ceremonies, but our memory resides in many places. So I find the present custom of making so-called visitor centers an integral part of memorials odd, not to say redundant. A museum was to be a part of the World War II Memorial in Washington, D.C., but was wisely removed. Less wisely, Congress has approved an underground "education center" next to the Vietnam Veterans Memorial, although that project happily appears stalled. The other night, "Sixty Minutes" showed the 9/11 museum under construction at the World Trade Center site. You would have thought that the vast outdoor memorial would have been sufficient commemoration, but we are also to have a vast underground space devoted to the events of that unhappy day. I once visited the Resistance museum in Oslo, the subject of which was the Norwegian resistance to the Nazi occupation during World War II. It is estimated that 40,000 men and women took an active part in the resistance movement. The museum displays included Sten guns, short-wave radios, and miniature tableaux of wartime scenes, with tiny armored cars being sabotaged, and agents parachuting among cotton-batten clouds. It was informative, charming, and low-key in a laid back Scandinavian sort of way. If we must have a 9/11 museum, I wish it were that modest.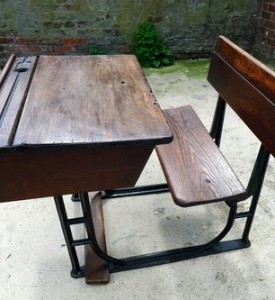 An article in today's New York Times on classroom chairs reminded me of my schooldays. As far as I remember, we had wooden desks with a built in bench seats, attached to the floor. The desk-top, usually carved with a chronicle of interesting graffiti, was sometimes hinged with a storage space beneath that we never used. We didn't used the hole in the top, which was made to hold an ink-well, either. The desks were sturdy and not particularly comfortable—they weren't intended to be. The Times piece is full of fluff about how different classroom chairs might improve learning, although the author allows that New York City's Model 114 stacking chair has its defenders. "But is some quarters, the chair and others like it are seen as stubborn holdovers from before the age of ergonomics, when American schools' main job was to turn out upright citizens, and rote learning was the student's lot." Since most people agree that American education has declined precipitously since the Age of Rote Learning, I wonder if a "stubborn holdover" is really so bad.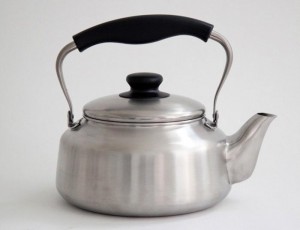 Every morning I boil water for making tea or coffee (I alternate). What starts my day is the most perfect kettle I have ever used. It is the work of Sori Yanagi (1915-2011), a Japanese product designer probably best remembered for his molded plywood Butterfly Stool. Yanagi studied architecture, but the kettle is decidedly not architectural—no purist Platonic forms, no postmodern irony, no gimmicky whistles. It is just a kettle: handle, spout, lid. Yet this perfectly balanced and shaped everyday object provides a feeling of well-being every time I use it—or even glance at it. In some ways, the deceptively simple kettle, half a million of which are sold annually in Japan, is a distillation of Yanagi's design philosophy: he was 79 when he designed it.
Last week I had the opportunity to sail on San Francisco Bay on the Potomac. The USS Potomac, built as the Coast Guard cutter Electra in 1934, two years later was commissioned as Franklin Delano Roosevelt's presidential yacht. Roosevelt used it to sail up and down the Potomac until his death in 1945, when the ship was decommissioned. Subsequently, the Potomac had a checkered career. She was used as a ferry boat in the Caribbean, was briefly owned by Elvis Presley, was later used for drug smuggling and seized by the Customs Service, and finally ingloriously sank while at anchor at Treasure Island in San Francisco Bay. She is now owned by the Port of Oakland. The fully restored interior is much as FDR and his many guests, who included George VI and the future Queen Elizabeth, would have known it. The wheelchair-bound President had a rope-powered elevator installed that allowed him to pull himself up to the upper deck, and emerge through a door in the fake second funnel. What is touching is the unpretentiousness of it all; wicker chairs, a modest bunk in FDR's cabin, and a broad settee in the stern where he could sprawl at presidential ease.