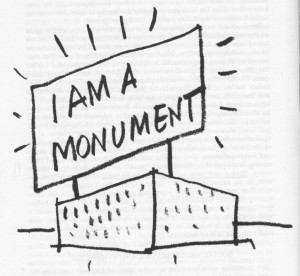 The book launch of Civic Art, a history of the first hundred years of the U.S. Commission of Fine Arts, was the occasion for the Charles Atherton Memorial Lecture at the National Building Museum, delivered this year by Thomas Luebke, the current secretary of the commission. In the course of his talk, Luebke made an interesting observation: commemorative memorials in Washington, D.C. have become increasingly influenced by other media, specifically photography. When the Lincoln Memorial was completed in 1922, Daniel Chester French's statue of the president was the sculptor's interpretation of his subject (French did have access to a life mask of Lincoln, as well as plaster casts of his hands), and in due course the seated figure became a national icon. When the Marine Corps Memorial was unveiled in 1954, it consisted of a giant statue based on the AP correspondent Joe Rosenthal's photograph of Marines raising the flag at Iwo Jima. Instead of creating an original work, the "sculptor," one Felix de Weldon, simply appropriated an already famous image. The photo, not the memorial, was the real icon. More recent commemorative works, such as the Martin Luther King Jr. Memorial, have been similarly based on photographs. Likewise the current version of the proposed memorial to Dwight D. Eisenhower. Why does this matter? Memorials that simply mimic another medium lose much of their power; they are more like billboards than sacred markers. Robert Venturi once proposed  that a civic building should be designed as a simple box with a blinking sign on top saying I AM A MONUMENT. One is never quite sure how seriously to take Venturi's offbeat pronouncements, but the current crop of photographic-inspired memorials suggests just how thin the joke really is.
Anyone watching "Ten Buildings that Changed America" last night on PBS was challenged to make their own additions or deletions to the list. I must admit that I was surprised to find Jefferson's Virginia Capitol rather than his University of Virginia, leading the Top Ten, for it was the university that set the model for the bucolic college campus, which is one of America's great architectural achievements. But the show convinced me that the Capitol, which established Classicism as the de facto government style, deserves to be included. No one would argue with Trinity Church, the Wainwright, or the Robie House. Albert Kahn's factories for Henry Ford are an outlier, but every Greatest Hits needs a surprise. Seeing the factories is a reminder of how much more advanced in functionalist design America was compared to Europe (the Bauhauslers greatly admired Kahn's work), although the Prussian-born Kahn wisely restricted his no-frills style to factories. I'm not sure I would have included Saarinen's Dulles airport, which jumbo jets rendered obsolete within a decade, and whose goofy mobile lounges had few takers. Dulles never had the national influence of, say, Boston's South Station (Shepley, Ruttan & Coolidge, 1898). And does the Seagram Building really qualify as a building than changed America? Beloved by architects—though not so much by the public—the Seagram was too expensive to be widely influential. And by the time it was built—1958—the gridded steel-and-glass curtain wall was already in widespread use, thanks to Mies's pioneering 860 Lake Shore Drive apartments. But then the producers could not have included a lively interview with Phyllis Lambert, which would have been a loss.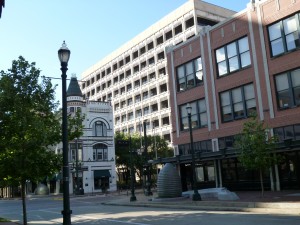 The vast majority of certified green office buildings today seem to be all-glass. That's counterintuitive, since glass lets in the sun's heat. Surely it's time to revisit one of Le Corbusier's modernist trademarks, the brise-soleil, or sunshade. Corb's sunshades tended to be made out of concrete, which is actually the wrong material, since it absorbs the sun's heat, stores it, then dissipates it long after the sun goes down. But the basic idea is sound: prevent the rays of the sun from entering and heating up the interior of the building. I was reminded of Corb during a recent visit to Houston. There are several downtown office buildings of the sixties and seventies here whose design actually acknowledges the god-awful summers. Pictured here is 1001 Preston Street, designed in 1978 by Kenneth Bentsen, a local practitioner. The ten-story precast concrete frame has a deep facade, à la SOM, and is fitted with metal louvers that act as sun shades. Of course, the newest crop of towers is all-glass. No doubt they have a LEED rating.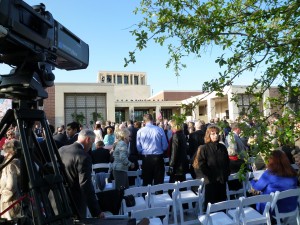 Since I was on the design committee that advised Laura Bush on the George W. Bush presidential library, I am not in a position to offer an objective review of the architecture of the building. You will have to make up your own mind. I suspect many people will do this without actually visiting the building, but when you read the reviews keep several things in mind. Presidential libraries should have an intimate quality since they are, in one measure, personal shrines. The most successful example in this regard is the FDR Library in Hyde Park, NY, a small Dutch colonial building designed by the president himself. But today's presidential libraries have grown very large (226,000 square feet in Dallas), and the challenge for the architect is how to design a building so that it doesn't overwhelm the visitor. The LBJ Library in Austin fails in this; LBJ may have been a larger-than-life figure, but Bunshaft's ponderous design is merely monumental. Scale is all. A presidential "library" actually consists of a museum, a scholarly study center, archives (largely digital, but in the Bush archive, still including 70 million pieces of paper), and here also a think tank/institute, akin to the Hoover Institution at Stanford. So, this unusual building type is also a planning challenge, since these parts function independently: some are public, some are private, some belong to the federal government, some don't. Since the Bush Center incorporates a public museum and institutional components, as well as the presidential quarters (in this case not lived in, but used for entertaining eminent visitors), the architecture must demonstrate different levels of formality and intimacy. Finally, presidential libraries are there for the long haul. No building is timeless, but the design of a presidential library should not become immediately dated, which favors a conservative approach. While some reviewers have sought to find parallels between Robert A. M. Stern's design and Mussolini's Fascist architecture, surely the real model is pre-World War II US government architecture, like Paul Cret's Federal Reserve Board Building, which was the delicate moment when Classicists adopted a modernist sensibility. New Classicism, Cret called it.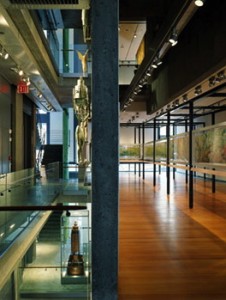 I find it hard to believe the stated rationale for the demolition of what had been the home of the American  Folk Art Museum on 53rd Street—that its blank façade does not accord with MoMA's glassy image. I'm not one to defend the inhospitable face that Williams & Tsien's design turns to the street, but MoMA itself is hardly the most considerate neighbor, as I wrote in Slate shortly after Yoshio Taniguchi's makeover opened. The truth is that the building whose announced demolition has caused such a furor, at least among architects and architecture critics, is not a very good museum. The idiosyncratic interior—mostly circulation space—with its exciting but distracting views, its multitude of materials, and its busy details, overwhelms whatever is being displayed. This may have been acceptable—just—when the museum was a kind of cabinet of curiosities; it's hard to imagine it as a place for art.