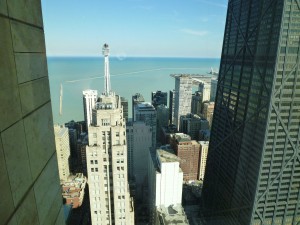 I was in Chicago recently for the Driehaus Prize ceremony, and I was staying in a hotel across North Michigan Avenue from the John Hancock Center, in fact my fortieth-floor room looked directly at the building. Built in 1969, and designed by Bruce Graham and Fazlur Khan of Skidmore Owings & Merrill, this has always been one of my favorite Chicago skyscrapers. The characteristic tapered silhouette is much more successful than the Sears Tower (another Graham-Khan collaboration), and the crisscrossing bracing remains an evocative expression of its structure. I could see Mies's 860 Lake Shore Drive from my hotel room, and the Hancock tower seemed like a perfect hommage to the master, yet making its own way. I had always seen Hancock from a distance, or from the street, but never from this vantage point. I must confess to being disappointed. The matte black curtain wall appeared crude. The heavy diagonal braces were crude too, not just in execution but in the way they relentlessly enclosed the Miesian curtain wall in a clumsy corset. You could argue that the Hancock Center was not meant to be seen close-up. Yet immediately next to it is Holabird & Root's Palmolive Building (1930), topped by the Lindbergh Beacon. This early example of a moderne style presents a lively and articulated mass that rewards close inspection. There is something appealing—dare I say humanist?—about Holabird & Root's delicately articulated skyscraper, in contrast to its burly and somewhat intimidating neighbor.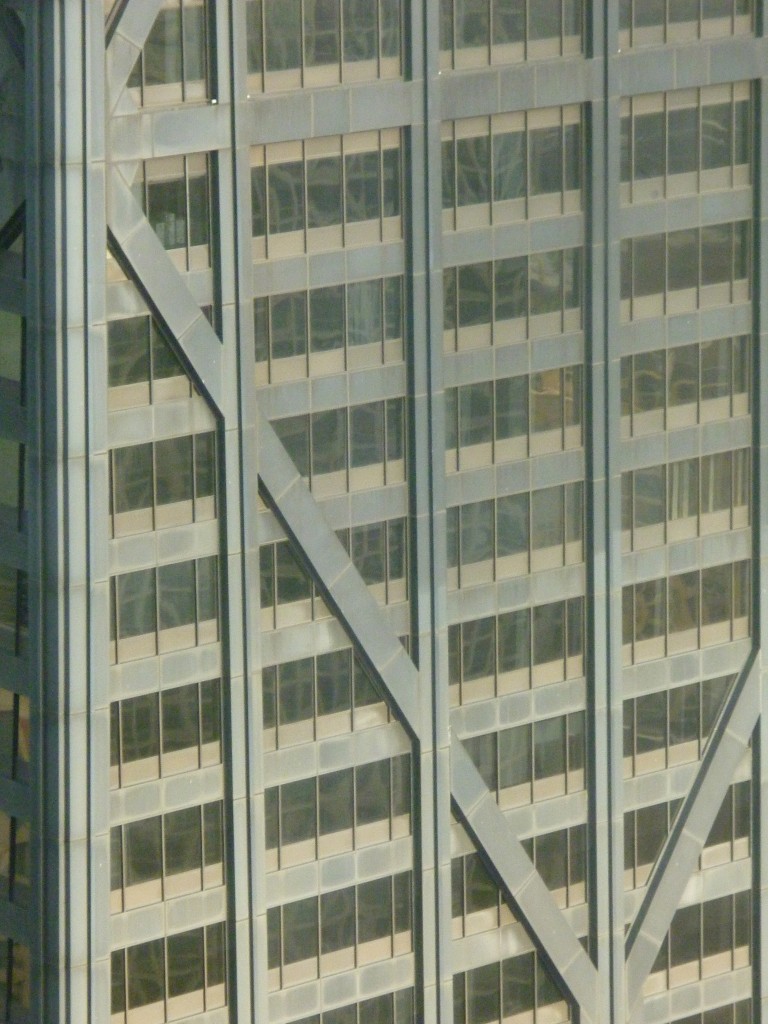 During the last decade or so, Washington, D.C. has undergone a little-noticed but remarkable transformation: a city of stone is becoming a city of glass. Ever since the McMillan Plan, and even before, important civic buildings in the capital were built out of marble, limestone, or concrete. There were a few early brick outliers such as the Smithsonian Castle, and the Pensions building, but generally architects followed this custom. This was not a question of style, since modernist as well as postmodernist architects—Breuer, Bunshaft, Pei, Stone, Obata, Erickson, Graves, Freed—all followed the age-old practice, which had been virtually codified by Burnham, McKim and company in the early 1900s. This materials choice, not confined to government buildings, gave the city a pleasant uniformity. Today, the capital is quickly becoming a city not of masonry, but of glass. With the notable exception of Moshe Safdie's Institute of Peace and Bureau of Alcohol, Tobacco, Firearms and Explosives headquarters (both precast concrete), federal and commercial buildings have adopted glass as the new lingua franca. And precast concrete buildings of the 1960s are being retrofitted with glass curtain walls. This architectural fashion is not confined to DC, but it is more striking there given the city's predominant neoclassic fabric. The new city has a somewhat schizophrenic appearance, since the transparency of the glass is contradicted by rings of security devices: screening pavilions, guardhouses, Delta barriers, and rings and rings of bollards.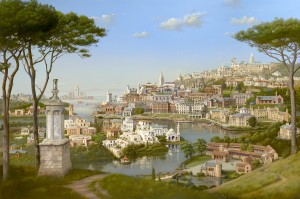 Carl Laubin has painted a beautiful capriccio to commemorate the tenth anniversary of the Richard H. Driehaus Prize. He portrays an imaginary town made up of the works of the first ten Driehaus laureates, among whom are Léon Krier, Quinlan Terry, and Demetri Porphyrios, as well as Allan Greenberg, Jaquelin T. Robertson, and Michael Graves. In the foreground is the Choragic Monument of Lysicrates, a bronze miniature of which is presented to each laureate. It's fun to try and identify the individual works in this large (5½ by over 8 feet long) painting. But what is more striking is that Laubin has created a convincing urban landscape solely out of landmark buildings. That, of course, is the advantage of classicism: however it is interpreted, it is a tradition that manages to produce a more or less coherent whole. Even Abdel-Wahed El Wakil's mosque, standing next to a Seaside beach house by Robert A. M. Stern, doesn't look too out of place. Can one imagine a similar townscape of Pritzker Prize winners? Well, maybe with the work of some of the early laureates—Pei, Bunshaft, Tange, Siza—but modern buildings need a background of nineteenth and early twentieth century urbanism to shine. A town made up of only signature buildings by our current generation of stars would resemble a carnival or a theme park—Pritzkerland.
There is a discussion of the Driehaus Prize and a larger image of Laubin's painting here.
I live in a neighborhood with many old houses. There are plenty of late nineteenth-century examples, but the ones I like best are from 1900-1930. The acknowledged masterpiece of this period is George Howe's High Hollow, but there are plenty of runners-up, the work of accomplished Philadelphia residential architects such as Wilson Eyre, Frank Miles Day, Robert Rodes McGoodwin, H. Louis Duhring, and Edmund Gilchrist. These old houses seem to improve with age—the slate roofs get a bit mossy, the stonework acquires a patina, and the heavy hardware gets burnished with use. Their architects worked in more or less revival styles, and because they acknowledged the past, the passage of time has been kind to their creations. Indeed, these houses probably look better today than when they were spanking new. In contrast, the handful of mid-twentieth-century works by Louis Kahn, Robert Venturi, and Romaldo Guirgola, seem embalmed, caught in the moment of their construction. It is not just a question of materials, although smooth stucco tends to weather poorly, and tar-and-gravel roofs don't age gracefully. It has to do with their disconnection from history. Modern houses look their best on Day One, when they are new, fresh, unsullied by use or time. It is all downhill after that.
Much has been written about the recently completed FDR Memorial in New York, designed by Louis Kahn. It was the great architect's last project, and he had just completed it when he died in 1974, almost four decades ago. Kahn's design reminds us how much has changed in forty years. First, the commission was not the result of a competition, no hoopla, no wowing the jury, no rush. Instead Kahn was given the time to ponder and reflect—which is how he worked, anyway. Second, although the site covers about three and a half acres on the tip of Roosevelt Island, the memorial itself is an open-air room, only sixty feet square; Kahn felt no need to spread over the entire site, treating the rest instead as a green forecourt. The room is close in spirit to the commemorative block of marble that FDR's friends erected in front of the National Archives in Washington, DC. Third, the memorial is not only small in size, it is focused. A single quotation (the famous Four Freedoms speech) and the president's name, are all the writing there is; no didactic explanations, no rhetoric, no wheel chair, no Fala. Fourth, Kahn recognized that a memorial to a person must include that person's presence, here in the form of a bust by Jo Davidson. All important lessons for future memorial builders.