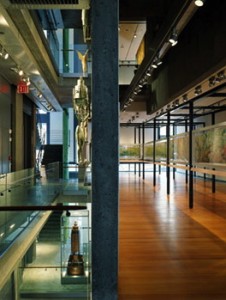 I find it hard to believe the stated rationale for the demolition of what had been the home of the American  Folk Art Museum on 53rd Street—that its blank façade does not accord with MoMA's glassy image. I'm not one to defend the inhospitable face that Williams & Tsien's design turns to the street, but MoMA itself is hardly the most considerate neighbor, as I wrote in Slate shortly after Yoshio Taniguchi's makeover opened. The truth is that the building whose announced demolition has caused such a furor, at least among architects and architecture critics, is not a very good museum. The idiosyncratic interior—mostly circulation space—with its exciting but distracting views, its multitude of materials, and its busy details, overwhelms whatever is being displayed. This may have been acceptable—just—when the museum was a kind of cabinet of curiosities; it's hard to imagine it as a place for art.
During his acceptance speech at the Driehaus Prize ceremony in Chicago a couple of weeks ago, laureate Thomas Beeby made an interesting point: architecture is turning into an uncollegial profession. Of course, architecture has always been highly competitive. Building is a zero-sum game, that is, only a limited number of commissions are available at any one time, so if one architect gets to build, another doesn't. Established, experienced practitioners have always had the inside track and access to the best jobs and the best clients; novices get whatever's left over. But Beeby was making a slightly different point. Despite the competitive nature of the profession, there have been always been periods when architects have banded together. One thinks of the Beaux-Arts-trained group who came together to create the World's Columbian Exposition in Chicago, and the McMillan Plan in Washington, D.C. Or the early modernists who formed Der Ring in Berlin in the 1920s and later CIAM, and the young firebrands who founded Team Ten in the 1950s. Beeby himself was part of a group called the Chicago Seven in the 1970s, a Midwestern equivalent to the Greys and the Whites of the East Coast. That sort of collegiality is rare today, he observed. In a period of signature styles, architectural celebrity, intense self-promotion, and design-as-biography, it is every man and woman for themselves.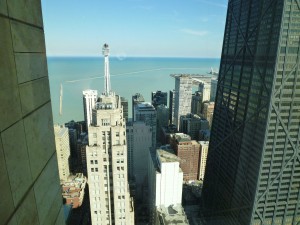 I was in Chicago recently for the Driehaus Prize ceremony, and I was staying in a hotel across North Michigan Avenue from the John Hancock Center, in fact my fortieth-floor room looked directly at the building. Built in 1969, and designed by Bruce Graham and Fazlur Khan of Skidmore Owings & Merrill, this has always been one of my favorite Chicago skyscrapers. The characteristic tapered silhouette is much more successful than the Sears Tower (another Graham-Khan collaboration), and the crisscrossing bracing remains an evocative expression of its structure. I could see Mies's 860 Lake Shore Drive from my hotel room, and the Hancock tower seemed like a perfect hommage to the master, yet making its own way. I had always seen Hancock from a distance, or from the street, but never from this vantage point. I must confess to being disappointed. The matte black curtain wall appeared crude. The heavy diagonal braces were crude too, not just in execution but in the way they relentlessly enclosed the Miesian curtain wall in a clumsy corset. You could argue that the Hancock Center was not meant to be seen close-up. Yet immediately next to it is Holabird & Root's Palmolive Building (1930), topped by the Lindbergh Beacon. This early example of a moderne style presents a lively and articulated mass that rewards close inspection. There is something appealing—dare I say humanist?—about Holabird & Root's delicately articulated skyscraper, in contrast to its burly and somewhat intimidating neighbor.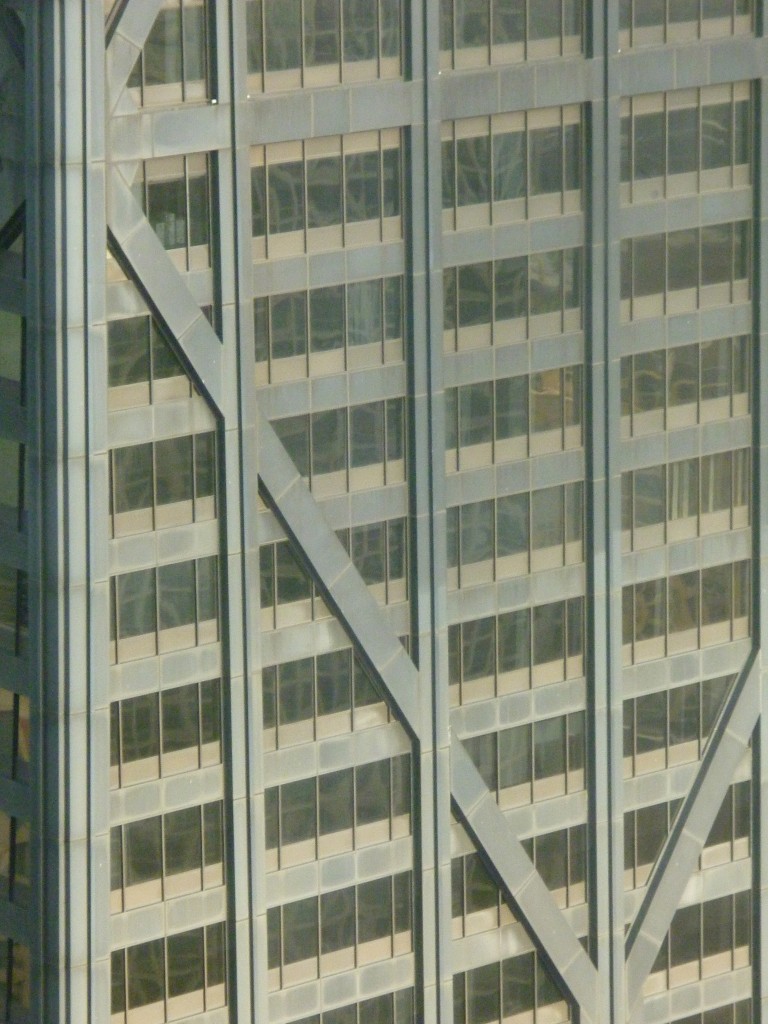 During the last decade or so, Washington, D.C. has undergone a little-noticed but remarkable transformation: a city of stone is becoming a city of glass. Ever since the McMillan Plan, and even before, important civic buildings in the capital were built out of marble, limestone, or concrete. There were a few early brick outliers such as the Smithsonian Castle, and the Pensions building, but generally architects followed this custom. This was not a question of style, since modernist as well as postmodernist architects—Breuer, Bunshaft, Pei, Stone, Obata, Erickson, Graves, Freed—all followed the age-old practice, which had been virtually codified by Burnham, McKim and company in the early 1900s. This materials choice, not confined to government buildings, gave the city a pleasant uniformity. Today, the capital is quickly becoming a city not of masonry, but of glass. With the notable exception of Moshe Safdie's Institute of Peace and Bureau of Alcohol, Tobacco, Firearms and Explosives headquarters (both precast concrete), federal and commercial buildings have adopted glass as the new lingua franca. And precast concrete buildings of the 1960s are being retrofitted with glass curtain walls. This architectural fashion is not confined to DC, but it is more striking there given the city's predominant neoclassic fabric. The new city has a somewhat schizophrenic appearance, since the transparency of the glass is contradicted by rings of security devices: screening pavilions, guardhouses, Delta barriers, and rings and rings of bollards.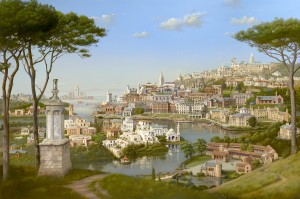 Carl Laubin has painted a beautiful capriccio to commemorate the tenth anniversary of the Richard H. Driehaus Prize. He portrays an imaginary town made up of the works of the first ten Driehaus laureates, among whom are Léon Krier, Quinlan Terry, and Demetri Porphyrios, as well as Allan Greenberg, Jaquelin T. Robertson, and Michael Graves. In the foreground is the Choragic Monument of Lysicrates, a bronze miniature of which is presented to each laureate. It's fun to try and identify the individual works in this large (5½ by over 8 feet long) painting. But what is more striking is that Laubin has created a convincing urban landscape solely out of landmark buildings. That, of course, is the advantage of classicism: however it is interpreted, it is a tradition that manages to produce a more or less coherent whole. Even Abdel-Wahed El Wakil's mosque, standing next to a Seaside beach house by Robert A. M. Stern, doesn't look too out of place. Can one imagine a similar townscape of Pritzker Prize winners? Well, maybe with the work of some of the early laureates—Pei, Bunshaft, Tange, Siza—but modern buildings need a background of nineteenth and early twentieth century urbanism to shine. A town made up of only signature buildings by our current generation of stars would resemble a carnival or a theme park—Pritzkerland.
There is a discussion of the Driehaus Prize and a larger image of Laubin's painting here.