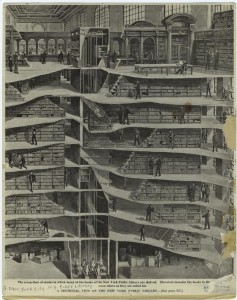 I am lending my voice to those who are calling for a reconsideration of the plan to demolish the stacks beneath the Reading Room of the New York Public Library. While it is true that these stacks are not generally open to the public, they are an integral part of this extraordinary building, a Beaux-Arts design but truly a machine for reading in. As a writer and researcher, libraries–especially public libraries–remain for me special places. Library stacks, even more than reading rooms, are their symbolic heart. I think that one of the things that drew me to writing was the experience of wandering the stacks of McGill's old Redpath Library, an Erector set of steel shelves, glass-block floors, and low ceilings, clanging steel spiral stairs, murky light, and the smell of old paper. In those days, entering the stacks was a rare privilege reserved for graduate students. I remember the ever-present feeling of surprise whenever I found the book I was looking for, the mysterious LCCN numbers hand-lettered on the spine. And then discovering something even more interesting farther down on the same shelf.
The first international style in architecture was not the white-box style of Le Corbusier and Walter Gropius but Art Nouveau, modernism's predecessor and in many ways its aesthetic and philosophical opposite. Art Nouveau flourished from 1890 to 1910, and along the way it produced a surprisingly large number of masters: Gaudí, Hoffmann, Horta, Mackintosh, Plečnik, Sullivan, Van de Velde, and Wagner. And that's just the leading architects; there were also painters, designers and craftsmen: Beardsley, Klimt, Lalique, Moser, Tiffany. Thirty years is a good long run as architectural fashions go, indeed, the International Style lasted barely that long, nevertheless, modernist apologists have always pooh-poohed Art Nouveau, promulgating the view that "the demise of Art Nouveau was attributable to some fundamental internal flaw," as Peter Kellow writes in a recent issue of American Arts Quarterly. The modernist apologists were understandably defensive; nobody would ever put a Gropius architectural fragment in a museum, as they would the work of Sullivan and Horta. Moreover, the anti-rationalism of Art Nouveau flew in the face of "scientific" modernism. Yet a quick glance at subsequent history reveals that Art Nouveau was the harbinger of a significant strain of modern architecture, visible in the work of Scharoun, Mendelsohn, Poelzig, the late Wright, and surviving today, though without the exquisite details, in the work of Gehry and Hadid. Though there was a brief revival of Art Nouveau, at least in graphic design, during the psychedelic Sixties, an architectural revival seems unlikely. But you never know. As Kellow writes. "Art Nouveau buildings are surely some of the most beautiful ever designed. Not necessarily the best, but the most beautiful."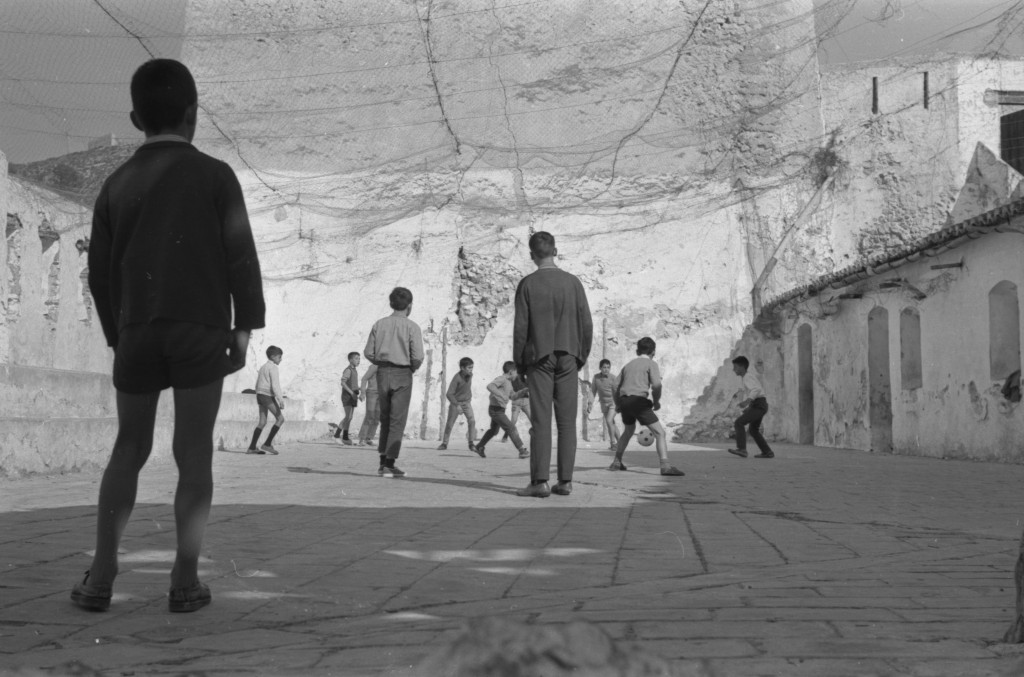 I took this photo in the spring of 1967, in the village of San Francisco on the Balearic island of Formentera where I was living at the time. The wall in the background is the church of Sant Francesc Xavier, an eighteenth century building, fortified against attacks by the Barbary pirates who periodically descended on the island. The mesh above the court must be there to keep the soccer ball in bounds. I assume that the taller figure is that of the local priest, or brother, acting as a referee, as he is the only one wearing street shoes. I took this with a Leica M3, I think. Like many architecture students (I had just graduated) I was a devotee of sports cars (which I couldn't afford–my first car was a VW bug, though later I graduated to a Mini Cooper) and cameras (which I could). So what do I like about the photo? Volumes in sun and shade–the Corbusian trilogy–boys at play, the moment frozen forever; it is the world of a 24-year-old architect on the edge of life.
In an article in the current issue of Design Intelligence, the architect and Notre Dame professor, Duncan G. Stroik writes that the design of contemporary  megachurches, which he characterizes as "non-architecture," leaves much to be desired. It's hard to argue with that (see my Slate slide show on megachurches here). But then Stroik goes on to equate megachurches with modernism, whence he elides into the classicist's standard litany of the failings of modernist architecture. "Gone was the need for human scale and proportions, natural materials, historical elements, and the classical understanding of civic order," he writes. I am not sure what he means by "natural materials," but presumably concrete does not qualify, yet Auguste Perret's all-concrete Notre-Dame du Raincy, an early classic, is a modern reinterpretation of the Gothic. I don't know that Gaudi had a classical understanding of civic order, but Sagrada Familia shines with his deep religiosity. So does Fay Jones's Thorncrown Chapel, which incorporates natural materials and human scale.
Stroik similarly exaggerates when he writes that Wright, Le Corbusier, Aalto and Mies "did very few churches." It is true that Mies designed only the rather forlorn chapel at IIT, but Le Corbusier built three churches, and Wright built no less than six places of worship: Unity Temple, Unitarian Meeting House, a Greek Orthodox church, Congregation Church, Beth Sholom Synagogue, and a chapel at Florida Southern University. As for Aalto, he designed six churches as well as two funerary chapels (one unbuilt). I have not seen his transcendent church at Imatra, but I have seen Wright's Beth Sholom, and it is a numinous space. So is the dark cave of Ronchamp. I recently re-visited Bernard Maybeck's First Church of Christ Scientist in Berkeley. While this exceptional design is hardly a paragon of modernism, neither is it bound by tradition. But it is a moving and much loved place of worship.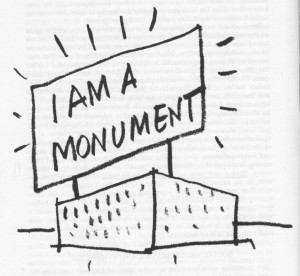 The book launch of Civic Art, a history of the first hundred years of the U.S. Commission of Fine Arts, was the occasion for the Charles Atherton Memorial Lecture at the National Building Museum, delivered this year by Thomas Luebke, the current secretary of the commission. In the course of his talk, Luebke made an interesting observation: commemorative memorials in Washington, D.C. have become increasingly influenced by other media, specifically photography. When the Lincoln Memorial was completed in 1922, Daniel Chester French's statue of the president was the sculptor's interpretation of his subject (French did have access to a life mask of Lincoln, as well as plaster casts of his hands), and in due course the seated figure became a national icon. When the Marine Corps Memorial was unveiled in 1954, it consisted of a giant statue based on the AP correspondent Joe Rosenthal's photograph of Marines raising the flag at Iwo Jima. Instead of creating an original work, the "sculptor," one Felix de Weldon, simply appropriated an already famous image. The photo, not the memorial, was the real icon. More recent commemorative works, such as the Martin Luther King Jr. Memorial, have been similarly based on photographs. Likewise the current version of the proposed memorial to Dwight D. Eisenhower. Why does this matter? Memorials that simply mimic another medium lose much of their power; they are more like billboards than sacred markers. Robert Venturi once proposed  that a civic building should be designed as a simple box with a blinking sign on top saying I AM A MONUMENT. One is never quite sure how seriously to take Venturi's offbeat pronouncements, but the current crop of photographic-inspired memorials suggests just how thin the joke really is.