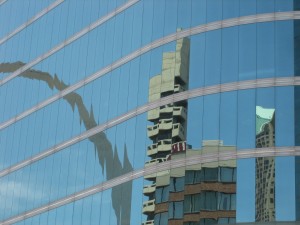 I like glass as much as the next guy, but enough is enough. Just as the sixties architects went crazy about exposed concrete, architects today can't get enough of glass. It's used in the name of transparency, reflectivity, technology, ecology. If you're a minimalist you like glass because it's not there; if you're a techie, you can accessorize it with all sorts of neat details; if you're a not-very-good architect, glass will absolve you of having to design the facade. And who thinks up those glass details? Glass walls overlapping glass walls; facades that cantilever into this air; glass butting glass. Structural glass has its place, but it's become a cliché. Gehry did a witty riff on fritted glass in the IAC Building on Manhattans Lower West Side, but most glass buildings are one-liners. Nor are glass buildings benign, as we have learnt in Dallas and London. I wonder how this glass architecture will fare in the future? Exposed concrete did not do so well, as so many unloved Brutalist buildings demonstrate. I'm not sure that glass buildings are equally disliked, but neither are they cherished. It's hard to cosy up to transparency.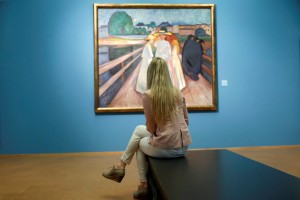 The other day, I was asked to talk to a class of architecture students who had been given  a museum as a studio project. Although architects refer to museums as "public buildings," they are public in a peculiar way, I told them. I illustrated this by comparing a museum to a theater. In a theater, being part of the audience is an integral part of the experience: the more people the better. In fact, a half-empty theater diminishes one's enjoyment of the play. Being in a museum is different: the more people you have to share it with, the worse the experience. Being in a museum first thing in the morning, before the crowds appear, is marvelous; lining up in a jostling crowd to have your twenty seconds in front of the Mona Lisa is a caricature of museum-going. For at its heart, the museum experience is intensely private, just you and the painting. At the same time, the museum is a public institution, and the challenge for the architect is to manage the transition, from the time you enter to that quiet moment, standing in front of the work of art. The Guggenheim in New York is a poor museum because the transition is too abrupt: you have a split second between gazing at the spiraling ramps and the void, and turning to look at the art. The early-twentieth-century museum handled it much better. The transition occurred as you climbed the grand staircase; at the bottom you were in the crowded lobby; by the time you reached the top you  had left that behind you, literally, and were ready to enter the galleries. Kahn, at the Center for British Art at Yale, understood. You enter a tall empty space with only glimpses of the galleries, then you climb the stair inside a confined concrete cylinder, then, finally, you are in the quiet rooms with the paintings.
In his snarky review of How Architecture Works in the Wall Street Journal, Joseph Rykwert (who was a colleague of mine at Penn, something the review doesn't reveal) quotes the Count de Buffon, Le style c'est l'homme mȇme, to support his view that the choice of a style is a "warrant of personal integrity." I'm not sure that's true in personal affairs, after all we dress differently for a morning jog than for the office, but it's definitely not true in building design. Rykwert admires Mies for building the Farnsworth House in the same steel-and-glass style as his office buildings, but at IIT Mies adopted the same style for the chapel and the boiler house, which  is less admirable, in my estimation. When Christopher Wren, in most things a confirmed classicist, was commissioned to build Tom Tower at Christ Church in Oxford, he said it "ought to be Gothick to agree with the Founders worke," and designed a wonderfully original interpretation of that medieval style. That same year he also designed a Gothic church. The idea that a style should have universal application was a strongly held belief of International Style architects, and is one of the failings of modernism. This was not a mistake made by their more traditional contemporaries. When Cass Gilbert was commissioned to build the U.S. Army Supply Base in Brooklyn in 1918, he designed a severe (exposed concrete) structure devoid of his usual Beaux-Arts ornament, relying instead on simplicity and good proportions. But, as the U.S. Supreme Court shows, what was right for a warehouse was not necessarily right for a courthouse.
Gary Brewer, a partner at Robert A. M. Stern Architects, lectured at the Philadelphia Center for Architecture. The talk was illustrated with the firm's work, which appears to include every conceivable building type, with the possible exception of industrial buildings. These buildings represent a variety of building styles, Traditional, Modern, and Transitional. The last category is interesting, for though rarely alluded to it probably represents the majority of what is built today. Most if not all architects consider themselves either modernists or traditionalists, and develop elaborate justifications for their positions. Not Stern. As Brewer pointed out, for RAMSA, a building's appearance should not be the result of an architect's whim, but of its setting. The client has a say, too. Brewer showed a house in California, built for a man who wanted to be reminded of his old home on Long Island, and a town hall whose owners wanted to establish a sense of place where there was none. Hence the advantage of having many stylistic arrows in one's quiver. There is nothing particularly original in RAMSA's approach. Most good American architects in the first half of the twentieth century–John Russell Pope, Paul Cret, Bertrand Goodhue–regularly  worked in different styles. When Cret designed a power house in Washington, D.C., it did not resemble the Federal Reserve or Bethesda Naval Hospital. It was a matter of decorum. As the confirmed medievalist Ralph Adams Cram pointed out, a Gothic department store or movie theater would make about as little sense as "a Greek railroad train, a Byzantine motor car, a Gothic battleship or a Renaissance airplane." That was the gravest limitations of the International Style, not its inherent quality, but the fact that it was applied universally.
The words visionary and futuristic are generally used as high praise in architectural criticism. But I'm not so sure. Most architectural visions, whether it's Mendelsohn, Marinetti, or Sant'Elia have not proved accurate–how could they? Too many unpredictable things change, technologically, politically, culturally. "Cities of the future" generally look quaint, decades on. The most interesting visions are the ones that accept odd blends of past and future, like the dystopian metropolis in Blade Runner, or the techno/medieval Village in the TV series The Prisoner (whose setting was actually Sir Clough Williams-Ellis's  Portmeirion). But "visionary" architecture tends to offer a consistent aesthetic, all Erector set, or all curves, or all something. Looks great on the cover of the architecture rag, but what about in 50 years? The Futuro House, for example, designed by the Finnish architect Matti Suuronen, is a fiberglass flying saucer, and the astronautical theme is carried through in the porthole windows, the curvy interior furnishing, and the door/steps that swing down like a plane's access panel. It must have seemed like the future in the 1960s. The one pictured here, mated with a more earthbound structure, is in Pensacola Beach, Florida. It's hard to know whether to laugh or cry.