Michelangelo Sabatino, who is researching the Canadian architect Arthur Erickson (1924-2009), recently sent me photographs that he had taken while visiting an early work by the architect. The 1959 Filberg house is in Comox, on Vancouver Island in British Columbia, and is particularly important since it launched Erickson on a stellar career that made him into Canada's first internationally famous architect.
Sabatino's photo (left) shows a rather, well, glitzy interior. Compare this view with what a professional architectural photographer does with the same interior (right). The angle is more interesting, the reflections are deeper, the forms balance each other; the room is still opulent, but no longer glitzy. In a forthcoming book, How Architecture Works, I compare architectural photography to portrait photography, whose purpose is to flatter the subject, to set it off to the greatest advantage, and to eliminate anything that detracts from this purpose. How often have we visited a building that we have previously seen exclusively in photographs, only to be disappointed, or at least surprised. Incidentally, the Filberg house may be an an example of Fifties taste, but that does not seem to have hurt its appeal, since it is listed for sale for six million dollars.
During a recent lecture, Princeton architecture grad Richard Wilson Cameron talked about how he designed Ravenwood, an estate in Chester County, Pennsylvania belonging to the  film director, M. Night Shyamalan. What turned into a five-year project involved transforming a rather nondescript Federal Revival house of the 1930s into a lovely Lutyenesque complex of buildings. The high quality of the craftsmanship, both inside and out, is impressive, but equally impressive is Cameron's working method. According to the website of his firm, Atelier & Co., "We work closely with clients and draw every concept of our projects by hand—from initial sketches and renderings to fully developed design drawings. While we employ digital techniques in our work they are always secondary to our hand drawings." During his talk, Cameron showed the development of the main entrance to Ravenwood: preliminary sketch, analytique, detail, and construction drawing. The finished product, with a raven sculpted by Foster Reeve, shows the happy result of this traditional working method. The free hand, guided by the eye, has served architects for more than two millennia. The shapes thus produced, whether they are traditional—as here—or modernist, have a distinctly humanist appeal that the machine cannot match.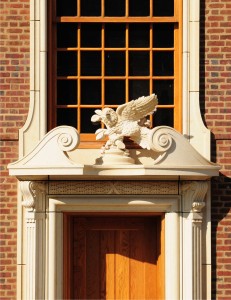 I was recently asked by the chairman of a real estate company that manages a 4.5 million-square-foot portfolio of retail, office, and industrial properties, if I could recommend a firm to design a new office complex. He wanted a cut above the run-of-the-mill. Running names through my head, I found that almost all of the architects that my Ivy League colleagues and their students admire, the academic A-list so to speak, lack the experience and the staff to tackle a large commercial project. Their reputations are based on institutional rather than commercial projects, campus buildings, museums, and libraries, not on office buildings and shopping malls. While some condo developers did hire boutique firms to produce unusual designs during the last real estate boom, I'm not sure that's what was required here. "I want my architect to have already made all his mistakes," a developer friend once told me.
Another alternative is the very large national firms that have branch offices all over the country, and the manpower to tackle any sort of project. Office size is not necessarily a deterrent to quality. A hundred years ago, the best large firms such as McKim, Mead & White, Warren & Wetmore, and Graham, Anderson, Probst & White, capably designed all sorts of buildings—residences, libraries, railroad stations, hotels, apartments, and offices. However, the current large firms resemble architectural widget factories, and can be counted on to produce work that is predictable, glib, and formulaic, without architectural character or conviction. It is unclear to me what is driving this situation. Do the developers demand banal design, or is that what their architects deliver? A spate of well-designed commercial buildings such as 300 New Jersey Avenue, a Washington,D.C. office complex (Rogers Stirk Harbour), the New York Times Building (Renzo Piano Building Workshop), and Tower 4 at the World Trade Center (Maki & Associates)—all designed by foreigners, by the way—suggest that it may be the latter.
The front page of today's New York Times Arts section features two articles that sum up the state of architecture today. The newspaper's music critic Anthony Tommasini reviews an inaugural performance in new concert hall in Sonoma State University, and Robin Pogrebin reports on Frank Gehry's appointment to design an arts campus in Miami. The architect of the hall at Sonoma State is William Rawn, whose Seiji Ozawa Hall in Tanglewood has been acoustically rated as the fourth-best concert hall in the nation. Tommasini calls Weill Hall "a beautiful space" and the sound of the hall "rich, clear and true" (although the Times architecture critic chose not to weigh in on the design of the hall).  In other words, the critique of Weill Hall is based on the building's actual performance as a music venue. By contrast, the Miami story is about a building that has not yet been built, not even designed. Gehry is a remarkable architect, but does his mere selection by a client really qualify as news? The answer is yes, for in architecture today, the new-new thing rules. It's true that architects have always been more interested in design than in reality, that's why prizes are regularly awarded to buildings before they are built, which is rather like rating a restaurant on the basis of its menu, without tasting the dishes. Similarly, unbuilt projects are critiqued in the media on the basis of a model or a sketch, while completed buildings are assessed after a "press day," before they are actually put into use. But the time to evaluate a building is after years of use, when the rough edges have been worn smooth, and it is possible to judge the durability—aesthetically as well as physically—of the design. But, of course, that would not be news.
The philosopher Isaiah Berlin wrote a famous essay based on a saying attributed to the ancient Greek poet, Archilochus: "The fox knows many things, but the hedgehog knows one big thing." Berlin was referring to writers and thinkers—he characterized Plato, Nietzsche, and Proust as hedgehogs, Shakespeare, Goethe, and Pushkin as foxes. I was visiting Seattle this week, and two buildings almost side by side, the Seattle Public Library (2004) and the City Hall (2005), reminded me that the metaphor holds true for architects as well. Rem Koolhaas and Joshua Prince-Ramus, the architects of the library, are definitely hedgehogs; they have one big idea that they flog for all it's worth. Glass, glass, glass. No details, no facades, no relation to the surroundings—the crystalline shape is awkwardly parachuted into steeply sloping site. Peter Bohlin, on the other hand, is a (sly) fox. Instead of a Big Idea, the city hall addresses its function, its site, its views, its materials, and its construction in many small—and not so small—ways. We have become so used to signature buildings that it is almost a surprise to encounter a public building that is not trying to be an icon. Unlike the library, the city hall is neither puzzling nor confusing. Here are the offices, here's the council chamber, here's the entrance, here's a place to sit and have lunch, and here's how the whole thing is put together. The library is a prickly presence in the city; the city hall flits lightly through its urban surroundings.