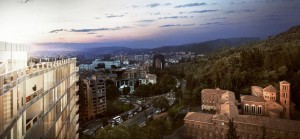 A month ago the Wall Street Journal ran an article about the current building boom in Bogotá. It described a planned luxury residential building designed by Richard Meier. Why import an architect from thousands of miles away, who has never built anything in that city? "One aspect of new construction is important to local buyers: no red brick. Exposed brick is so prevalent in Bogotá that many apartment buildings look the same." Well, Mr. Meier's building, which is white steel and glass, will certainly not "look the same." Indeed, to my eye, it will likely stick out like the proverbial sore thumb. No doubt, other "not-the-same" buildings will follow, and soon this brick city (look at those wonderful buildings on the right side of the image above), will look like everywhere else.
An account of Paul Rudolph's life would make a good opera—a tragedy. Act One. The provincial rube, son of an itinerant Methodist minister in the South, studies architecture in Alabama. He designs his first house at 22, and joins an office in Sarasota, of all places. Goes to Harvard, and studies at Gropius's knee. The war interrupts. He returns to Sarasota, becomes a partner in the firm, and begins to design remarkable houses—as if Frank Lloyd Wright had attended the Bauhaus. He completes his Harvard degree and returns to Florida and continues to build. The houses are airy, light, delicate, romantic. Act Two. Rudolph acquires a national reputation. He designs an unbuilt embassy in Jordan, a campus building at Wellesley, and an office building in downtown Boston. All striking. He is appointed head of the architecture department at Yale, and builds the Art and Architecture Building—massive, concrete, brooding. Not Form Follows Function, but Form Follows Imagination. He leaves Yale to set up an office in New York. Act Three. It is the Age of Theories—postmodernism, populism, regionalism—but Rudolph is no theoretician; he is an artist. His romantic monumentalism appears outdated and he is left behind. The Yale building, increasingly unpopular with students, burns—perhaps arson— and in some undefinable way the architect is blamed. His commissions dry up. Rudolph continues to build in Singapore and Hong Kong, but he cannot recapture the old magic. He is forgotten. The curtain descends.
Until such an opera comes along, we have Timothy M. Rohan's forthcoming The Architecture of Paul Rudolph (Yale University Press). The book shows Rudolph to have been an intensively private man, an introspective romantic, and while Rohan covers the work (although the photographs appear awfully flat to me), his subject never quite comes alive. Rudolph's buildings, on the other hand sing out, forte fortissimo.
"The best metaphor for getting older," Twittered Paul Goldberger recently, "all the hills are steeper, but the views are better." That sounds about right, although from where I stand—and increasingly sit—the views are not always what they were. I was brought up on Sixties jazz, for example, and I can't help but agree with with the late Frank Zappa's pithy assessment, "Jazz is not dead, it just smells funny." I remember when there was just one telephone company, you didn't actually own your home phone, and it never, ever broke down. And I remember when cities were real places rather than tourist attractions. Oh, well. I thought about the good old days last week when I received a fat little journal called Thresholds, published by the MIT Department of Architecture. Student-edited architecture magazines are an old tradition—I co-founded one–Asterisk, or * as we insisted on calling it– when I was a student. We ran on a shoestring, typing stencils on a Selectric and running the pages off on a Gestetner machine; we silk-screened the covers ourselves. Thresholds is much plushier, 192 heavy stock pages, although the illustrations are in purple, for some reason, so they have the blurry quality of an early duplicating machine. The text is pretty blurry, too. "The individual human subject is the encultured bodily subject." I'm not sure who wrote that since the magazine contains nothing as mundane as Author Bios. Like most architecture school magazines today, it is determined to write about anything except buildings, and to do so in as opaque prose as possible. I sighed, and set Thresholds aside. I have been reading an article in another student-edited journal, but from an earlier time. In researching a book, I came across the 1977 issue of VIA, which was published by architecture students of the University of Pennsylvania. The contributors included British historian John Summerson, the great observer of the vernacular landscape J. B. Jackson, Denise Scott Brown (the revised edition of Learning From Las Vegas had just appeared), and Henry Hope Reed, the granddaddy of the classical revival that was just around the corner. Also present were such relatively unseasoned architects as Tom Beeby, and Allan Greenberg, whose essay on eighteenth-century furniture I was consulting. The theme of the issue was Ornament, and the editor was Stephen Kieran, who would go on to found KieranTimberlake. The issues addressed were timely, the writing lucid, the presentation clear. I wonder if, in four decades, Thresholds will stand the test of time as successfully?
Núria Ferragutcasas, who is the US correspondent for the Catalan newspaper ARA, interviewed me about the reconstruction of the World Trade Center site at Ground Zero. Her last question—"What is your opinion about the new site as whole? Do you like the Memorial? Is it appropriate?"—prompted me to reflect further on the subject, so here is an expanded version of my answer.
Cities have regularly suffered catastrophic events—plagues, floods, sieges, and fires—and have commemorated them in different ways. The Monument to the Great Fire of London, for example, was erected only a decade after the fire. Designed by Christopher Wren, it's a tall Doric column, topped by a gilded urn of fire. The column is 202 feet high (it is located 202 feet from where the fire started), but it does not occupy a large space and it takes its place in the city, allowing urban life to go on around it unimpeded. A good memorial doesn't hector, it reminds—gently.
Trafalgar Square occupies a much larger space than the Great Fire monument. It commemorates a naval victory and the man responsible, yet it does so without hindering other uses, for the square also functions as an urban meeting place. It is the site of public celebrations, sports and musical events, political demonstrations, and public meetings. A giant tree is put up for Christmas; people play street hockey on Canada Day. None of this bothers Lord Nelson high up on his column, I am sure.
Trafalgar Square is about 6 acres; the memorial and open space at Ground Zero cover about 8 acres. But the memorial components at Ground Zero are so large and so assertive—all that cascading water!—that they overwhelm and suffocate their surroundings, which are permeated with an air of sombre piety. "The place doesn't do much to celebrate the city's values of energy, diversity, tolerance openness and debate," wrote Michael Kimmelman recently in the New York Times. What was advertised as a park coexists uncomfortably with the memorial. Already we see posted "rules of behavior," enforced by a police presence. That is not the way a city should work.
The tragic fire at the Glasgow School of Art, Charles Rennie Mackintosh's masterpiece, raises anew the question: How to rebuild? In a thoughtful blog, George Cairns of Melbourne's RMIT, who has studied the building in detail, points out that many undocumented changes were made during the building's construction, so it will be impossible to recreate what was there. In addition, the inevitable demands of modern fire security will likely alter the original design. Rather than try to rebuild Mackintosh's design, Cairns argues for "great architects to be invited to design a worthy intervention that will breathe new life into the school."
I'm not so sure. When the fifteenth-century canal facade of the Doge's Palace was destroyed by fire in 1577, Palladio proposed rebuilding it in a Classical style, but he was over-ridden, and the original Venetian Gothic was restored. When John Soane's Dulwych Picture Gallery was hit by a V-1 rocket during WWII, it was rebuilt exactly as it had been. In fact, the building had been altered several times since Soane's death. When the British House of Commons was gutted by fire during the Blitz, Giles Gilbert Scott rebuilt it in the spirit of Pugin's original. A more recent example: Venice's Teatro La Fenice. In 1996, the famous nineteenth-century opera house burned to the ground (arson), and was recreated virtually intact by Aldo Rossi, who used stills from a Visconti film as a guide.
Buildings are not works of art, time changes them, alterations regularly take place, life has its way. What's wrong with repairing damage? Even if it is not exactly as it was, it could be almost as it was, and a hundred years from now, the difference will not matter. Surely that is better than a "worthy intervention"?