THE FORM TIE DETAIL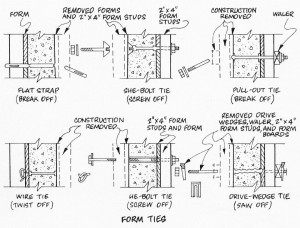 Corbusier was the first architect to use cast-in-place concrete as exterior (and interior) cladding, probably in the Unité d'habitation (1946-62) in Marseilles. The Unité was actually hybrid construction, consisting of cast-in place and precast concrete as well as a steel frame. By the time he built the Shodhan house (1956) in Ahmedabad, he was using exposed cast-in-place concrete throughout. Concrete formwork must be designed to resist the pressure of the heavy concrete until it sets. The cheapest way to do this is to use form ties—wire ties that hold the two pieces of formwork together; the wire is snipped off after the form is removed, and the wire ends—which will rust—are patched over. Unsightly but Le Corbusier didn't care—he liked the rough and ready appearance of béton brut.
The Carpenter Center (1961-64) at Harvard was likewise cast in place, but the ties were treated differently. Instead of a patch, the ties had a throwaway plastic insert that allowed the patch to be less obvious. The ties were regularly spaced in a roughly 2' x 2' grid. The Carpenter Center has a more finished appearance than Shodhan, probably due to Josep Lluís Sert, who supervised the construction and was likely also responsible for the form-tie detail. The plastic insert must have been a manufacturer's invention—sometime in the late 1950s—although I have not been able to identify the maker. Louis Kahn popularized the insert in the Salk Institute (1959-65). He made the holes more prominent by sinking them deeper and plugging them with lead. Otherise the concrete was left in its natural state.
Concrete is actually not a very good material for cladding since it is porous and prone to spalling, cracking, and chipping. By the 1980s, architects were more likely to use stone or brick veneer, and increasingly glass curtain walls. With the reemergence of orthodox modernism, architects such as Tadao Ando revived concrete cladding, both inside and out. Ando, who admired Kahn, also revived the form-tie detail. It is plainly visible in the Fort Worth Art Museum. What is not obvious is that since fewer ties are now required, only some of the holes are real ties—the rest are counterfeit. In fact, it is possible to dispense with form ties altogether and produce perfectly smooth unmarked concrete walls, as Renzo Piano did in the galleries of his addition to the Kimbell. Perhaps the oddest form-tie detail is in the Shanghai Natural History Museum (2015), designed by Perkins & Will. On the interior, next to an actual cast-in-place concrete wall, is a partition of plaster wallboard, with a pattern simulating concrete ties. As often happens in architecture, constructional necessity has mutated into pure decoration.
One Response to THE FORM TIE DETAIL