NOW I SIT ME DOWN
From Klismos to Plastic Chair: A Natural History
With drawings by the author
Farrar, Straus and Giroux, 2016
New York Times Fashion, Manners & Customs bestseller. Translated into Chinese.
"This latest contribution from Rybczynski serves as further evidence that he is one of the best writers on design working today."
—Publishers Weekly (starred review)
"This is a book to savor in a favorite chair."
—Wall Street Journal
"Rybczynski adds another delightful volume to an already impressive shelf of books notable for formidable learning worn lightly and an infectious fascination with the way we craft the built environment."
—Boston Globe
"Rybczynski . . . has a special knack for making everyday objects and ideas seem captivating, in part because he places them in a larger historical narrative. In his telling, the chair becomes a seemingly immortal character traveling, Forest Gump-like, through the vicissitudes of our shared history."
—Richmond Times-Despatch
I own a wing chair, an Aeron chair, and an Aalto stool. They are all useful, in their ways. The Aeron task chair uses the latest materials and mechanisms, my wing chair was designed more than two hundred years ago, and stools, in one form or another, are among the earliest of sitting devices. What makes the history of the chair so fascinating is that it can be both a practical tool and a status symbol, part of the domestic decor and an intimate part of our everyday lives.
MYSTERIES OF THE MALL: And Other Essays
Farrar, Straus and Giroux, 2015
"Illuminating collection of essays . . . a superb book"
—Kirkus (starred review)
"An eloquent critic with a range of interests as broad as his voluminous published work, Rybczynski is unusually willing to go sleuthing into the architecture and design of the everyday."
—Publishers Weekly (signature review)
A Top Ten for Fall 2015 in Art, Architecture & Photography
—Publishers Weekly
"Required reading for anyone interested in the story of architecture—or the shape of the modern world."
—Brooklyn Rail
"For Rybczynski, architecture without dialogue is grim ideology; his own practical, generous approach makes him a worthy layperson's guide to the last 20-odd years in architecture."
—Macleans
Here is a collection of essays, reviews, and articles written over the last two decades. It covers a range of subjects: architects and architecture, urbanism and city planning, the settings of everyday life. A motley crew, but I have only myself to blame. For better or worse, my attention strayed from college towns to Olmsted parks, from food courts to concert halls, from the architectural show dogs who dominate the field to the pioneer who invented the multiplex. In other words, a reflection of the diversity of our current urban condition.
HOW ARCHITECTURE WORKS: A Humanist's Toolkit
Farrar, Straus and Giroux, 2013
Finalist for the Marfield Prize for writing on the arts. Longlisted for the 2014 RBC Taylor Prize for literary non-fiction. Named one of the best architecture books of 2013 by Amazon. Translations coming in Poland, China, Korea, Turkey, and Taiwan.
"Ever the engaging and thoughtful writer, [Rybczynski] offers a wide-ranging tour of the glories and curiosities, old and new, in the field."
—Washington Post
"Erudite and architecturally well-traveled…Rybczynski is an artful conductor and learned hand who leaves much of the pleasure of architectural discovery to readers."
—starred review, Kirkus
"In How Architecture Works, Witold Rybczynski has created an educational journey for us, breaking down the elements of architecture to create a framework for the reader to build an understanding of how to see and feel things similar to how architects approach their work. It is both a toolkit for the reader and an author's journey to uncover a topic that cannot be conveyed in words only."
—ArchitectureBoston
This book was written the year before I retired from teaching, and it summarizes ideas  that grew out of a decade of teaching a seminar on contemporary architecture to college freshmen. I have been asked who the "humanist" in the subtitle is: is it the author or the reader? Probably both. It is my considered view that the most useful entry into architecture is provided not by theories or abstract concepts–let alone by rules–but by learning from the canon of built works. In doing so it becomes apparent that all architects have addressed similar problems–aesthetic, practical, urbanistic–but they have arrived at a variety of solutions. That is how architecture works.
THE BIOGRAPHY OF A BUILDING: How Robert Sainsbury and Norman Foster Built a Great Museum.
Thames & Hudson, 2011
"A model of how to write a study of a single building."
—Charles Saumarez Smith, The Art Newspaper
"An ideal introduction to an unusual design."
—John McKean, Building Design
Buildings have a life: first in the vision of their owners, then in the imagination of their architect, and finally in the life of their occupants. This is not only a history of the Sainsbury Centre for Visual Arts in Norwich, Norman Foster's first public building and one of his best designs. It is also about collecting and collectors, the function of an art museum, a long relationship between architect, client and patron, and the evolution and roots of late twentieth-century architecture.
MAKESHIFT METROPOLIS: Ideas About Cities
Scribner, 2010
Named one of ten best books of the year by Planetizen. Translated into Chinese and Russian.
"Staking his ground between the libertarians and the central-planning scolds, Mr. Rybczynski points toward existing cities that serve as models. He also writes with disarming ease: Few authors today pack so much material into a book that can be pleasurably read in a single sitting."
–The Wall Street Journal
"The prose is instructive and always engaging, and the author's enthusiasm for the future of cities and his enduring love of urban settings of all kinds is evident. He not only writes about what people want from their cities, he inspires the reader to imagine the possibilities."
–Publisher's Weekly
American cities are not shaped by architects, planners, legislators, or mayors, but by the market, that is, by the people who live and work―and play―in them. But ideas have a role to play, and Makeshift Metropolis explores the influence that planning theories have had on American urbanism in the twentieth century. This book examines old ideas and new ideas, and shows how the twenty-first century city is being shaped by mixed-use developments, downtown living, heterogeneity, density, and liveliness.
MY TWO POLISH GRANDFATHERS: And Other Essays on the Imaginative Life
Scribner, 2009
Washington Post Best Books of 2009.
"It's always a pleasure to read Witold Rybczynski…compelling…a slim but profoundly moving book…A satisfying and valuable addition to a still growing literature."
–The Philadelphia Inquirer
"An engaging collection of memoir essays…the stories of his ancestors in the first half are very much this account's emotional core…Rybczynski is less concerned with the edifices of his profession than he is with drawing subtler, more intimate connections between the constant motion of one's surroundings and the process of finding one's home in the world."
–Booklist
Part memoir, part family history, My Two Polish Grandfathers begins with the story of my parents and grandparents in pre-war Warsaw—a thriving, cultured family in a sophisticated European city. With the onset of war, their world fell apart, and my mother and father made separate escapes, reuniting against many odds, on a ship bound for England from France. Accidental events are a theme of this book: the way that a young boy—me—is attracted to architecture, how he makes his way in the architecture world, and how he discovers the true meaning of building on a remote Spanish island in the Mediterranean.
LAST HARVEST: How a Cornfield became New Daleville: Real Estate Development in America from George Washington to the Builders of the Twenty-First Century, and Why We Live in Houses Anyway
Scribner, 2007
Named one of ten best books of the year by Planetizen.
"Maybe you like the way America is being built, maybe you don't, but either way you will not find a more absorbing or patient look at the real real estate process than this elegant time-lapsed portrait a neighborhood to be. Witold Rybczynski is the poet laureate of what you haven't noticed that's probably right in front of you."
—Robert Sullivan, author of Cross Country
"Compelling . . . wonderfully readable . . . Rybczynski is the most fair-minded of writers and absolutely immune to the seductions of current wisdom."
—Wall Street Journal
Why do the suburbs look the way they do? I decided to chronicle the creation of a suburban planned community in rural Chester County, Pennsylvania. The book was written in real time. I followed the deal-making, the designing, the public meetings, the construction and the marketing of houses, in order to answer the question. One of the aspects of this story is how many actors there are: developers, home-builders, local planners, concerned citizens, and, of course, home buyers. In the end, ninety acres of cornfield were transformed into a new neighborhood of 125 houses, but it was hardly smooth sailing, as the economy, the environment, and other extraneous factors intervened.
VIZCAYA: An American Villa and its Makers (with Laurie Olin)
University of Pennsylvania Press, 2006
"Witold Rybczynski, a prolific architecture critic and professor at the University of Pennsylvania, has analyzed Vizcaya and its hundreds of acres of statue-studded gardens with Laurie Olin, a renowned landscape architect and Penn professor. If only every American Renaissance mansion had such an elaborate intact design, and such capable storytellers."
—Clem Labine's Period Homes
"A grand house deserves a great book to tell its story. At last, Villa Vizcaya, ninety this year, finally has one."
—Architecture in Print
The Miami estate of Vizcaya was built in the Gilded Age, when American country houses and their gardens were a measure of personal wealth and power. While these places tend to be written off today as egregious examples of conspicuous consumption, many are also outstanding examples of architecture, interior decoration, and garden art. Laurie Olin and I used a rich collection of drawings, historic photographs, and some never-before published John Singer Sargent watercolors, to document the creation of this stunning house and garden.
THE PERFECT HOUSE: A Journey with the Renaissance Master Andrea Palladio
Scribner, 2002
Translated into four languages.
"Evocative, compelling, charming. The Perfect House is the prefect travelling companion."
—New York Times
"Rybczynski's clear description of what he sees and his lucid explanations of Palladio's ideas and methods enable the reader to see and understand the essence of the architect's accomplishments."
—Los Angeles Times
Andrea Palladio, who lived in sixteenth-century Italy, is perhaps the most influential architect in the world. "You have to see these buildings with your own eyes to realize how good they are," wrote Goethe. I went to see for myself, and The Perfect House is a sort of travel diary, describing visits to ten of his villas in the Veneto. What was Palladio's secret? I won't give away the answer here, but part of the answer came to me after spending a week in the Villa Saraceno, built in the 1540s, and still standing tall.
THE LOOK OF ARCHITECTURE
Oxford University Press, 2001
Translated into five languages.
"A thoughtful and thought-provoking look at how buildings reflect the desires of their age."
—Boston Globe
"As always, Witold Rybczynski has an eye for the telling detail and an ear for the felicitous phrase."
—New York Times Book Review
This little book is based on three lectures that I was invited to give at the New York Public Library. I thought it would be interesting to explore one of the forbidden subjects of architecture: the role of style and fashion. It seems to me that the way we dress our homes, and the way we dress ourselves, are related, and that style—not what we say but the way that we say it—is a key ingredient of any successful building. As Oscar Wilde once said, "In matters of importance, style is everything."
ONE GOOD TURN: A Natural History of the Screwdriver and the Screw
Scribner, 2000
Translated into nine languages.
"One Good Turn is a good short read in the classic Rybczynski mode—an ordinary thing, explained extraordinarily."
—Toronto Star
"What Witold Rybczynski sees is that everything that requires mechanical precision, and that includes the instrumentation of modern science, rises out of the perfection of the simple screw and the complex machinery required to manufacture these indispensable items."
—New York Times Book Review
A request to write an essay on the best tool of the millennium took me on an unplanned intellectual voyage of discovery, tracing the origin of hand-tools from the medieval carpenter's brace to the Roman claw hammer, from Henry Maudslay, the eighteenth-century maker of the modern machine tool, to Archimedes, the inventor of the first helical device. Along the way, I got to examine jousting armor, the matchlock arquebus, and the printing press. While this is a book about the history of technology, it is also a narrative about research itself.
A CLEARING IN THE DISTANCE: Frederick Law Olmsted and America in the Nineteenth Century
Scribner, 1999
Winner of the J. Anthony Lukas Book Prize, Athenaeum of Philadelphia Literary Award, Christopher Award, American Library Association Notable Book Award, and short-listed for the Charles Taylor Prize for Literary Nonfiction. New York Times Notable Book of the Year.
"Witold Rybczynski meshes what is close to a history of urban landscape architecture in America in the nineteenth century with a life of Olmsted. By doing so, he has produced a biography that communicates, with feeling, the ups and downs of Olmsted's career as well as of the profession he helped to invent…A book that defines and evokes Olmsted as an American original."
—Wall Street Journal
"A sensitive, engrossing biography of Frederick Law Olmsted: one of the most evocative and multifaceted men of the American nineteenth century, whose works still live and breathe among us."
—Frances Fitzgerald
It took me a long time to arrive at a title for the biography of Frederick Law Olmsted, the man who created Central Park, and many other landscapes. The problem was that Olmsted was a man of so many parts: Born in 1822, he travelled to China on a merchant ship at the age of 21, co-founded The Nation magazine, was an early voice against slavery, and served as the executive secretary of the United States Sanitary Commission (the precursor of the Red Cross) during the Civil War. The title refers not only to a common feature of many of his parks, but also to the curious trajectory of his rich and varied life.
CITY LIFE: Urban Expectations in a New World
Scribner, 1995
Winner of an Athenaeum of Philadelphia Literary Award.
"Packed with common sense, subtlety, and observations that illuminate our always evolving urban landscape . . . wonderfully informative, entertaining, and nuanced."
—George Will, New York Times Book Review
"A captivating book, at once accessible and erudite . . . a fascinating stroll through urban history."
—Seattle Times
City Life grew out of an idle question I was once asked by a Canadian friend: "Why aren't our cities like Paris?" The book traces the development of North American cities and city life from the early colonial settlements to today's downtowns. The short answer to the question, apart from the fact that our cities are newer, less planned, and grew almost entirely during the ages of steam and the automobile, is that our cities aren't like Paris because we didn't want them to be.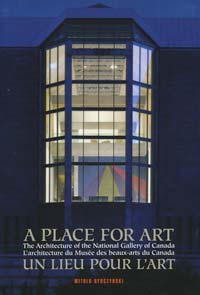 A PLACE FOR ART: The Architecture of the National Gallery of Canada
National Gallery of Canada, 1993
Out of print, this is a collector's item. In addition to describing architect Moshe Safdie's interesting design for the National Gallery of Canada in Ottawa, this book documents the development of the public art museum, a type of building that dates back to the mid-nineteenth century. Lots of photographs.
LOOKING AROUND: A Journey Through Architecture
Viking, 1992
"You have only to look around to see how thought-provoking these essays are."
—New York Times
"Informative and provocative, an excellent companion in plane, train, living room, kitchen, or porch"
—Washington Post
Looking Around is a collection of my favorite essays about architecture that first appeared in several newspapers and magazines: my architecture column in the short-lived Wigwag, articles for the New York Times Arts & Leisure section, essays for the New York Review of Books, several pieces for Atlantic, and a number of articles for Canada's Saturday Night. I particularly like the final selection, "The Art of Building, or the Building of Art?" which was based on two lectures I gave at University College, Toronto. The question they raised about architecture remain relevant—today more than ever.
WAITING FOR THE WEEKEND
Viking, 1991
Translated into six languages.
"Everything you wanted to know about the weekend but were too laid-back to ask . . . Witold Rybczynski has a genius for the celebration in prose of where we live"
—Los Angeles Times
"A provocative, wonderfully readable essay . . . A subtle lesson in reclaiming the weekend as our own"
—USA Today
Waiting for the Weekend starts with an idle speculation—where do weekends come from—and grows into a history of leisure from ancient Rome to the Enlightenment to today. Of course, there have always been breaks from the routine of work—taboo days, market days, public festivals, holy days—but the weekend is a relatively recent institution, beginning during the Industrial Revolution with the practice of "keeping Saint Monday." The underlying theme of the book, as of any reflection about leisure, is Plato's ancient question: Do we live to work, or work to live?
THE MOST BEAUTIFUL HOUSE IN THE WORLD
Viking, 1989
New York Times Bestseller, QSPELL Literary Prize for non-fiction.
"An enchanting and ultimately profound book about how human beings create spaces for themselves and give those creations meaning."
—Wall Street Journal
"A winning book, a pleasure to read…a revelation about what architects actually do and how they go about doing it."
—Los Angeles Times
While I was writing Home, my wife and I were building our own house, and that became the subject of this book. It is less about pounding nails and sawing wood, than a meditation on architecture itself: how we make places to live in. The construction project began as a workshed, and through a series of accidents the structure gradually evolved into a full-fledged house. In tracing this evolution, I touch on matters both theoretical and practical, exploring the origins of humble barns, the ritualistic roots of classical architecture, the connections between dress and habitation, and between architecture and gastronomy. Ultimately, this is about making a place, "where it would be safe to dream."
HOME: A Short History of an Idea
Viking, 1986
QSPELL Literary Prize for non-fiction, the Order Architects of Quebec Prix Paul-Henri Lapointe, short-listed for the Governor General's Literary Award. Translated into eleven languages.
"The most important legacy of the 1980′s in architecture may not be a design at all, but a book."
—Paul Goldberger, New York Times
"Home is serious, historically-minded, and exquisitely readable. It is a triumph of intelligence."
—New Yorker
This is not my first book, but it is the first one that got noticed. It is a history of domestic comfort, that is, a history of our idea of home, how (and equally important why) comfort came to be invented in seventeenth-century Holland, how it evolved, and how it was affected by various technological inventions such as gas lighting and electricity. Although Home is almost 25 years old, the book still feels fresh, a young architect's discovery of a neglected but crucial subject.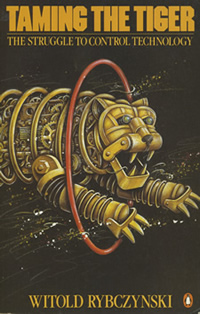 TAMING THE TIGER: The Struggle to Control Technology
Viking, 1983
"Calm, clear-headed, heartening . . . it reminds us who's in charge here."
—Psychology Today
"Rybczynski's are the arguments that need to be heard amid the extremes of pro- or anti-technological utopianism."
—Los Angeles Herald Examiner
Sadly out of print, although you might still find copies of the Penguin paperback (or visit your local library), Taming the Tiger explores the question of how people have tried to control technology over the ages. I examine the writings of Jacques Ellul, the mechanization of war, and various historical examples of attempts to control or even roll back technology such as the Luddites, Tokugawa Japan (which banned the gun), Maoist China, and Khmer Rouge Cambodia. One conclusion is that cultural attitudes greatly affect the way we use machines, and whether we see them as a threat or a benefit.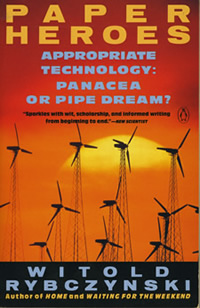 PAPER HEROES: Appropriate Technology: Panacea or Pipedream
Anchor Books/Doubleday, 1980; Penguin, 1991
"Sparkles with wit, scholarship, and informed writing from beginning to end."
—New Scientist
"An important book with an iconoclastic message."
—Washington Post
This book appeared in American, British and French editions but is no longer available, although you might find the Penguin paperback in used bookshops. This was my first book, a critique of appropriate technology of the 1970s, aka the "small is beautiful" movement. I was active in alternative technologies, but I was uncomfortable with much of the polemic associated with AT, and this book is the result. When Penguin reissued Paper Heroes in 1991, I added an Epilogue, for it seemed to me that appropriate technology was reappearing in a new guise: sustainability. Today, twenty years later, that is truer than ever, and many of my observations remain pertinent.