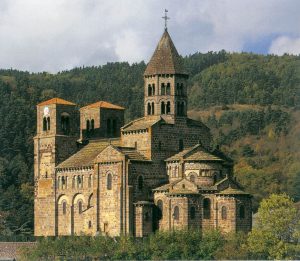 I recently watched an interesting lecture on YouTube delivered by Dietmar Eberle at the 2013 World Architecture Festival in Singapore. Eberle is the principal of the Austrian architectural firm Baumschlager Eberle. During his talk he referred metaphorically to Weekday Architecture and Sunday Architecture. The former are the places where we spend most of our lives, the places where we live, work, and shop. The latter, by contrast, are the special buildings that we use on weekends: museums, concert halls, casinos, and of course places of worship. In the past, "Architecture" was synonymous with Sunday Architecture, churches, civic monuments, royal palaces. Weekday Architecture was left to vernacular builders. By the early twentieth century, architects had made inroads into Weekday Architecture, and they were designing housing, factories, and department stores. The early modernists went so far as to try and abolish Sunday Architecture, with the result that it was often hard to distinguish a city hall from a warehouse. Today, it feels like we have moved in the  opposite direction: we have abolished Weekdays—as if every day could be Sunday.  Sunday Architecture is what the public expects, what the media covers, and what the schools teach.
There has been much excitement in the Twittersphere concerning the appointment of Tod Williams Billie Tsien Architects to design the Obama presidential library. A no-drama president has picked no-drama architects is the gist of it. No drama? Putting an 8-story blank wall on 53rd Street, as they did in the American Folk Art Museum is nothing if not dramatic. So is designing a skylight in the form of a glass box, then theatrically cantilevering it out at each end, as they did in the new Barnes Foundation. A less well known building, Skirkanich Hall at the University of Pennsylvania presents a half-blank brick wall to the street, and in case you miss it, the shiny glazed brick is green, unlike every other brick building on that campus. Skirkanich stands out in other ways; to further call attention to itself it breaks the building line of the street, like a pushy person in a queue. The neighboring Moore School Building (on the right in the photo), which was altered by Paul Cret in 1926, is much more urbanistically circumspect—and much lower key architecturally, after all, its just a workaday engineering teaching building, not a monument. But TWBTA tends to make a fuss when they build, whether it's a facade or a simple bench. "Look at me, I've been designed" seems to be the message. Implicitly this privileges the person doing the designing. But this is exactly not what a presidential library needs; its subject should take center stage.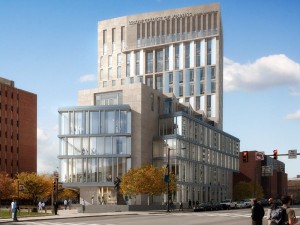 Campus buildings, if they were Classical in style, used to display their names in Roman lettering incised into the entablature; Collegiate Gothic buildings made do with medieval script. In either case the lettering was discreetly integrated with the architecture. No more. A growing trend in university buildings, especially high-rise buildings, is to display the name at billboard scale (thank you Robert Venturi). This started with medical buildings, but I have noticed other campus buildings sprouting overblown signs (the LeBow College of Business at Drexel is illustrated here). What drives this disturbing practice which gives university buildings the appearance of motels or casinos? In some cases I suspect it is a demand of the donor, in others it is probably an enterprising dean who is to blame. Universities increasingly advertise on the media, so why not tout your name on a building for all the world to see? Why not a flashing neon sign on the ivory tower?
In April 1970 the Historical Society of Chestnut Hill, an old garden suburb of Philadelphia, organized a public panel to discuss the future of their community. The venue had to be changed to accommodate the 800 people who showed up. I suspect that the audience, which included many students, was drawn less by the subject than by the panelists: Louis Kahn, Robert Venturi, and Romaldo Giurgola. The local newspaper referred to them as "three of America's foremost architects" and "today's pacesetters." Kahn was already a national figure; Venturi had built little and was probably best known for Complexity and Contradiction in Architecture, published in 1966, although the house that he had recently designed for his mother had caused ripples in the architectural world; Giurgola was head of Columbia's department of architecture and his  architectural career was taking off, he had just designed the American embassy in Bogotá. All three had built houses in Chestnut Hill: Kahn the Margaret Esherick house, a little gem; Venturi the Vanna Venturi House, his mother's house; and Giurgola the Dorothy White House. By curious coincidence all three houses were for single women.
Almost fifty years later the reputations of the "pacesetters" have taken different courses. That of Kahn, who died only four years after the Chestnut Hill panel, has, if anything, grown; his place in history is secure. Venturi's reputation is harder to assess. Few later projects lived up to the promise of his mother's house (my favorite is the Sainsbury Wing of the National Gallery in London), and the demise of postmodernism didn't help, despite the architect's vain attempt to disassociate himself from that movement. Giurgola received the AIA Gold Medal in 1982, but a well-intentioned effort to expand Kahn's Kimbell Art Museum savaged his reputation and he ended up moving to Australia, where he had won a competition to design Parliament House in the national capital. Like Harry Seidler before him, he seems destined to be remembered—if he is remembered at all—as a purely regional star.
Kahn, Venturi and Giurgola are sometime lumped together as belonging to the "Philadelphia School." That is hyperbole—they were very different sorts of architects. It is said that at the dinner after the Chestnut Hill panel, they hardly spoke to each other. Still, it would have been interesting to be a fly on the wall.
I came across the following passage recently.
There have always been dazzling personalities that flashed out of the surrounding gloom like the writing on the wall at the great king's feast; but they are not manifestations of healthy art. They are phenomena. The sanest, most wholesome art is that which is the heritage of all the people, the natural language through which they express their joy of life, their achievement of just living; and this is civilization,—not commercial enterprises, not industrial activity, not the amassing of fabulous wealth, not increase of population or of empire. These may accompany civilization, but they do not prove it.
This was written by Ralph Adams Cram, the introduction to his Church Building, published in 1899. I read this at the same time as numerous fulsome encomia appeared in the media on the occasion of the death of Zaha Hadid, certainly a "dazzling personality." She was also, in Cram's sense, a phenomenon. Like so many leading architects today, her work was personal, eccentric, and idiosyncratic, the very opposite of a natural language, a popular heritage. Not an architecture grounded in a particular place, like Gaudí's equally eccentric buildings, but global in nature, built in faraway lands for faraway people often of fabulous wealth. Accompanying civilization, but not proving it.