I recently received an unusual request from the architectural writer Fred Bernstein. "Since Trump was elected, as a subtle political statement, I have been posting profiles on Facebook of immigrants who have made a contribution to the built environment." His request brought me up short. I've never thought of myself as an immigrant. Born in Scotland to Polish parents displaced by the Second World War (my father served in the Polish army), I was not technically an immigrant, but I was hardly a Scot. I grew up in England, a proper cricket-playing English schoolboy, but that was just a surface impression. "Although I wore a blazer and a schoolboy's cap, I wasn't really English," I wrote in My Two Polish Grandfathers. "For one thing, I always spoke Polish with my parents, although I can't recall if I learned it first, or together with English. We also ate different foods, barszcz (beet soup) and gołąbki (stuffed cabbage rolls). At Christmastime we had babka instead of plum pudding, and jellied carp instead of roast beef. I got my presents on Christmas Eve instead of Christmas Day, and there was always something under my pillow on St. Nicholas's Day." When my parents moved to Canada I became an actual immigrant, not that Canadians wore their nationalism on their sleeves. We lived in Quebec, which was mostly French, but I never considered myself un Anglais. I suppose I was Other. Nor did Canadian-ness play a big role in my architectural education. The architects my classmates and I admired were mostly Europeans: Aalto, Aldo van Eyck, Frei Otto, Ralph Erskine, Georges Candilis, Shadrach Woods. The last three were immigrants, or émigrés, as were so many prominent practitioners of the 1960s: Mies and Corbusier, of course, and Breuer, Saarinen, Pei, and Sert. So were my two most influential teachers, Norbert Schoenauer (Hungary) and Peter Collins (England), and my mentor Alvaro Ortega (though he, a Colombian and UN worker, was really a citizen of the world). My first job was with Moshe Safdie (born in Haifa). Many of my architect friends—Jack Diamond, Allan Greenberg, Michael McKinnell, the late John Belle, the late Bing Thom—are/were immigrants. Perhaps that's what attracted me to architecture, it deals with a sense of place yet so many of its leading lights were—like me—placeless. I now live in Philadelphia, a city where the two best architects of the last 100 years, Paul Cret and Louis Kahn, were both immigrants. A coincidence. Maybe.

The Eisenhower Memorial is slowly edging towards realization as the  GSA has recently hired a construction company to begin work. Now a major change is revealed. The long mesh screen in front of the Education Building originally carried a photographic image of the Kansas prairie (Ike's birthplace). This was later changed to another image, the landscape around Omaha Beach, one of the landing sites of the WWII Normandy invasion of which Eisenhower was Supreme Commander. Neither image was particularly striking, or for that matter, particularly recognizable. In any case, I've always thought that photography was the wrong inspiration for what Gehry insisted on calling a "tapestry." A block-long photographic image doesn't make me think of a Gobelin, it conjures up a billboard. Now the image has changed again. It is a drawing, presumably by Gehry, of Pointe du Hoc, the promontory between Utah and Omaha Beaches that was scaled by U. S. Rangers during the invasion. Critics will say that the impressionistic drawing it too much Gehry. But is the Sherman Memorial in New York City too much Saint-Gaudens? I think not. A drawing seems right to me.
"Our lust for originality is wrecking the city, delivering a rash of formally new, but ultimately anti-urban hideous skyline baubles reducing city-making to a spectacle of super-size billboard branding gestures while inhibiting the multiplication of good ideas," writes Phineas Harper in a recent post on Dezeen. He correctly questions the modern obsession with originality, and asks rhetorically, "Is bad originality really preferable to a brilliant copy?" Of course, it isn't—never has been. What Harper does not mention is that copying had a long and honorable tradition in architecture. Scamozzi copied Palladio's Villa Rotonda, so did Colen Campbell, Lord Burlington, Thomas Jefferson, and most recently Julian Bicknell in Cheshire. Some of the copies are more faithful than others (Jefferson added skylights to the dome), but all recognize that Palladio's was a rich idea, worth exploring further. Palladio himself used motifs such as Serlianas, which were derived from others. Basing one's work on an earlier model was partly hommage to a masterwork, and partly a recognition that true invention in architecture is rare, and that good ideas are worth repeating. One of the sins of the modernist revolution was that it undermined this tradition and actually made it dishonorable to copy earlier precedents. Ever since, architecture has been caught in a downward spiral of diminishing originality.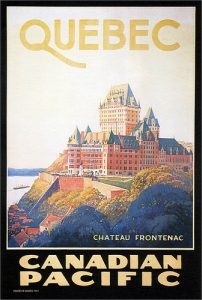 The Canadian design mag, Azure, ran a post recently titled "Canada 150: Canada's Future Role in Architecture and Design." The magazine posed the question to a number of prominent and not-so-prominent architects. Predictably, perhaps, the answers were uniformly upbeat: a world leader in sustainable design, a catalyst for change, and my favorite, in the forefront of developing pluralistic cultural identity. Perhaps it's worth looking back to get an idea of the future. International leadership doesn't loom large. The list of Canadian architects whose names would appear in an encyclopedia of world architecture covering 1867-2017 would not be long. There was no H. H. Richardson to shake up the architectural scene, no Charles McKim to establish a classical standard for civic buildings, no Frank Lloyd Wright to preach a northern organic gospel. Modernism, when it arrived, tended to be a pale imitation of what was going on south of the border. It is not until Arthur Erickson that we find a native-born Canadian architect who develops an original style that has an impact on the international scene. He is followed by Moshe Safdie and John Andrews, immigrants both, who make their mark with Habitat and Scarborough College. I would add two stylistic outliers, whose idiosyncratic approach ruled them out of fashion but who deserve at least a footnote: Montreal's Ernest Cormier and Ron Thom. The latter's Massey College is an original masterwork that demonstrates how Wrightian ideas might be adapted north of the 49th parallel. Erickson might have become Canada's Aalto, had his architecture been a little less theatrical, a little more, well, Canadian. The frosty Canadian climate and long winters don't demand—or tolerate—flamboyance or whimsy. They do demand robust construction; zoomy shapes covered in Dryvit just don't cut it. In any case, Canadians were never much interested in iconic buildings. There is no neoclassical Macdonald Memorial or Parliamentary Dome. Perhaps the closest you get to a national icon, apart from the Peace Tower, is the series of romantic chateau-like CPR hotels built at the end of the nineteenth century—and they were designed by Bruce Price, an American,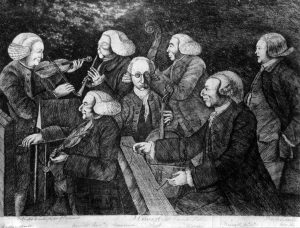 This week the short list was announced for London's new Center for Music, which will be the future home of the London Symphony Orchestra and the Guildhall School of Music and Drama. The usual suspects include Frank Gehry, Renzo Piano, Norman Foster, and Snøhetta. Traditionalists need not apply; that's a shame. Léon Krier has recently written about a new site for the hall, and it would have been nice to see at least one name like John Simpson or Robert Adam on the list. Or Bill Rawn of Boston, who has designed some admirable low-key concert halls. But the Symphony Orchestra wanted fireworks. Gehry's Disney Hall is hard to beat, but London may not be the place for his brand of acrobatics. Piano's hall will have red seats, and be predictably workmanlike. Foster will be Foster. My money is on Amanda Levete. She is teaming up with Jack Diamond and Donald Schmitt of Toronto, who have designed opera houses in Toronto and St. Petersburg, and a concert hall in Montreal. If London wants a building that sounds good and can be built without breaking the bank—or cutting corners—they should consider this team.