"Experimentation can sometimes look weird at first, but it is a necessary part of figuring out how to make our human-built world better," writes Aaron Betsky in his December 2014 Architect column. The implicit suggestion is that architectural experimentation is a good and necessary thing. But buildings that "look weird" are one thing, buildings that act weird are another. Buildings, unlike most artifacts, must last a long time—hundreds of years—so in terms of construction, weirdness should be avoided. In the sixteenth century, the great Palladio built revolutionary buildings, but he did so using tried and true technology, which is why so many of his works have survived. On the other hand, the National Air and Space Museum in Washington, D.C., which is barely 40 years old, just announced that its facade will be "revitalized" as part of a $30 million renovation. When Gyo Obata of HOK designed the museum in 1976, he matched the Tennessee marble skin to the National Gallery across the Mall. But he didn't match the way it was used. John Russell Pope, used marble that is 4-8 inches thick; the marble on the Air and Space Museum is only 1 1/4 inches thick. Over the years, the thin slabs have begun to bow and crack, and now have to be entirely replaced. The marble skin of I.M. Pei's nearby East Building of the National Gallery (1978) also failed, although for a different reason: the stainless steel anchors of the marble skin had to be replaced and the entire marble wall rebuilt. There is nothing novel about architectural veneer; the ancient Romans covered the brick structure of the Pantheon with marble slabs, and a thousand years later Charles McKim used basically the same technology in the Morgan Library. The Romans, McKim, and Pope, used marble to build thick self-supporting walls that wrapped around the structure, while Pei and Obata hung the marble from the structure. No one would describe the East Building or the Air and Space Museum as weird, but their architects were experimenting in adopting untried construction methods. Of course, if you believe that today's architects and engineers are simply smarter that those of forty years ago, you can be cavalier about innovation. But the unintended consequences that accompany new materials and novel techniques are difficult to predict precisely because they are unintended. Better to go slow.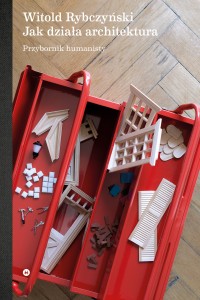 A Polish translation of How Architecture Works: A Humanist's Toolkit will be appearing soon from Wydawnictwo Karakter in Krakow. Translations are also in the works from Owl Publishing House in Taipei, Cheers Media in Beijing, and CIR Co. in Seoul.
Polish speakers can read my interview in Gazeta Wyborcza.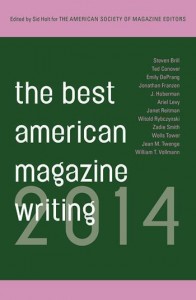 This year's Best American Magazine Writing, published by Columbia University Press, includes three of my essays that were finalists for the 2014 National Magazine Awards. This might be a good place to express my appreciation to Architect, which published them, and to my supportive editor Eric Wills. My subjects were untypical for an architecture magazine: these three essays were not about the next new thing, which is what most architectural writing these days is concerned with. I wrote about two buildings in Seattle built ten years ago, about a planned community in England that is now two decades old, and about a public housing project in Boston that was built twenty-five years ago. This reflects my conviction that the time to judge a project is not when it is brand new but when it has been used for a decade or two—which in the life of a building makes it barely a teenager. I don't mean only judging how it has performed functionally, but also how it has aged aesthetically. Ideas that seem wonderful when first unveiled, often sour after an interval of time—think Brutalism, megastructures, postmodernism, deconstructivism. Architecture is not about fashion or, at least, it shouldn't be. Unlike clothes and consumer products, buildings last for centuries and they should be assessed only in the fullness of time.
I recently visited the Knoll Museum, which is in Knoll's headquarters in East Greenville, Pa. "Museum" makes it sound grander than it is; it's more like a showroom with 70-odd chairs on the floor. What makes it better than any design museum I've ever visited is that you can sit in the chairs. Simply looking at a chair is kind of pointless; about as useful as being shown photographs of food. So I sat. Mies's Barcelona Chair was pretty comfortable, although hard to get up out of. Breuer's B35 lounge chair, which I've always admired but never sat in, was disappointing—the top bar cut into my back. Saarinen's Grasshopper Chair was OK, but I've never been a fan of contoured chaises longues—not enough freedom. There were several of Venturi's PoMo chairs from the 1980s—embarrassingly unsittable. Ditto for a Meier-design barrel chair. While all the chairs in the Knoll museum were Knoll chairs, there was one exception: the Eames-Saarinen shell chair, designed in 1940 and recently manufactured (for the first time) by Vitra. Beautiful to look at and beautiful to sit in; a masterpiece. Before I left, I tried out an unprepossessing executive chair; the tufted leather looked so inviting. The moment I sat down I knew this was a chair I wanted. It was designed by Charles Pollock in 1963, and the ingenious design consists of an extruded aluminum rim that acts as the main structure. The arms are phenolic plastic. Unlike today's ergonomic chair it has few adjustable features. It doesn't need them.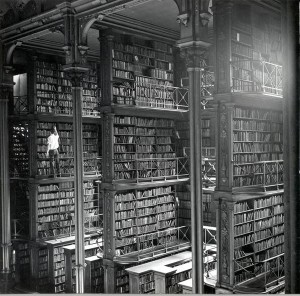 MessyNessyChic, a blog about libraries and books, recently featured the old Cincinnati Main Library, built in 1874 and demolished in 1955, less than a century later. The period photographs show a building of subtlety and sophistication. The four-story facade on downtown's Vine Street is pragmatically built up to the sidewalk (like Chicago's Harold T. Washington Library), and gives nothing away about the extraordinary space within. It is a "room full of books" what better image for a library than that? The architect was James W. McLaughlin (1834-1923). Born in the city, he apprenticed with a prominent local architect, James Keys Wilson (1828-1894). In addition to the library, McLaughlin also designed the city's art museum and zoo. The most prolific Cincinnati architect of that period was probably the British-born Samuel Hannaford (1835-1911), who designed the city hall and the Music Hall. By the second decade of the twentieth century, there seems to have been a sense that outside architectural expertise was required, especially for the new building type: the skyscraper. Cass Gilbert was brought in to build what was then the tallest office building outside New York City, Delano & Aldrich designed a soaring moderne slab that anticipated Rockefeller Center, and Paul Cret was consulting architect on the beautiful Art Deco railroad terminal. Since then, this trend has continued as many civic buildings have been designed by imported stars: Michael Graves, Cesar Pelli, and Zaha Hadid. This sometimes makes for good buildings, but one can still look back fondly to a time when local architects produced splendid designs like the old Main Library.