Ed Glaeser's new book on cities has just two index entries for "Miami." One is a reference to the city providing second-homes for Latin American millionaires, and the other observes that Florida is a low consumer of natural gas, since Miami is warm in the winter. Miami is the nation's seventh largest metro area, ahead of Washington, D.C. and just behind Houston, but it doesn't loom large in the national imagination. I'm not sure why that is. It may be the cultural divide—this has definitely become a Latin American outpost on the American mainland. Or it may be the region's history as a winter getaway—tourism is still the city's key industry. But  then so are international banking and shipping. On a recent visit I pondered these questions. The city is working hard to remake itself as a cultural hotspot, having recently built the hulking twin halls of the Carnival performing arts center downtown, the New World Center in South Beach, and established the Miami Basel art show. But as Las Vegas, that other leisure city, demonstrates, it takes a long time to live down your history.
A murder in  Florida received prominent coverage in the New York Times, which referred to "a crack in the facade of this community." Celebration was developed by the Disney Company 14 years ago (although it no longer belongs to the entertainment conglomerate), and it has received inordinate attention from the media ever since. There is something about the combination of Disney and an actual town that fascinates reporters, although Celebration is a fairly run-of-the-mill (actually above average) example of what is usually called New Urbanism. When the place opened, journalists said it was too perfect, too beautifully designed, too idyllic. There were dark hints of corporate control, as if this were a theme park in disguise. Now that the town exhibits the sadly ordinary symptoms of everyday life in twenty-first century America—a murder, as well as a domestic confrontation that resulted in a 14-hour stand-off with the police (and a suicide)—it is a crack in the façade of the community. Oh, well.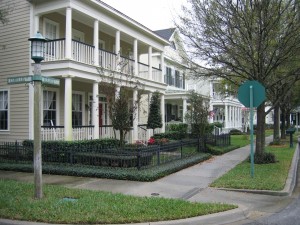 A front-page story in the New York Times describes Masdar, a new city being built on the outskirts of Abu Dhabi. "In Arabian Desert, a Sustainable City Rises, Walled and Lofty," reads the headline, despite the fact that the accompanying illustrations make it clear that there are no walls, and the most striking characteristic of the architecture is precisely that it is not lofty—buildings are intentionally restricted to 4-6 stories. Architecture critic Nikolai Ouroussoff, who clearly has it in for Foster + Partners, the planners of the new city, maintains that Masdar reflects a "gated-community mentality" (although there do not seem to be any gates) and finds little to praise in this effort to build a zero-carbon city. While the critic is disturbed by Foster's technological innovations—"daring and noxious"—somebody at the Times seems enamored of them, for the paper devotes an entire inner page to the article, including numerous illustrations of a variety of interesting low-tech and high-tech energy- saving devices such as umbrella-like sunshades, wind towers, automated mass transport, and photovoltaic roofs.
I was attending the monthly meeting of the Commission of Fine Arts in Washington, D.C. That evening I was invited to a dinner party—they still have such things in D.C., a civilized place—by Aviva Kempner, a documentary film-maker (Yoo-Hoo, Mrs. Goldberg). I would have taken the Metro, but it was raining, and her house is some distance from the station, so I hailed a cab. I'm glad I did. The traffic was as bad as anything I've ever seen outside Mexico City, and it took us about an hour to travel five miles, but it gave me a chance to see a part of the city I hadn't seen before. We travelled northwest up Connecticut Avenue, almost to the edge of the District. What was impressive was that the street was active, crowded with shops and restaurants, and full of people, all the way up. I kept waiting for the density to drop-off to a more suburban level, but the rich mixture of dense housing and 6-8 storey apartment buildings continued. With Washington's cap on building height, and the active street life, I might have been in a pre-war European city.
Earlier this summer I gave a graduation speech at my old high school—I am a member of the Class of 1960—in Montreal. I lived and worked here for a long time but moved away seventeen years ago, so I was looking forward to revisiting old haunts. Montreal is a vibrant city, in many ways more European than North American, the sidewalks were crowded with tourists, lots of cafés, the streets criss-crossed with bike paths. But it was no longer my city. My city is the Montreal of the sixties and seventies, the city of Leonard Cohen and Mordecai Richler, of Hungarian restaurants where you could get poppy-seed pancakes and ludlab cake, and of jazz clubs where you could hear Mingus and Evans. All gone now.