More than half of the world's population is now urban, a famous factoid. City boosters tend to play fast and loose with this statistic, as if it represents the triumph of the city, and more than half of the world's population now lives in a combination of Manhattan and Singapore. Of  course, they don't. The majority of urban Americans either live in suburbs, or in new cities–Phoenix, Seattle, Houston–whose character is distinctly suburban. Nevertheless, Richard Florida's article in the October issue of the Atlantic segues from global urbanization to the virtues of density, closeness, and human interaction in concentrated cities. The so-called creative classes, he writes, "cluster and thrive in places where the conversation and culture are the most stimulating." This may or may not be true, but the article is illustrated with a two-page map of the U.S. dotted with the major cities. Each city is indicated with its average income. The incomes are high, more than  $60,000 in San Francisco, $54,908 in New York City, and $46,230 in Philadelphia, where I live. Except that the median household income in the City of Philadelphia is actually closer to $30,000. The figures on the Atlantic map are not the average income for cities but for metro areas, which in the case of Philadelphia include the well-to-do suburbs, in which people live and work. I don't know if these suburbs are the scenes of "stimulating conversation," but they are definitely neither dense nor concentrated. Neither is San Jose, Marin, or Palo Alto, or for that matter, the outer boroughs of New York City or northern New Jersey. So people are thriving, just not exactly in the places where we imagine—or would like to imagine.
On a recent visit to Charleston, a local complained to me that the city was in danger of becoming New Orleans, that is, a playground city. The tiny historic peninsula between the Ashley and Cooper Rivers, whose resident population below the Crosstown Expressway is about 20,000, is inundated with tourists (an average of about 12,000 per day), and day-visitors from mammoth cruise ships. Many of the homeowners are absentee landlords for whom the charming place is merely an occasional pied-à-terre. But New Orleans has a gritty decadence that prim Charleston lacks. If I were living in Charleston, I would cast a wary eye on Venice, whose falling population, now about 60,000 in the historic center, is almost surpassed by the average number of daily visitors. Like Charleston, Venice is a built memory of the way we used to live—or, at least, the way we can imagine we used to live, for few cities were as beautiful as Charleston or Venice. But sometimes beauty can be a curse.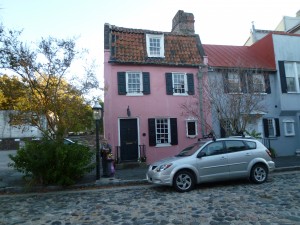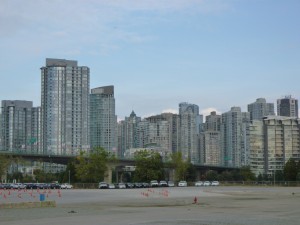 Most cities have a vertical business district surrounded by lower residential neighborhoods. Not Vancouver, British Columbia, which has relatively few office buildings but scores of densely packed, extremely slim high-rise apartments. It creates the appearance of an Asian city, not North American at all. In part, this is because so many of the apartment dwellers—or at least owners—are from Hong Kong and mainland China, and are accustomed to vertical living. (It has been estimated that as many as sixty percent of new apartments are owned by non-resident investors.) Windows look out at each other, twenty feet apart. Not even midtown Manhattan has this sort of residential density. Like San Francisco, Vancouver is constrained by its peninsular site, but that doesn't explain it entirely. Vancouver has views, of mountains and water, and that helps. This is not a banking or knowledge center like San Francisco, or a high-tech hub like Seattle, but the beautiful setting, the mild climate, the well-managed urban amenities, and the Pacific-rim location, have all come together to make the city a global attraction despite its small size (only 640,000).
We're in Ghent for a 10-day holiday. The old part of the city is crowded with bicycles, cars, trams and pedestrians. There don't seem to be many rules. The trams have precedence, otherwise there is an uneasy but generally polite truce between everyone else. This is also true of the architecture. The streetscape is a mixture of medieval stepped-gable houses, Baroque and Classical residences, Gothic churches, and Art Deco public buildings. Perhaps Camillo Sitte could make sense of it; I can't. It's just all jumbled together in a pleasant oleo. I suppose there is a historical commission here, but it must be pretty tolerant. Garish signs undermine the picture postcard perfect scenes, just enough to remind you that you are in the 21st century. And, oh yes, there are canals. Not neatly laid out as in Amsterdam, nor as ubiquitous as Venice, but having a bit of the atmosphere of both.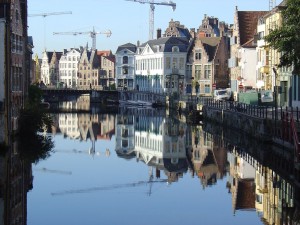 The quaintly-named Quartier des Spectacles is a 250-acre entertainment district in downtown Montreal, currently one of the largest urban redevelopment project in a North American City. Unlike 1960s urban renewal, the apparent centerpiece is not low-income housing or office towers but arts and entertainment. The Quartier includes the Museum of Contemporary Art, the National Theatre School of Canada, and many existing performance halls, as well as outdoor spaces for the now dozens of festivals that have made Montreal a world leader in the visual and performing arts. The recently-built Bibliothèqe Nationale, a rather cheerless glass box, anchors one end, and Montreal's version of Lincoln Center, the other. The Quartier, was a previously run-down section of downtown, which is precisely why many small theater and performing arts companies sprang up there. So, an arts project? Not exactly. The $120 million of public funds is expected to generate $1.9 billion in private investments, mostly presumably in retail, commercial and residential development. Real estate investors will end up calling the shots, and it would be surprising if the result will not be a sanitized, branded, high-design version of a bohemian arts district. Times Square with an accent.