From the Plus Ca Change Desk.
Have people read A. Trystan Edwards? Edwards (1884-1973) was a Welsh architect and town planner who studied at Liverpool, and articled under Sir Reginald Bloomfield. In 1924 he published an extraordinary book, Good and Bad Manners in Architecture that discusses many of the issues currently raised by the current New Urbanism movement. You can get an idea of the book from the frontis page: "This book asks the novel question, How do buildings behave towards one another? It contrasts the selfish building, the presumptuous building and the rude building with the POLITE and SOCIABLE building; and it invites the public to act as arbiter upon their conflicting claims." The "rude building" is very good. There should be an annual prize for the Rude Building of the Year. Edwards also wrote Architectural Style, which is likewise worth reading. Both are out of print, so either a good library or AbeBooks.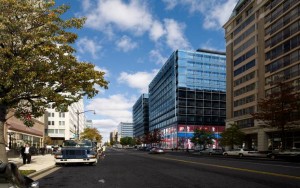 There are different arguments to be made about raising the height limit on buildings in the District of Columbia, but both Representative Darrell Issa and New York Times reporter Rebecca Berg are mistaken when they describe the original decision to set height limits as "arbitrary." Before the Building Heights Act of 1899 was passed, Congress sent a commission to Europe to study height limits in cities such as London (80 feet), and Paris, Berlin, and Vienna (64 feet), and to also look at American cities, most of which had height limits (New York and Philadelphia were two exceptions). The commission settled on a height limit that followed a well-established urban design precedent, that is, the height of buildings should be related to the width of the street on which they stand. In Washington's case, buildings on streets could be 90 feet high, while those on the broader avenues could be 110 feet. Hardly arbitrary.
The opening of the new Barnes Foundation in Philadelphia has caused some locals to tout the creation of a "museum mile" along the Benjamin Franklin Parkway, with the Philadelphia Museum of Art at one end, the Franklin Institute at the other, and the Barnes and the Rodin Museum in-between. Ever since the City Beautiful movement proposed creating grand civic centers, the idea of clustering urban functions has gained traction. But it only makes sense in selective cases. Grouping theaters, which tend to be open at night, supports pre- and post theater restaurants (as in Broadway and the West End); grouping stores allows shoppers to do errands conveniently. Certain commercial activities—garment-making, finance, commercial art galleries, antique shops—gain by proximity. But there is no reason to group religious buildings, for example, or sports venues. Or museums. Nobody spends two hours in a museum and says, "Let's go next door for another two hours." Large buildings such as museums and concert halls may be located on important avenues, but that is done for urban design not functional reasons. The only seeming advantage to grouping museums is for the tourist, who doesn't know the city. But judging from those paramount tourist destinations, London, Paris, and Rome, even tourists enjoy exploring.
Park Circle, a neighborhood in North Charleston, SC, was originally laid out according to British garden city principles in the early 1900s. Since then, the adjacent naval shipyard has closed, and the grand vision has not quite come to fruition. But Park Circle is only ten miles from downtown Charleston, and it caught local developer Vince Graham's eye. He had completed the successful planned community of I'On in nearby Mt.Pleasant, and this seemed like another opportunity to apply the principles of density, walkability and  mixed-use. The development, which he called Mixson, after one of the original city's founders, began with a neighborhood of three-story houses tightly grouped around courtyards. The result, conceived by local designers George Holt and Andrew Gould, was like a chunk carved out of the 13th Arondissement and teleported to North Charleston. Real estate is a highly risky business, however—developers are at the mercy of politicians, bankers, and local homeowners. Here, the portents were all favorable, until the national economy intervened, and the housing slump put a stop to Mixson. The little piece of Paris remains unfinished, a cluster of houses surrounded by open space. No doubt, it will one day be complete, but in the meantime, like the original garden city of which it is a part, it remains an old American urban story—the dream that wasn't.
Jim Yardley has an excellent story in the New York Times on Dharavi, a large Bombay slum. It is not clear exactly how many people live in Dharavi—probably no one is quite sure—but it is reported that there are estimated to be 60,000 dwellings, but since a slum household can be anything from 2 to 20 persons, that is not much help. What is sure is that the slum, while lacking basic infrastructure is a hive of activity. One resident entrepreneur estimates Dharavi's annual economic output is between $600 million and $1 billion. When I was researching slums for a Canadian aid project, I remember an incident that put things into perspective for me. We were walking down a narrow dusty street when we glimpsed a group of young children sitting on the ground in a tight circle. What were they up to, I wondered? When we approached I realized that they weren't playing but working—they were filling and sealing paper sugar packets. The red logo on the packets said "Air India." Although slums, or informal settlements as the international aid community refers to them, are often described as part of an underground economy, that is inaccurate. Like cottage industries in Victorian England they are an integral—and important—part of the mainstream economy.