A photograph by New York Times photographer Bruce Buck accompanies an article on the wonderful renovation of the Yale University Art Gallery. The gallery was built in three stages: a tall 1866 Ruskinian Gothic first phase by Peter Bonnett Wight (right); a 1928 Florentine Gothic horizontal portion by Egerton Swartwout; and a 1953 addition by Louis Kahn. What Buck's photo clearly shows is the insensitivity of Kahn's addition. It is not a question of style—Swartwout did not follow Wight's lead either—but of massing. The Swartwout wing was rudely truncated by a brick party wall, and was obviously intended to be completed at some future date. Not only does Kahn not complete the work of his fellow architect, he insensitively pulls back to reveal the utilitarian party wall, leaving Swartwout with his metaphorical pants down. In addition, the cavity along Chapel Street does nothing to balance the composition, and only accentuates the difference between Kahn and Swartwout's buildings—as it was presumably intended to do.
One should not speak ill of the dead, it is said. Yet in a week fill with encomiums for Dave Brubeck (1920-2012) and Oscar Niemeyer (1907-2012) it is hard to hold back. When I started listening to jazz, in the late 1950s, the Dave Brubeck Quartet was already famous—or at least as famous as jazz musicians got at that time. I loved Paul Desmond, and Joe Morello could do no wrong (I was a drummer), but I never warmed to Brubeck himself. Me and my friends much preferred Ahmad Jamal, Monk, and Bill Evans.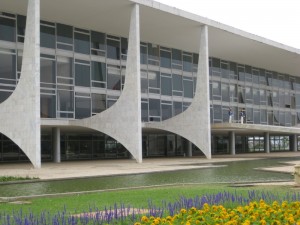 Nor was I ever an admirer of Oscar Niemeyer. His curvy, rather simplistic one-note architecture never appealed to me. Nor did his authoritarian ideas about city planning. Robert Hughes called the city of Brasilia"a Carioca parody of La Ville Radieuse." And so it is, a dystopian parody, "an expensive and ugly testimony to the fact that, when men think in terms of abstract space rather than real place, of single rather than multiple meanings, and of political aspirations instead of human needs, they tend to produce miles of jerry-built nowhere."
Speaking recently at a British conference on urbanism, Daniel Libeskind called for a greater degree of public participation in the design process. "The people have to be empowered to be involved in shaping the program, not just the program but also the actual space," he said. Let the voice of the people be heard! I was reminded of this tired nostrum as I was watching Seven Days in May. In a taped commentary, director John Frankenheimer several times emphasized that this excellent movie, shot in 1963, could not be made today (he died in 2004). Imagine, a political thriller without a shooting, a fight, or even a car chase! One of the differences in 1963 was the absence of preview screenings. Frankenheimer speculated that had the film been subjected to a test viewing, as almost all movies are today, someone would have complained about the long scenes and extended dialogue, or the complicate plot and the lack of action, and changes would have been ordered.
The architectural equivalents of the pre-release preview are the community boards, design review panels, and neighborhood oversight committees that "screen" new projects before they are built. It is virtually impossible to realize an urban building today without considerable input from the public. Sounds democratic, but the problem is that the The Public is often those who shout loudest and complain the most, well-meaning pressure groups, single-issue lobbies, and disgruntled individuals. It is hard to believe that more of this process, which tends to produce improvised compromises and mealy-mouthed consensus, would really raise the quality of the built environment.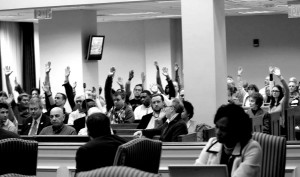 Dateline: Portland, Oregon. This city is an odd mixture of urbanity and provincialism. A walkable downtown with light rail but with more backpacks than attaché cases—that's not so odd, but people carrying sleeping bags on the street is. Everybody waits for the traffic lights to change—that appeals to the orderly Canadian part of my soul. Cities are about obeying rules in order to live together. Portland isn't exactly Manhattan, but I like it. Perhaps this is the new "urban-light living" that a recent article in the Atlantic talked about.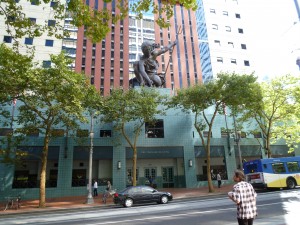 The late nineteenth and early twentieth century buildings are derivative—this could be Buffalo or Rochester—and equally sophisticated. The current crop of office buildings is no less derivative but done with considerably less conviction. A little of this, a little of that. Graves's Portlandia Building is getting a bit frayed (although Ray Kaskey's statue looks as good as the first time I saw it, years ago), and so is the Equitable Building, designed by Graves's nemesis, Pietro Belluschi (the first real modernist office building in the US). But compared to the current generation of hacks, Belluschi and Graves were at least trying to make a coherent statement. I look for Filson's, but it's moved to a new location;  L.L. Bean has just moved away, period. John Helmer Haberdasher is still there. I must have bought my first hat from this shop 30 years ago. I buy an Italian linen cap, for old times sake.
From the Plus Ca Change Desk.
Have people read A. Trystan Edwards? Edwards (1884-1973) was a Welsh architect and town planner who studied at Liverpool, and articled under Sir Reginald Bloomfield. In 1924 he published an extraordinary book, Good and Bad Manners in Architecture that discusses many of the issues currently raised by the current New Urbanism movement. You can get an idea of the book from the frontis page: "This book asks the novel question, How do buildings behave towards one another? It contrasts the selfish building, the presumptuous building and the rude building with the POLITE and SOCIABLE building; and it invites the public to act as arbiter upon their conflicting claims." The "rude building" is very good. There should be an annual prize for the Rude Building of the Year. Edwards also wrote Architectural Style, which is likewise worth reading. Both are out of print, so either a good library or AbeBooks.