I spent a weekend in Seaside, the emblematic small beach town that launched a thousand traditional neighborhood developments. Seaside is now more than thirty years old and looks it—in a good way. It is not merely a question of mature landscaping and weathered materials, but also of the indefinable small adjustments that take place when a place grows into itself. Unexpected things have happened, of course, not least a real estate bonanza. At Seaside, modest wood-frame houses on small lots regularly go for well over a million dollars. A beachside house designed by the late Aldo Rossi—nothing spectacular—is on the market for $11 million. And the town center is a runaway commercial success; it was crowded with people on a Sunday in November, which is not the high season in this part of Florida.
The architectural influence of Seaside is visible up and down Route 30A, the coastal highway, in houses, roadside eateries, even strip malls. There are also second generation Seaside-type resort developments such as WaterColor, Rosemary Beach and Alys Beach. They make an interesting comparison. WaterColor is a commercialized, scaled-up, mainstream version of Seaside. Both WaterColor and Seaside are riffs on a homegrown Southern vernacular: shady porches, shuttered windows, tin roofs. Think Thornton Wilder, Norman Rockwell, and Frank Capra. Rosemary Beach and Alys Beach, on the other hand, are spicier mixtures. Rosemary Beach is part Caribbean and—weirdly—part Bavarian, with rustic woodwork and steep roofs. Alys Beach is a combination Mediterranean village, Moorish coastal town, with a dash of Casablanca. Stucco walls, patterned tiles, wooden screens, hidden courtyards with trickling fountains. What started in Seaside as an earnest search for roots has turned into a fusion of exotic images that have little to do with a "sense of place," or, at least with a sense of this actual place. That is unexpected, too.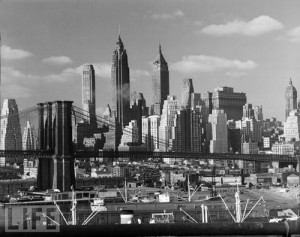 There was a Q and A after my Landmark West! lecture on New York's Upper West Side. One person wanted to know what I thought about the exceptionally tall residential towers that are radically changing Midtown's skyline. One57, Christian de Portzamparc's skinny 75-story condominium, under construction on West 57th Street is an example. I've written about this new trend. The current phenomenon is a function of globalization and real estate, and has little to do with  architecture. But, then, that was always the case with Manhattan. As late as the 1940s, the high-rise real estate development projects of numerous entrepreneurs produced a memorable skyline: animated, varied, and quite beautiful. But that skyline was a happy accident; there was no master plan, no rules, no grand design. This time around, I'm less sure of the outcome.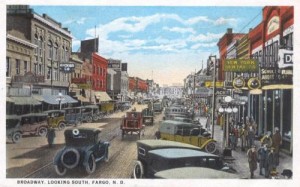 As this postcard shows, downtown Fargo, North Dakota in 1924 was a busy place. Broadway is not as crowded today, but it's much more lively than when I was here last, more than 20 years ago. The North Dakota energy boom is taking place a two-and-a-half hour drive away, but in some ineffable way the prosperity has trickled down. I am told that real estate values are way up, and apartment builders can't keep up with demand. The architecture school of North Dakota State University is celebrating its centennial and I am giving a keynote talk tonight at the Fargo Theater. In 1940, Duke Ellington's orchestra played a gig in Fargo, and the resultant  legendary recording is considered one of Duke's best. I hope I can do even half as well.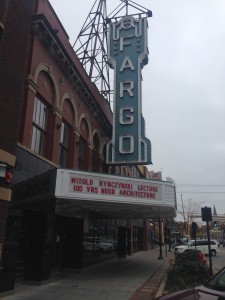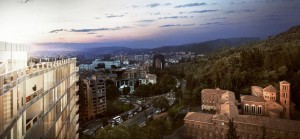 A month ago the Wall Street Journal ran an article about the current building boom in Bogotá. It described a planned luxury residential building designed by Richard Meier. Why import an architect from thousands of miles away, who has never built anything in that city? "One aspect of new construction is important to local buyers: no red brick. Exposed brick is so prevalent in Bogotá that many apartment buildings look the same." Well, Mr. Meier's building, which is white steel and glass, will certainly not "look the same." Indeed, to my eye, it will likely stick out like the proverbial sore thumb. No doubt, other "not-the-same" buildings will follow, and soon this brick city (look at those wonderful buildings on the right side of the image above), will look like everywhere else.
Núria Ferragutcasas, who is the US correspondent for the Catalan newspaper ARA, interviewed me about the reconstruction of the World Trade Center site at Ground Zero. Her last question—"What is your opinion about the new site as whole? Do you like the Memorial? Is it appropriate?"—prompted me to reflect further on the subject, so here is an expanded version of my answer.
Cities have regularly suffered catastrophic events—plagues, floods, sieges, and fires—and have commemorated them in different ways. The Monument to the Great Fire of London, for example, was erected only a decade after the fire. Designed by Christopher Wren, it's a tall Doric column, topped by a gilded urn of fire. The column is 202 feet high (it is located 202 feet from where the fire started), but it does not occupy a large space and it takes its place in the city, allowing urban life to go on around it unimpeded. A good memorial doesn't hector, it reminds—gently.
Trafalgar Square occupies a much larger space than the Great Fire monument. It commemorates a naval victory and the man responsible, yet it does so without hindering other uses, for the square also functions as an urban meeting place. It is the site of public celebrations, sports and musical events, political demonstrations, and public meetings. A giant tree is put up for Christmas; people play street hockey on Canada Day. None of this bothers Lord Nelson high up on his column, I am sure.
Trafalgar Square is about 6 acres; the memorial and open space at Ground Zero cover about 8 acres. But the memorial components at Ground Zero are so large and so assertive—all that cascading water!—that they overwhelm and suffocate their surroundings, which are permeated with an air of sombre piety. "The place doesn't do much to celebrate the city's values of energy, diversity, tolerance openness and debate," wrote Michael Kimmelman recently in the New York Times. What was advertised as a park coexists uncomfortably with the memorial. Already we see posted "rules of behavior," enforced by a police presence. That is not the way a city should work.