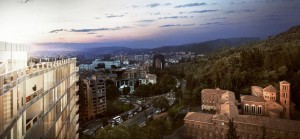 A month ago the Wall Street Journal ran an article about the current building boom in Bogotá. It described a planned luxury residential building designed by Richard Meier. Why import an architect from thousands of miles away, who has never built anything in that city? "One aspect of new construction is important to local buyers: no red brick. Exposed brick is so prevalent in Bogotá that many apartment buildings look the same." Well, Mr. Meier's building, which is white steel and glass, will certainly not "look the same." Indeed, to my eye, it will likely stick out like the proverbial sore thumb. No doubt, other "not-the-same" buildings will follow, and soon this brick city (look at those wonderful buildings on the right side of the image above), will look like everywhere else.
Núria Ferragutcasas, who is the US correspondent for the Catalan newspaper ARA, interviewed me about the reconstruction of the World Trade Center site at Ground Zero. Her last question—"What is your opinion about the new site as whole? Do you like the Memorial? Is it appropriate?"—prompted me to reflect further on the subject, so here is an expanded version of my answer.
Cities have regularly suffered catastrophic events—plagues, floods, sieges, and fires—and have commemorated them in different ways. The Monument to the Great Fire of London, for example, was erected only a decade after the fire. Designed by Christopher Wren, it's a tall Doric column, topped by a gilded urn of fire. The column is 202 feet high (it is located 202 feet from where the fire started), but it does not occupy a large space and it takes its place in the city, allowing urban life to go on around it unimpeded. A good memorial doesn't hector, it reminds—gently.
Trafalgar Square occupies a much larger space than the Great Fire monument. It commemorates a naval victory and the man responsible, yet it does so without hindering other uses, for the square also functions as an urban meeting place. It is the site of public celebrations, sports and musical events, political demonstrations, and public meetings. A giant tree is put up for Christmas; people play street hockey on Canada Day. None of this bothers Lord Nelson high up on his column, I am sure.
Trafalgar Square is about 6 acres; the memorial and open space at Ground Zero cover about 8 acres. But the memorial components at Ground Zero are so large and so assertive—all that cascading water!—that they overwhelm and suffocate their surroundings, which are permeated with an air of sombre piety. "The place doesn't do much to celebrate the city's values of energy, diversity, tolerance openness and debate," wrote Michael Kimmelman recently in the New York Times. What was advertised as a park coexists uncomfortably with the memorial. Already we see posted "rules of behavior," enforced by a police presence. That is not the way a city should work.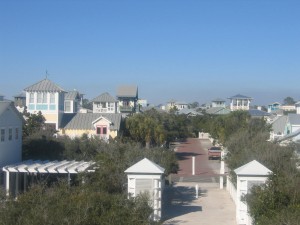 The other day a visiting Polish architect asked me what I thought of the new urbanism movement. It is a good question. On the one hand, the continued expansion and growth of the Congress for a New Urbanism is impressive. I recall the first meeting, in Alexandria, Virginia, in 1993. Barely filled a small room. Today the annual conventions attract halls full of enthusiastic members. New urbanism  was jump-started by Seaside, whose celebrity and undoubted success—financial as well as architectural—encouraged real estate developers, community and neighborhood groups, city planners and architects, to take a long hard look. Many liked what they saw. But while new urbanists have attempted to shed their small town/suburban/Truman Show image, they have had no similarly successful and exemplary big-city project. No High Line. No Disney Hall. No Fifteen Central Park West. What are the important ideas that have affected American cities in the last 20 years? The development of waterfronts. The renaissance in constructing urban parks. The move of genXers and retirees into downtowns. High-rise urban living and Vancouverism. The popularity of urban bicycling and bike-rental programs. Ditto for Zipcars. Urban farmers markets and community gardens. Urban charter schools. The dramatic expansion in attendance of urban cultural institutions, especially art museums. Urban tourism. Downtown trophy buildings. The emergence of influential big-city mayors. Have any of these been the result of the new urbanism movement?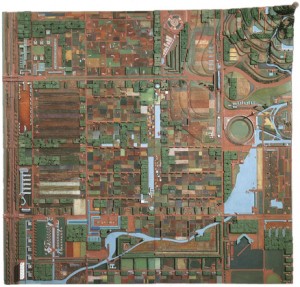 I saw the Frank Lloyd Wright exhibit at the Museum of Modern Art last night. The show is titled "Density and Dispersal" which, as far as I can make out, adds up to the fact that Wright designed Broadacre City, whose model was on display, and also designed tall buildings. That some of these buildings were to be in New York, Chicago, Dallas, and San Francisco, while others were in small towns, was not addressed. In fact, their context was ignored altogether, and characteristically, MoMA treated the buildings as art. But ignoring the intellectually slim conceit behind the exhibition, it was nice to see the drawings and models. The Broadacre model (which I had never seen), is a surprise because it is such an artful object, a sort of tapestry. It also remains a powerful tool to communicate Wright's idea, which really has little to do with sprawl or suburbanization, except to the extent that it recognizes the automobile (but it also includes a monorail link). It was interesting to see so many students in attendance (it was Free Friday Night), being introduced–I suspect for the first time in many cases–to the old magician. I hope they took away a lesson. Wright and his collaborators produced striking drawings: axonometrics, cut-away perspective views, the breathtaking taaaall section of the Mile-High skyscraper (much more poetic than The Shard, by the way). And all using T-squares and colored pencils—not a computer or laser printer in sight.
The Atlantic's website "Cities" argues that some urbanist buzzwords should be retired, including placemaking, gentrification, and smart growth. A good proposal, even if the Atlantic is itself responsible for the proliferation of many the self-same buzzwords—the website is subtitled "Place Matters." Buzzwords are everywhere. Trouble in the Iraq war—what we need is a surge. No sooner did Obamacare falter than we learned that there were navigators, who would fix the problem. The right buzzword comes first; reality will follow. Buzzwords seem to emerge from two considerations: marketing and media. If you have an untested idea or hypothesis, such as smart growth or creative class, providing a label, preferably a catchy label, gives the idea an air of legitimacy. After all, if it has a name, it must be real. In our Twitter culture, a colorful name also saves time in lengthy explanations. This appeals to the media, since a new name can stand in for actual news. Would Occupy Wall Street, or the Tea Party, have gotten as much coverage without a colorful name? Which brings me back to the Atlantic list. Placemaking is a term often used by architects and urban designers, and it implies that a sense of place (obviously a good thing) can replace a sense of placelessness (a bad thing), if only the design suggestions of the self-styled placemakers are followed. But is a sense of place really a function of design? It may be for the tourist or the stranger, who experiences places briefly. Nothing is as disappointing to the tourist as visiting a place that looks like other places, and most of the American built environment is superficially similar. But as the late J. B. Jackson long ago pointed out, that environment is full of meaning, for those who use it. A strip mall may not look like much as you drive by, but for someone who attends the Judo school, or goes regularly to the beauty salon, it is a real place. Conversely, most attempts to instill a sense of place through physical design end up looking like themed restaurants with ersatz "mementos" on the walls. (The most blatant of these is the "Cheers" airport pub chain.)  I shop in a banal Pathmark, but I recognize some of the staff, I know where things are, it is familiar. The supermarket has a small place in my life, among the stirring places (the concourse of 30th Street station), the lyrical places (the Wissahickon), and the cherished places (our house). In other words, a "sense of place" is less a physical attribute than an individual experience. The old folk adage puts it well: Be it ever so humble, there is no place like home.