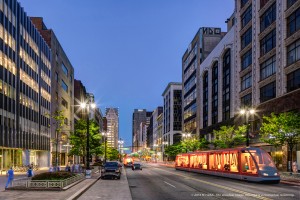 I just came across an advertisement from JP Morgan Chase in the Atlantic. "What the rebuilding of Detroit can teach us" was the tag line. What caught my eye was the accompanying photograph of a downtown scene with a futuristic-looking streetcar rolling down the street. It looked like one of those hi-tech jobs one sees in German or Swiss cities. A closer look at the small type revealed that this was a "rendering," what used to be called an "artist's conception," before PhotoShop made such images entirely lifelike. The so-called M1 line is currently under construction; it will run all of 3.3 miles. At least that's longer than the often-ridiculed People Mover, the elevated and automated train that circulates downtown, largely empty. The flood of comeback stories about troubled Detroit reminds me of the reporting about New Orleans after Katrina. Both follow a formula: first the bad news, then the good news—rebuilding, recovery, renaissance. We've been there before: Detroit's Renaissance Center dates from 1977.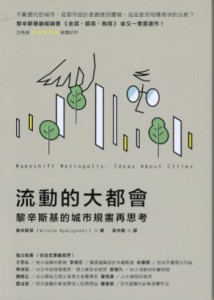 Owl Publishing House in Taipei has just issued a translation of Makeshift Metropolis: Ideas About Cities. The book has also been translated into Russian (Strelka Press, Moscow) and will soon be available from Commercial Press of Beijing. Translations of  Home and One Good Turn are also available from Owl.
Downtown Fort Worth is a lively urban place that includes a central plaza, shops and restaurants, movie houses, theaters, a concert hall, and a public library. At the head of Main Street is the 1895 Tarrant County Courthouse, which resembles the state capitol in Austin, but with a clock tower instead of a dome. The downtown architecture is a mixture of styles: the Renaissance Revival courthouse, Sullivanesque office blocks from the early 1900s, Art Deco buildings from the 1930s, and modern towers from the 1980s (notably two glass hulks by Paul Rudolph). Most of the commercial construction tracked recurring oil booms. "When we get some money we like to build," Edward Bass tells me. Bass is the motive force behind Sundance Square, the development company that is responsible for the revival of Fort Worth. There are different models for successful downtown renewal: an activist civic leader (Mayor Joe Reilly in Charleston), a take-charge business improvement district (Center City District in Philadelphia), a thriving real-estate market (Washington, D.C.). In Fort Worth, it's a benevolent developer. Sundance Square owns about 30 city blocks in downtown (currently about half built-up), and has been developing them since the mid 1980s. This sort of long-term stewardship is unusual. Bass had read Jane Jacobs and William H. Whyte, and he took their teaching to heart. The result is commercial development that is pedestrian-oriented, lively at sidewalk level, and—most unusual—small in size. "We wanted lots of buildings, not a few big buildings," says Bass. The tallest new office building is 16 stories, and most are much lower than that. Unlike most American cities, which have "exciting" skylines, Fort Worth is more like a downtown of the 1940s—human scale. The architecture is like that, too. David M. Schwarz Architects is responsible for all Sundance Square's commercial buildings, as well as the expanded central library, the new concert hall, and some of the county buildings. Normally that would produce mind-numbing uniformity, but Schwarz is a cheerful eclectic with a scenographic bent, so the result is a pragmatic mix of historic buildings, restored landmarks, invented landmarks, repurposed old buildings, and new buildings in a variety of styles: Beaux-Arts classical, Art Deco, Art Moderne, Viennese Secession. Schwarz has described his firm's goal: "to make places for people, created out of a fabric that was familiar and easy to understand." In Fort Worth, he succeeded.
I spent a weekend in Seaside, the emblematic small beach town that launched a thousand traditional neighborhood developments. Seaside is now more than thirty years old and looks it—in a good way. It is not merely a question of mature landscaping and weathered materials, but also of the indefinable small adjustments that take place when a place grows into itself. Unexpected things have happened, of course, not least a real estate bonanza. At Seaside, modest wood-frame houses on small lots regularly go for well over a million dollars. A beachside house designed by the late Aldo Rossi—nothing spectacular—is on the market for $11 million. And the town center is a runaway commercial success; it was crowded with people on a Sunday in November, which is not the high season in this part of Florida.
The architectural influence of Seaside is visible up and down Route 30A, the coastal highway, in houses, roadside eateries, even strip malls. There are also second generation Seaside-type resort developments such as WaterColor, Rosemary Beach and Alys Beach. They make an interesting comparison. WaterColor is a commercialized, scaled-up, mainstream version of Seaside. Both WaterColor and Seaside are riffs on a homegrown Southern vernacular: shady porches, shuttered windows, tin roofs. Think Thornton Wilder, Norman Rockwell, and Frank Capra. Rosemary Beach and Alys Beach, on the other hand, are spicier mixtures. Rosemary Beach is part Caribbean and—weirdly—part Bavarian, with rustic woodwork and steep roofs. Alys Beach is a combination Mediterranean village, Moorish coastal town, with a dash of Casablanca. Stucco walls, patterned tiles, wooden screens, hidden courtyards with trickling fountains. What started in Seaside as an earnest search for roots has turned into a fusion of exotic images that have little to do with a "sense of place," or, at least with a sense of this actual place. That is unexpected, too.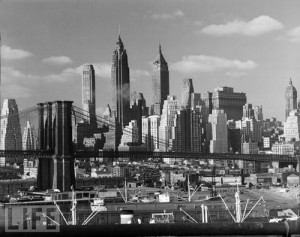 There was a Q and A after my Landmark West! lecture on New York's Upper West Side. One person wanted to know what I thought about the exceptionally tall residential towers that are radically changing Midtown's skyline. One57, Christian de Portzamparc's skinny 75-story condominium, under construction on West 57th Street is an example. I've written about this new trend. The current phenomenon is a function of globalization and real estate, and has little to do with  architecture. But, then, that was always the case with Manhattan. As late as the 1940s, the high-rise real estate development projects of numerous entrepreneurs produced a memorable skyline: animated, varied, and quite beautiful. But that skyline was a happy accident; there was no master plan, no rules, no grand design. This time around, I'm less sure of the outcome.