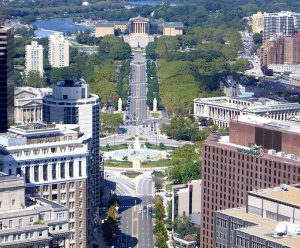 Last year was the centenary of the design of the Benjamin Franklin Parkway in Philadelphia. Designed by the Parisian landscape architect, Jacques Gréber in 1917, the avenue slashed diagonally across William Penn's grid, connecting Logan Circle to Fairmount, a hill which would be the site of the Philadelphia Museum of Art. Gréber was a notable figure. He worked with Horace Trumbauer (the architect of the future museum) on several mansions, including the Versailles-like Whitemarsh Hall, and collaborated with Paul Cret on the Rodin Museum. (Trumbauer and Cret first proposed the idea of a parkway.) Gréber, who was the chief planner of the 1937 Paris International Exposition, was also responsible for laying out scenic drives in Ottawa.

The Benjamin Franklin Parkway (originally the Fairmount Parkway) is said to have been based on the Avenue des Champs-Elysées, but that is misleading. This is a parkway on the Olmstedian model. The highlight of Gréber's Ottawa plan is a drive along the Ottawa River, not so different from Philadelphia's Kelly Drive (named after Jack Kelly, a gold medal Olympic rower and the brother of the famous actress) that wends its way beside the Schuylkill River through Fairmount Park. That the Parkway is to be read as an introduction to this scenic drive is emphasized by the gatelike Civil War Soldiers' Monument at its entrance.
Landscaped drives and parkways were a feature of an age when car ownership was on the rise, and people drove for recreation. Little did Gréber imagine that his parkway would become a commuter speedway, however. Another use that Gréber did not intend, but which has become a Philadelphia institution, is the Parkway as the setting for great public events—musical concerts, the beginning and end of the Philadelphia Marathon, a Papal mass, the NFL draft. On such occasions the traffic lanes are closed and the parkway becomes a pedestrian place. There have been recent proposals to permanently "boulevardize" the Parkway, but these plans have inevitably faltered. It would be better to concentrate on reinforcing the adjacent neighborhoods and let the Parkway be what it was intended to be—a place to experience from behind the wheel.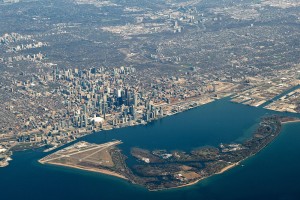 Rather silly op-ed piece in today's New York Times arguing that the mayoralty of Toronto's Rob Ford, which made most Torontonians—and Canadians—cringe, was actually a sign of a healthy politic. Toronto, like Montreal, has regional not municipal government, imposed, I hasten to say, not by popular choice but by a provincial fiat. The amalgamation of a traditional central city with its surrounding metropolitan suburbs, is virtually impossible to achieve in the U.S., although it is the dream of many American city planners. Such amalgamation, the argument goes, would spread the advantages and burdens of urbanization over the entire metropolitan population, shifting suburban resources to inner city problems. Sounds like a good thing. Except that when the suburbs outnumber the city, you get a "suburban" dingbat like Rob Ford, who managed to get elected as mayor (and re-elected to his council seat), despite his embarrassing behavior precisely because of his pro-suburb, anti-city policies. Ford was a symptom of urban success? I have never read about Toronto's "livable suburbs," or about the "suburbs-that-work." The image of Toronto is precisely that—the image of a city that is dense, well served by mass transit, safe, efficiently managed. Toronto suburbs are not much different from their American counterparts. The Times article compares Toronto to nearby Detroit (talk about a loaded comparison). The latter is a ring of white suburbs surrounding a majority black city. I can imagine what the Times would say about a Detroit regionally governed by a redneck white (suburban) mayor riding roughshod over his predominantly black city constituents? Amiri Baraka could certainly imagine it. Back in 1993 I was on a Wayne State University panel with the late Newark poet discussing urban issues. In my Canadian naiveté I suggested that Detroit might be better off with a regional government—spread the wealth, etc. Baraka exploded. That would simply place city government back in the hands of the white majority, he remonstrated. A ridiculous suggestion. In 1993, a fresh immigrant to the U.S., I was puzzled by his response. Now I take his point.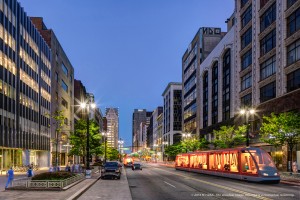 I just came across an advertisement from JP Morgan Chase in the Atlantic. "What the rebuilding of Detroit can teach us" was the tag line. What caught my eye was the accompanying photograph of a downtown scene with a futuristic-looking streetcar rolling down the street. It looked like one of those hi-tech jobs one sees in German or Swiss cities. A closer look at the small type revealed that this was a "rendering," what used to be called an "artist's conception," before PhotoShop made such images entirely lifelike. The so-called M1 line is currently under construction; it will run all of 3.3 miles. At least that's longer than the often-ridiculed People Mover, the elevated and automated train that circulates downtown, largely empty. The flood of comeback stories about troubled Detroit reminds me of the reporting about New Orleans after Katrina. Both follow a formula: first the bad news, then the good news—rebuilding, recovery, renaissance. We've been there before: Detroit's Renaissance Center dates from 1977.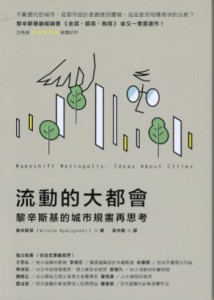 Owl Publishing House in Taipei has just issued a translation of Makeshift Metropolis: Ideas About Cities. The book has also been translated into Russian (Strelka Press, Moscow) and will soon be available from Commercial Press of Beijing. Translations of  Home and One Good Turn are also available from Owl.
Downtown Fort Worth is a lively urban place that includes a central plaza, shops and restaurants, movie houses, theaters, a concert hall, and a public library. At the head of Main Street is the 1895 Tarrant County Courthouse, which resembles the state capitol in Austin, but with a clock tower instead of a dome. The downtown architecture is a mixture of styles: the Renaissance Revival courthouse, Sullivanesque office blocks from the early 1900s, Art Deco buildings from the 1930s, and modern towers from the 1980s (notably two glass hulks by Paul Rudolph). Most of the commercial construction tracked recurring oil booms. "When we get some money we like to build," Edward Bass tells me. Bass is the motive force behind Sundance Square, the development company that is responsible for the revival of Fort Worth. There are different models for successful downtown renewal: an activist civic leader (Mayor Joe Reilly in Charleston), a take-charge business improvement district (Center City District in Philadelphia), a thriving real-estate market (Washington, D.C.). In Fort Worth, it's a benevolent developer. Sundance Square owns about 30 city blocks in downtown (currently about half built-up), and has been developing them since the mid 1980s. This sort of long-term stewardship is unusual. Bass had read Jane Jacobs and William H. Whyte, and he took their teaching to heart. The result is commercial development that is pedestrian-oriented, lively at sidewalk level, and—most unusual—small in size. "We wanted lots of buildings, not a few big buildings," says Bass. The tallest new office building is 16 stories, and most are much lower than that. Unlike most American cities, which have "exciting" skylines, Fort Worth is more like a downtown of the 1940s—human scale. The architecture is like that, too. David M. Schwarz Architects is responsible for all Sundance Square's commercial buildings, as well as the expanded central library, the new concert hall, and some of the county buildings. Normally that would produce mind-numbing uniformity, but Schwarz is a cheerful eclectic with a scenographic bent, so the result is a pragmatic mix of historic buildings, restored landmarks, invented landmarks, repurposed old buildings, and new buildings in a variety of styles: Beaux-Arts classical, Art Deco, Art Moderne, Viennese Secession. Schwarz has described his firm's goal: "to make places for people, created out of a fabric that was familiar and easy to understand." In Fort Worth, he succeeded.