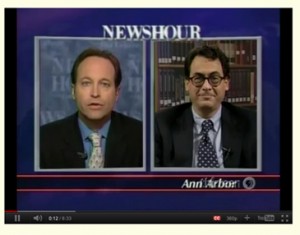 Every evening I watch the evening news. News may not be exactly the right word. The reports are a combination of speculation about what is about to happen—a presidential speech, a new pope, the Oscars—and spokespeople touting one point of view or another on the issue of the day. Which today is sequestration, or rather "what Washington refers to a sequestration," as the media insists on calling it, despite the fact that by now it is a term surely familiar to all. But perhaps the most common "news" story is the revelation of a new topic of concern: a previously ignored disease, an unnoticed social condition, an overlooked environmental effect, a looming problem. Journalistic careers are made by discovering the next new trouble: on-line privacy,  bullying, school soccer injuries, cheating on school tests, whatever. Since the evening news insists on being upbeat–at least on PBS– however dire the problem, it can always be fixed, we are told by the earnest experts. Just once, it would be refreshing to hear that a problem was insoluble. "Sorry, nothing can be done about it. It's just human nature. We'll have to learn to live with it."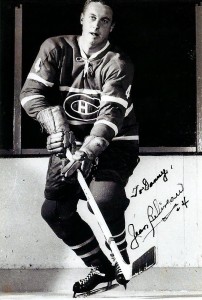 I was in Montreal recently and read in the local paper about the first Canadiens hockey game of the season, which was opened by Jean Beliveau (now 82). In his playing days, Beliveau was known as "Le Gros Bill," after a popular 1949 French Canadian movie of the same name. Many top hockey players had nicknames: Maurice "Rocket" Richard, Bernard "Boom Boom" Geoffrion, Emile "Butch" Bouchard. The great Jacques Plante was "Jake the Snake." Nicknames used to be popular. Actors had them, especially the old Western stars—George "Gabby" Hayes, Allan "Rocky" Lane, Alfred "Lash" LaRue, Edmund "Hoot" Gibson, Charles "Buck" Jones, and Woodward "Tex" Ritter, one of the many singing cowboys. Mainstream Hollywood stars used their full first names—Robert, John, James. Today shortened first names are common: Al Pacino, Johnnie Depp, Matt Damon, Tom Hanks. Are nicknames out of fashion? It would seem so. We haven't had a president with a nickname since Ike, although we've had folksy Jimmy and Bill, and we almost had President Al. The last holdout for using nicknames is the Mafia: Andrew "Mush" Russo, Guiseppe "Pooch" Destefano, Joseph "Junior Lollipops" Carna. Some traditions never die.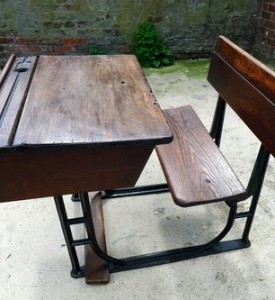 An article in today's New York Times on classroom chairs reminded me of my schooldays. As far as I remember, we had wooden desks with a built in bench seats, attached to the floor. The desk-top, usually carved with a chronicle of interesting graffiti, was sometimes hinged with a storage space beneath that we never used. We didn't used the hole in the top, which was made to hold an ink-well, either. The desks were sturdy and not particularly comfortable—they weren't intended to be. The Times piece is full of fluff about how different classroom chairs might improve learning, although the author allows that New York City's Model 114 stacking chair has its defenders. "But is some quarters, the chair and others like it are seen as stubborn holdovers from before the age of ergonomics, when American schools' main job was to turn out upright citizens, and rote learning was the student's lot." Since most people agree that American education has declined precipitously since the Age of Rote Learning, I wonder if a "stubborn holdover" is really so bad.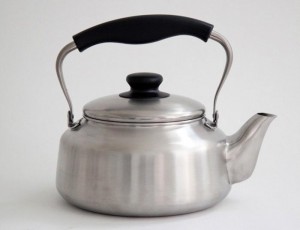 Every morning I boil water for making tea or coffee (I alternate). What starts my day is the most perfect kettle I have ever used. It is the work of Sori Yanagi (1915-2011), a Japanese product designer probably best remembered for his molded plywood Butterfly Stool. Yanagi studied architecture, but the kettle is decidedly not architectural—no purist Platonic forms, no postmodern irony, no gimmicky whistles. It is just a kettle: handle, spout, lid. Yet this perfectly balanced and shaped everyday object provides a feeling of well-being every time I use it—or even glance at it. In some ways, the deceptively simple kettle, half a million of which are sold annually in Japan, is a distillation of Yanagi's design philosophy: he was 79 when he designed it.
Last week, after lunch at a bistro on Rittenhouse Square, I dropped in at the Comcast Center to look at the huge video screen—a digital mural—in the lobby. I had written about the screen two years ago, finding it captivating, and since the content regularly changes, I thought it would be fun to see it again. I watched for a while and found my attention wandering. The material seemed less creative, less witty and sophisticated, more predictable. Apart from an interminable clip of close-ups of baseball players in action, the segments seemed shorter, too. Then it dawned on me. The Comcast wall had succumbed to the DD virus. It had been Dumbed Down.
DD is a pernicious modern malady that, sooner or later, seems to affect everything. The New York Times has certainly caught the bug; Arts & Leisure now means less art and more leisure. The PBS News Hour, once challenging with Robert McNeil, Jim Lehrer, and the redoubtable Charlayne Hunter-Gault, has become flabby and predictable. Masterpiece Theater, home to "Tinker, Tailor, Soldier, Spy," and "Brideshead Revisited" now broadcasts bromides like "Downton Abbey." As for architecture, can one really imagine that a Louis Kahn—or a Robert Venturi—would be able to break through today?