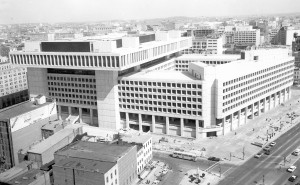 The federal government is looking for a developer to build a new suburban home for the FBI. The old FBI headquarters on Pennsylvania Avenue in Washington, DC is offered in exchange. A 41-year-old public building is going on the block. Admittedly the FBI headquarters (designed in 1975 by Charles F. Murphy & Associates) is an eyesore and won't be missed (assuming it's torn down, which seems to be its likely fate). But only 41 years! Washington is full of buildings that are two and three times as old. The first federal office building, the venerable Patent Office, designed by John Mills, opened in 1867 and still serves, albeit as an art gallery. I think that there are several reasons why so many public buildings from the 1970s have short lives. Architectural modernism promotes invention. An earlier generation would have built a generic loft building. Modernism required something more original, although the FBI building was inspired by Le Corbusier's La Tourette Dominican priory—an odd model for a government office building. "Form follows function" is another reason for short life. Tailoring buildings for one use guarantees problems when they come to be repurposed in the future—as virtually all buildings are at some point. Concrete construction also doesn't help, since it tends to create structures that are difficult to alter. And, not least, the ugly Brutalist style of the 1970s ensures that there will be no constituency militating for a building's preservation (except for a few earnest architecture critics). What a waste.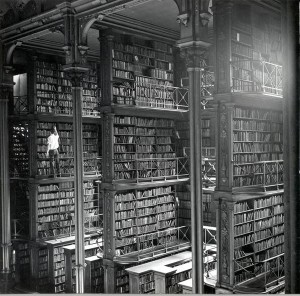 MessyNessyChic, a blog about libraries and books, recently featured the old Cincinnati Main Library, built in 1874 and demolished in 1955, less than a century later. The period photographs show a building of subtlety and sophistication. The four-story facade on downtown's Vine Street is pragmatically built up to the sidewalk (like Chicago's Harold T. Washington Library), and gives nothing away about the extraordinary space within. It is a "room full of books" what better image for a library than that? The architect was James W. McLaughlin (1834-1923). Born in the city, he apprenticed with a prominent local architect, James Keys Wilson (1828-1894). In addition to the library, McLaughlin also designed the city's art museum and zoo. The most prolific Cincinnati architect of that period was probably the British-born Samuel Hannaford (1835-1911), who designed the city hall and the Music Hall. By the second decade of the twentieth century, there seems to have been a sense that outside architectural expertise was required, especially for the new building type: the skyscraper. Cass Gilbert was brought in to build what was then the tallest office building outside New York City, Delano & Aldrich designed a soaring moderne slab that anticipated Rockefeller Center, and Paul Cret was consulting architect on the beautiful Art Deco railroad terminal. Since then, this trend has continued as many civic buildings have been designed by imported stars: Michael Graves, Cesar Pelli, and Zaha Hadid. This sometimes makes for good buildings, but one can still look back fondly to a time when local architects produced splendid designs like the old Main Library.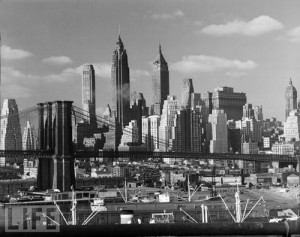 There was a Q and A after my Landmark West! lecture on New York's Upper West Side. One person wanted to know what I thought about the exceptionally tall residential towers that are radically changing Midtown's skyline. One57, Christian de Portzamparc's skinny 75-story condominium, under construction on West 57th Street is an example. I've written about this new trend. The current phenomenon is a function of globalization and real estate, and has little to do with  architecture. But, then, that was always the case with Manhattan. As late as the 1940s, the high-rise real estate development projects of numerous entrepreneurs produced a memorable skyline: animated, varied, and quite beautiful. But that skyline was a happy accident; there was no master plan, no rules, no grand design. This time around, I'm less sure of the outcome.
I am speaking at an architectural conference in Charleston. The participants are architects who design custom houses, and many of the presentations highlght the difference between traditional and modern design, since so many custom houses fall into the first category. At one point, a member of the audience (somewhat impatiently) points out that if this were a meeting of fashion designers, or industrial designers, the distinction would not arise; the implication is that we would be discussing only "the latest thing." Of course, I thought to myself, that's because fashion and consumer products are so fleeting. There is no tradition of the laptop; when a new model come along, the old model is out of date, soon obsolete, finally discarded. The cars of our youth are long gone. What our grandparents were wearing a century ago is of no concern except to historians, it is what people are wearing today that interests us.  But houses have a useful life that is measured in centuries. Old houses are a part of the present. This means that domestic traditions change slowly. The symbolic hearth goes back to the Middle Ages; Americans have built porches of one kind or another ever since Mount Vernon; the front door has been a potent symbol for a long time. Old houses are cherished, so little wonder that for many people, building one's house means participating in—and adding to—a long tradition.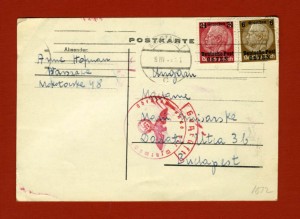 I collected stamps as a boy. Mostly I was imitating my father. He collected only Polish stamps, and his collection begins with the outbreak of the Second World War. The earliest stamp is postmarked "Warszawa 1940." It is not Polish but German, and bears the stern countenance of Paul von Hindenburg. The stamp is overprinted Osten, meaning East, that is, occupied Poland. My father's collection includes poignant stamps issued by the provisional Polish government in London, as well as military stamps of the Polish II Corps in Italy, where he served in the SOE. Most of the stamps date from the postwar period and are rather dull in appearance. They portray Polish heroes: Copernicus, Chopin, Madame Curie, and equally predictably, Karl Marx and Stalin, for Poland was then in thrall to Soviet Communism. The album is homemade, the pages, carefully ruled in pencil, have space for every stamp, and include the date of issue, denomination, image, color, and the Stanley Gibbons catalog number. My father was an engineer and he liked everything just so. The entries are in Polish except for the colors which—unaccountably—are in English: "dull purple," "deep green." Perhaps it is an early sign of an émigré's cultural dichotomy. I suppose the collection, which peters out in 1954 shortly after the family emigrated from Britain to Canada, was a way of keeping in touch with the homeland from which he had been rudely separated by the war. Or maybe it was just a way of introducing some small order into a disordered life.