Monacelli Press has issued a new monograph on the work of Robert A. M. Stern Architects—one of a continuing series. This one is titled City Living, and it describes urban apartment houses, more than thirty of them. RAMSA is an eclectic firm, but the architectural style of these apartment towers is consistent, what New Yorkers call "prewar," that is, pre-WWII. It appears that everybody wants "New York prewar" for the book describes built work not only in the major American cities—New York, Los Angeles, Chicago, Washington, D.C., Boston, Atlanta—but also in London, Moscow, Toronto, Lima, Shanghai, Chongqing, and Taipei. And why not? The upper-middle-class New York City apartment building of the 1920s remains the acme of civilized high-rise, high-density urban living. It  successfully mediates between the street and the skyline, provides a sense of character that reflects—but does not overwhelm—its communal function, and gives the designer the freedom to lay out interesting unit plans. If you must have pencil-thin towers, and this disturbing building type seems unstoppable, then RAMSA's 82-story 30 Park Place on Church Street in Lower Manhattan seems better than the alternatives.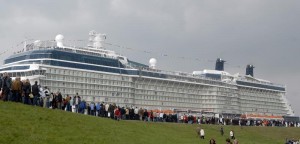 Architects such as Norman Foster, Frank Gehry, and Zaha Hadid have been commissioned to design luxury yachts, but it is cruise ships that beg for an architect's touch. In fact, these maritime behemoths already resemble buildings—very big buildings. Granted their designs are generally banal, but it is easy to imagine them styled by high-fashion architects. This would solve another pressing problem. Every city seems to want an iconic building designed by a starchitect. Now they could lease a floating icon instead of saddling themselves with a potential permanent eyesore. One can imagine the waterfront of Dubai, or London, or Chicago, as a maritime parking lot with the latest architectural glams. After several years, when the shine begins to fade—literally as well as figuratively—the icon ships could sail off to a lesser urb,  Glasgow, or Riga, or Lagos; even an impoverished city could afford a Nouvel or a Piano for a month or two. Since the current architectural icons are largely placeless, they are perfectly suited to such a nomadic existence. At home everywhere—and nowhere.
Writing about the late Jon Jerde in a recent issue of Architect, Karrie Jacobs brought me up short with a wonderfully pithy phrase. She described a Jerde-designed project as "a mille-feuille of the simulated and the real, layer upon layer upon layer." Exactly. I remember visiting the newly-built Horton Plaza in San Diego, an urban shopping mall that Jerde designed in 1985. My first reaction was revulsion—this was postmodernism on steroids, cliché piled upon cliché. But then the Mille-Feuille Effect kicked in. The stagey architecture was obviously fake, but the sun and fresh air were real (the public spaces were not roofed). The ersatz arches and polychromy were artificial, yet the views of downtown buildings were real enough—this was one mall that was was not hermetically sealed off from its surroundings. And of course the people who were clearly enjoying themselves in this architectural jungle gym were real, too.