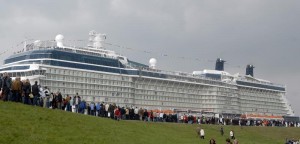 Architects such as Norman Foster, Frank Gehry, and Zaha Hadid have been commissioned to design luxury yachts, but it is cruise ships that beg for an architect's touch. In fact, these maritime behemoths already resemble buildings—very big buildings. Granted their designs are generally banal, but it is easy to imagine them styled by high-fashion architects. This would solve another pressing problem. Every city seems to want an iconic building designed by a starchitect. Now they could lease a floating icon instead of saddling themselves with a potential permanent eyesore. One can imagine the waterfront of Dubai, or London, or Chicago, as a maritime parking lot with the latest architectural glams. After several years, when the shine begins to fade—literally as well as figuratively—the icon ships could sail off to a lesser urb,  Glasgow, or Riga, or Lagos; even an impoverished city could afford a Nouvel or a Piano for a month or two. Since the current architectural icons are largely placeless, they are perfectly suited to such a nomadic existence. At home everywhere—and nowhere.
Writing about the late Jon Jerde in a recent issue of Architect, Karrie Jacobs brought me up short with a wonderfully pithy phrase. She described a Jerde-designed project as "a mille-feuille of the simulated and the real, layer upon layer upon layer." Exactly. I remember visiting the newly-built Horton Plaza in San Diego, an urban shopping mall that Jerde designed in 1985. My first reaction was revulsion—this was postmodernism on steroids, cliché piled upon cliché. But then the Mille-Feuille Effect kicked in. The stagey architecture was obviously fake, but the sun and fresh air were real (the public spaces were not roofed). The ersatz arches and polychromy were artificial, yet the views of downtown buildings were real enough—this was one mall that was was not hermetically sealed off from its surroundings. And of course the people who were clearly enjoying themselves in this architectural jungle gym were real, too.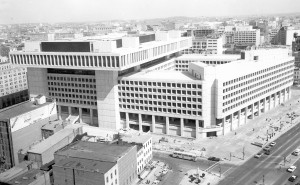 The federal government is looking for a developer to build a new suburban home for the FBI. The old FBI headquarters on Pennsylvania Avenue in Washington, DC is offered in exchange. A 41-year-old public building is going on the block. Admittedly the FBI headquarters (designed in 1975 by Charles F. Murphy & Associates) is an eyesore and won't be missed (assuming it's torn down, which seems to be its likely fate). But only 41 years! Washington is full of buildings that are two and three times as old. The first federal office building, the venerable Patent Office, designed by John Mills, opened in 1867 and still serves, albeit as an art gallery. I think that there are several reasons why so many public buildings from the 1970s have short lives. Architectural modernism promotes invention. An earlier generation would have built a generic loft building. Modernism required something more original, although the FBI building was inspired by Le Corbusier's La Tourette Dominican priory—an odd model for a government office building. "Form follows function" is another reason for short life. Tailoring buildings for one use guarantees problems when they come to be repurposed in the future—as virtually all buildings are at some point. Concrete construction also doesn't help, since it tends to create structures that are difficult to alter. And, not least, the ugly Brutalist style of the 1970s ensures that there will be no constituency militating for a building's preservation (except for a few earnest architecture critics). What a waste.