Dateline: Portland, Oregon. This city is an odd mixture of urbanity and provincialism. A walkable downtown with light rail but with more backpacks than attaché cases—that's not so odd, but people carrying sleeping bags on the street is. Everybody waits for the traffic lights to change—that appeals to the orderly Canadian part of my soul. Cities are about obeying rules in order to live together. Portland isn't exactly Manhattan, but I like it. Perhaps this is the new "urban-light living" that a recent article in the Atlantic talked about.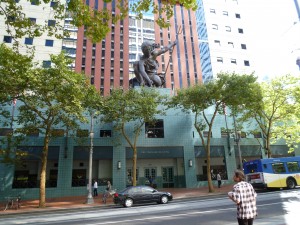 The late nineteenth and early twentieth century buildings are derivative—this could be Buffalo or Rochester—and equally sophisticated. The current crop of office buildings is no less derivative but done with considerably less conviction. A little of this, a little of that. Graves's Portlandia Building is getting a bit frayed (although Ray Kaskey's statue looks as good as the first time I saw it, years ago), and so is the Equitable Building, designed by Graves's nemesis, Pietro Belluschi (the first real modernist office building in the US). But compared to the current generation of hacks, Belluschi and Graves were at least trying to make a coherent statement. I look for Filson's, but it's moved to a new location;  L.L. Bean has just moved away, period. John Helmer Haberdasher is still there. I must have bought my first hat from this shop 30 years ago. I buy an Italian linen cap, for old times sake.
I visited a house by a famous architect (he's a friend, so let's just call him The Architect). The house was beautiful, thoughtfully designed and exquisitely executed. Very low key, suiting its rural site. Minimalist, in a luxurious sort of way. And big. The occupants were a retired couple, with grown-up children long since moved away, but their home was the size of a small primary school. The main corridor was a hundred and fifty feet long, and the house didn't end here, there were still garages and outbuildings.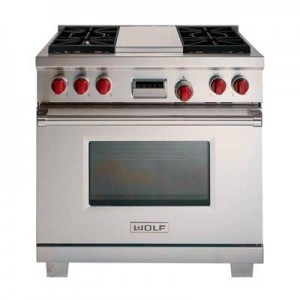 There have been wonderful houses in the past, even the recent past, but most of the ones I see today feel over-done. Too much money thrown at too simple a problem. I can still get weak-kneed over the Maison de Verre, Fallingwater, or a Palladio villa, but most modern houses feel like a Wolf cooking stove; impressive, perfectly detailed, obviously expensive, but it's still just a stove.
When I was at Loyola High School in Montreal, my favorite room was the library. It wasn't just the sight and smell of all those old books, but the opportunity to make discoveries wandering through the stacks. There was a whole shelf of G. A. Henty, and another of Edgar Rice Burroughs, that I worked my way through during an entire semester. This reading was definitely not a class assignment, and I don't think anyone recommended the authors to me. I was probably attracted by the books themselves, solid Edwardian creations with colorfully illustrated cloth covers—no cheap paper jackets in those days. Years later, when I started writing, I reenacted those schoolboy adventures when I prowled university library stacks, researching books on subjects such as leisure, domestic comfort, and small tools. Card catalogues were useful, of course, but a more pleasurable research technique was to find the title I was looking for in the stacks, and then simply browse to the right and left of it, seeing what I could find. This doesn't make much sense in a digital age, and I rarely prowl the stacks anymore. That is a shame, for while the Internet is a very good tool for finding information, it is much less effective at discovering information.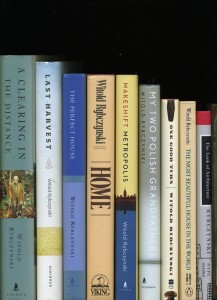 Jay Teitel, a writer and editor at Cottage Life magazine in Toronto, recently emailed me a question: he was writing an article titled "The Cottage of the Future," and he wondered if I had any thoughts about what summer cottages would look like in the year 2050. The custom of having a country retreat goes back to at least the ancient Romans—Pliny's villa—but the summer cottage is not simply a house in the country, nor it it a beach house or a ski chalet. The quintessential cottage is a cabin in the forest, perhaps in the mountains, preferably by a lake. A primitive hut. This tradition, which probably dates from the nineteenth century, is most common in Scandinavia, Canada, and parts of the United States, places with wild forest, mountains, and lakes–and short summers. It is about getting back to nature, canoeing, fishing, chopping wood, cooking outdoors, kerosene lanterns, morning swims. In other words, "roughing it." A summer cottage, at least in my imagination, has no electricity or running water, it smells of wood smoke and cedar planks, it has a porch. What will summer cottages look like in 2050? Forty-four years ago, I built a cottage for my parents in Vermont, overlooking Lake Champlain. The current owners have barely moved the furniture, and they still eat at the table and benches I cobbled together out of scrap wood. In another 44 years I expect it all to be still there, pretty much unchanged.
My McGill schoolmate Hugh Hartwell, an accomplished pianist, sent me a link recently to a video of Count Basie's big band. The hour-long film of a live concert was shot in 1962 (in Sweden), pretty much the same band I heard in Birdland in 1959 when I was sixteen, although Joe Williams is absent here. What is most striking about the film, apart from the wonderful music, are the serious demeanors of the musicians. Basie clearly ran a tight ship and no one is fooling around—except maybe Sonny Payne, a bit. These are pros doing a job, which just happens to be playing great jazz. The sixties are associated with student unrest, the Vietnam War, and really ugly cars, but it was also a time when a big band like Basie's could make music that, fifty years later, still sounds thrilling.