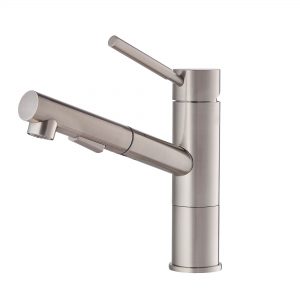 We recently replaced a kitchen faucet. The product is a typical example of globalization. The ceramic cartridge—the soul of a faucet—is made in Hungary, the aerator comes from Italy, and the rest of the faucet was manufactured and assembled in China. The company that markets the faucet, despite its name—Kräus—is not German but American, based on Long Island. I believe that the design is American, too, although the inspiration is German. It reminds me of the door and window handles that Walter Gropius designed in 1923. By the way, it's an excellent faucet.
I recently received an unusual request from the architectural writer Fred Bernstein. "Since Trump was elected, as a subtle political statement, I have been posting profiles on Facebook of immigrants who have made a contribution to the built environment." His request brought me up short. I've never thought of myself as an immigrant. Born in Scotland to Polish parents displaced by the Second World War (my father served in the Polish army), I was not technically an immigrant, but I was hardly a Scot. I grew up in England, a proper cricket-playing English schoolboy, but that was just a surface impression. "Although I wore a blazer and a schoolboy's cap, I wasn't really English," I wrote in My Two Polish Grandfathers. "For one thing, I always spoke Polish with my parents, although I can't recall if I learned it first, or together with English. We also ate different foods, barszcz (beet soup) and gołąbki (stuffed cabbage rolls). At Christmastime we had babka instead of plum pudding, and jellied carp instead of roast beef. I got my presents on Christmas Eve instead of Christmas Day, and there was always something under my pillow on St. Nicholas's Day." When my parents moved to Canada I became an actual immigrant, not that Canadians wore their nationalism on their sleeves. We lived in Quebec, which was mostly French, but I never considered myself un Anglais. I suppose I was Other. Nor did Canadian-ness play a big role in my architectural education. The architects my classmates and I admired were mostly Europeans: Aalto, Aldo van Eyck, Frei Otto, Ralph Erskine, Georges Candilis, Shadrach Woods. The last three were immigrants, or émigrés, as were so many prominent practitioners of the 1960s: Mies and Corbusier, of course, and Breuer, Saarinen, Pei, and Sert. So were my two most influential teachers, Norbert Schoenauer (Hungary) and Peter Collins (England), and my mentor Alvaro Ortega (though he, a Colombian and UN worker, was really a citizen of the world). My first job was with Moshe Safdie (born in Haifa). Many of my architect friends—Jack Diamond, Allan Greenberg, Michael McKinnell, the late John Belle, the late Bing Thom—are/were immigrants. Perhaps that's what attracted me to architecture, it deals with a sense of place yet so many of its leading lights were—like me—placeless. I now live in Philadelphia, a city where the two best architects of the last 100 years, Paul Cret and Louis Kahn, were both immigrants. A coincidence. Maybe.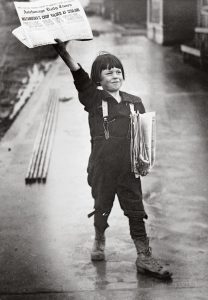 The other day I read in The Architects Newspaper that the dean of IIT had stepped down. While this is undoubtedly of keen interest to IIT faculty and students why is it considered news? Perhaps because five years ago, when Wiel Arets was appointed dean, that decision was widely reported. But why was that event newsworthy? Architecture schools operate under a handicap where publicity is concerned. Law schools periodically gain attention when their graduates attain high positions, the Supreme Court or even the White House; business schools are lauded for the wealth of their graduates; and medical schools can announce the occasional cure for this or that. But architecture schools rarely conduct groundbreaking research, and when all is said and done the education of architectural professionals is a dull affair. Every year, year in and year out, a new group of graduates is sent out to stock the nation's drafting rooms, and year in and year out a new cohort arrives at the door. Not much news there. Architecture schools attempt to promote exhibitions of their students' work, but it is after all, student work, that is, the exercises of trainees, of little interest to the world at large. Which brings us to the appointment of deans and chairs—not big news in itself, but a change in the routine. Or perhaps news, if the name is recognizable, not an obscure academic, of course, but a globetrotting practitioner. In a culture driven by celebrity, that is sufficient to pass for news.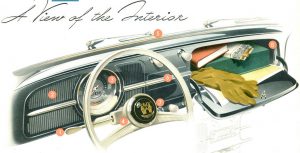 My first car was a Volkswagen. It was a 1960 model bought in Hamburg in 1967, and it carried me without a hitch as far as Valencia (which is where it was stolen, but that's another story). I'd never driven a VW before, but the simple controls required no advance knowledge. The only gauge was a large speedometer that included an odometer, turn indicators, and two (unidentified) warning lights, one for oil pressure and one for the alternator/generator. A third warning light lit up when the gas tank was empty, which required flipping a switch to access the reserve tank (about a gallon, or 40 miles)—there was no gas gauge. There was no temperature gauge because the engine was air-cooled. In addition, the dashboard included two white pull-knobs; the left was for lights and the right for the windshield wiper. I think there was a choke knob somewhere.
I was reminded of my VW the other day when a friend offered my a ride in his new Prius. The digital read-outs of what Toyota calls the Multi-Information Display, covered a range of technical information such as low tire pressure and fuel consumption, and included such extraneous information as which door was open. Basically, the traditional gauges were replaced by a small computer screen, and like most personal computer screens, it was awash in icons, numbers, and information. Since the marginal cost of adding more information is minimal, I got the sense that the designers had simply piled on the bells and whistles.  No doubt one gets used to it in time, but I would miss the minimalist elegance of my old VW.
Smart phones, iPads, and laptops are recent innovations, but their human interface is a Victorian technology that is almost 150 years-old. The QWERTY keyboard appeared first in an 1868 typewriter patent granted to Christopher Sholes, Carlos Glidden and Samuel Soule. The patent was acquired by E. Remington and Sons, a firearms and sewing machine manufacturer, and 5 years later, the so-called Sholes & Glidden, also known as the Remington 1, appeared. The machine was not perfect—it typed exclusively in caps, and the typist worked "blind," that is, she could not see what she was typing since the keys struck the underside of the platen). Nevertheless it was a commercial success—Mark Twain was an early adopter and Life on the Mississippi became the first typewritten manuscript ever summited to a publisher.
Later typewriters added a shift lever that allowed upper and lower case typing, and solved the typing blind problem, but the QWERTY keyboard, said to be invented by Sholes, a Wisconsin  newspaperman, remained (and remains today, slightly modified to meet the needs of different languages—QWERTZ in Polish). According to Martin Howard, whose collection of antique typewriters can be viewed on his website, the odd arrangement separated letters that were frequently typed together to avoid clashing of type bars. Thanks to the  Remington 2, called the Model T of typewriters, the QWERTY keyboard, enjoying the first-mover advantage, became the de facto standard and resisted all efforts to replace it with alternative arrangements. Like the musical keyboard, which dates back to at least the fourteenth century, the QWERTY keyboard seems destined to endure.