During a recent lecture, Princeton architecture grad Richard Wilson Cameron talked about how he designed Ravenwood, an estate in Chester County, Pennsylvania belonging to the  film director, M. Night Shyamalan. What turned into a five-year project involved transforming a rather nondescript Federal Revival house of the 1930s into a lovely Lutyenesque complex of buildings. The high quality of the craftsmanship, both inside and out, is impressive, but equally impressive is Cameron's working method. According to the website of his firm, Atelier & Co., "We work closely with clients and draw every concept of our projects by hand—from initial sketches and renderings to fully developed design drawings. While we employ digital techniques in our work they are always secondary to our hand drawings." During his talk, Cameron showed the development of the main entrance to Ravenwood: preliminary sketch, analytique, detail, and construction drawing. The finished product, with a raven sculpted by Foster Reeve, shows the happy result of this traditional working method. The free hand, guided by the eye, has served architects for more than two millennia. The shapes thus produced, whether they are traditional—as here—or modernist, have a distinctly humanist appeal that the machine cannot match.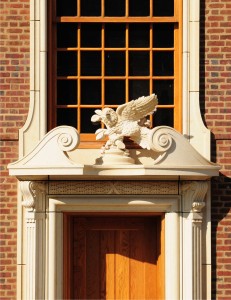 In 1971 I entered a competition for an addition to the British Houses of Parliament. My design blended Aalto with Le Corbusier—my two heroes. In hindsight, the large complicated project was far beyond my pay grade, but I was ambitious. Still, whatever in the world  made me decide to do all the area calculations for the complicated building on an abacus? Cheap pocket calculators did not become popular until the mid 1970s, but still! I didn't win the competition, but I still have the abacus. I remember the pleasant clickety-click of the wooden beads. I've never had such a fond memory of a pocket calculator.
I thought of my abacus when I read my friend Andres Duany's recollections of student life at the Ecole des Beaux-Arts in Paris (in 1970-71). His essay is in Windsor Forum on Design Education. The writing is a witty, sardonic, perceptive (vintage Duany) take on architectural education. He describes the atelier, where shared drafting tables were regularly dismantled and assembled as needed.
"Needless to say there were no attached parallel rulers, only T-squares. Remember the thrill of walking around the streets carrying that incredibly charismatic instrument! And the pleasure of the visceral click as the T-square was snapped into orthogonal alignment before every line was drawn. And twirling and slapping down triangle and scale. And the ritual of systematic dismantling and cleaning the Rapidograph ink pens before final drawings, like soldiers checking their equipment before the assault. How much more satisfying than the effeminate typing on a keyboard, the sleazy sliding of the mouse followed by the infantile, gurgling and cooing of the computer! Forgive the nostalgia, but I am gripped by what has been taken from us by modernity!"
Amen.
I'm starting to sympathize with Guy de Maupassant, who hated the Eiffel Tower so much that he is said to have regularly had dinner in its restaurant to avoid looking at it.  I'm not talking about the Eiffel Tower, of course, but the Orbit Tower, erected on the occasion of the London Olympics. Anish Kapoor and Cecil Balmond's design surely represents the nadir of twenty-first century architecture, structurally feckless (at least to my eye), needlessly complicated, and downright ugly. It puts me in mind of the tower that appeared for the 1976 Montreal Olympics. Its ostensible function was to support the retractable stadium roof, but its actual purpose was to satisfy Mayor Jean Drapeau's desire for a vertical icon. The tower was unsuccessful, both technically (the roof never worked), and iconically. Mayor Boris Johnson says that the Orbit Tower is "definitely an artwork." Well, it's definitely a something.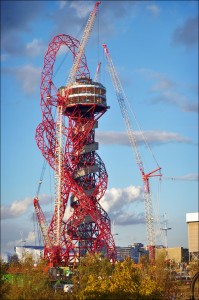 Last fall we renovated our kitchen. It was a piecemeal project that started with long-needed repairs to a cracked wall and improvements to lighting, and finished with a total gutting of the space. The work was done by Jay Haon and his assistant Sarah Finestone. The design was a three-way collaboration between Jay, my wife Shirley, and myself. My only advantage in the process was not my years of professional training and experience but the simple fact that I was the only one who knew how to draw. The result brings together Jay's craftsmanship, my architect's eye, and Shirley's desire that the kitchen should be a workplace rather than a showpiece. We've always liked open storage, and Jay found a nice looking shelving system. The old ceramic-pretending-to-be-slate floor was replaced by oak, the granite counters were recycled from the old kitchen as were the cupboard doors, several of which were turned into deep file-drawers. By moving the main fixtures in what had been a dysfunctional arrangement I was able to recreate the "work triangle" that I remember from my schooldays, and add a butcher block work surface. We debated the need for a support for a long time, then realized it looks fine as it is. The furniture is by two of my mid-century favorites, Alvar Aalto and Arne Jacobsen.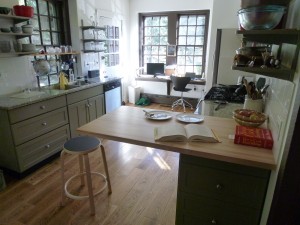 In a filmed interview, Denise Scott Brown observed that learning to design was similar to learning how to ride a bicycle—you got on, fell off, got back on, and by the end of the day you were riding. The implication is that design—like bicycle riding—can be learned, but it cannot be taught. Allan Greenberg made much the same point to me in a recent conversation. If law was taught like architecture, he said, law students would spend all their time in moot court, but moot court actually plays a very small role in a legal education. Many accomplished architects did not attend an architecture school—Edwin Lutyens, Peter Behrens, Henry van de Velde, Le Corbusier, Mies van der Rohe. Architects like Eero Saarinen and Louis Kahn were taught a Beaux-Arts method of design, but worked in the modern style. When I graduated all my first commissions were houses, but we never designed a house in school, only mass housing, so I was on my own. What I did learn in school were techniques: how to sketch, how to draw, how to build, how to calculate structures, which all served me well. In school, we were chastised for copying; in my first commission I adapted a Le Corbusier plan to my problem and produced an excellent solution (still happily standing after more than 43 years). A decade later, postmodernism was in the air. I admired Charles Moore, although no one had ever taught me anything about his approach to architecture, so I had to learn on the job, the way architects have always done.