The architectural folly has a long history. James Wyatt designed Broadway Tower in the Cotswalds in 1794. While it was more or less habitable—William Morris and Edward Burne-Jones rented it as a studio for a time—it was not primarily intended to be a functional shelter. It was an architectural whimsy—and understood as such. It struck me the other day that we take our follies much too seriously. Philip Johnson's Glass House, for example, is a stereotypical folly: impractical, unusable in extreme weather (it lacks proper ventilation and insect screens), not really a house at all. Yet it is a beautiful pavilion. However, like the Farnsworth House, it is mistakenly taken to be a work of domestic architecture. More than that, it is often represented as exemplary—the expression of the essence of design. That, surely, is a mistake our forebears would never have made. When Wyatt built a country house, like Castle Coole in Ireland, he followed well-established Palladian conventions. There is a time to play and a time to be serious.
You can divide residential architects into two categories: those who design for their clients, and those who design for their colleagues. When the work of Category I is published, it is in mass market magazines such as Architectural Digest and Elle Decor; the work of Category II appears in professional journals and architectural monographs. These are read by  architecture students, which may be why Category IIers tend to be invited to teach. Another reason is that Category II is interested in originality and innovation, which attracts tyros. In truth, the innovation is rather narrow: note the current popularity of black-stained wood, skinny columns, and prefabrication. Category I architects are more concerned with what has worked in the past, which makes their work more traditional, although the range encompasses regionalism, vernacular styles, and eclecticism.
The situation in institutional and commercial building is different. It would be almost impossible for a Category I architect to win an international competition for a library, museum, or concert hall today. In commercial buildings, Category II architects likewise dominate since the media and marketing privilege the new-new thing. A Category I architect must count on the (rare) cases of exceptional patrons (college presidents, corporate CEOs) who are prepared to buck fashion and take the longer view.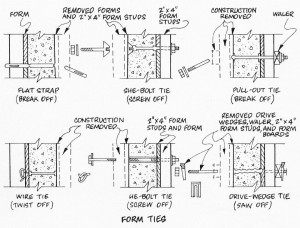 Corbusier was the first architect to use cast-in-place concrete as exterior (and interior) cladding, probably in the Unité d'habitation (1946-62) in Marseilles. The Unité was actually hybrid construction, consisting of cast-in place and precast concrete as well as a steel frame. By the time he built the Shodhan house (1956) in Ahmedabad, he was using exposed cast-in-place concrete throughout. Concrete formwork must be designed to resist the pressure of the heavy concrete until it sets. The cheapest way to do this is to use form ties—wire ties that hold the two pieces of formwork together; the wire is snipped off after the form is removed, and the wire ends—which will rust—are patched over. Unsightly but Le Corbusier didn't care—he liked the rough and ready appearance of béton brut.
The Carpenter Center (1961-64) at Harvard was likewise cast in place, but the ties were treated differently. Instead of a patch, the ties had a throwaway plastic insert that allowed the patch to be less obvious. The ties were regularly spaced in a roughly 2' x 2' grid. The Carpenter Center has a more finished appearance than Shodhan, probably due to Josep Lluís Sert, who supervised the construction and was likely also responsible for the form-tie detail. The plastic insert must have been a manufacturer's invention—sometime in the late 1950s—although I have not been able to identify the maker. Louis Kahn popularized the insert in the Salk Institute (1959-65). He made the holes more prominent by sinking them deeper and plugging them with lead. Otherise the concrete was left in its natural state.
Concrete is actually not a very good material for cladding since it is porous and prone to spalling, cracking, and chipping. By the 1980s, architects were more likely to use stone or brick veneer, and increasingly glass curtain walls. With the reemergence of orthodox modernism, architects such as Tadao Ando revived concrete cladding, both inside and out. Ando, who admired Kahn, also revived the form-tie detail. It is plainly visible in the Fort Worth Art Museum. What is not obvious is that since fewer ties are now required, only some of the holes are real ties—the rest are counterfeit. In fact, it is possible to dispense with form ties altogether and produce perfectly smooth unmarked concrete walls, as Renzo Piano did in the galleries of his addition to the Kimbell. Perhaps the oddest form-tie detail is in the Shanghai Natural History Museum (2015), designed by Perkins & Will. On the interior, next to an actual cast-in-place concrete wall, is a partition of plaster wallboard, with a pattern simulating concrete ties. As often happens in architecture, constructional necessity has mutated into pure decoration.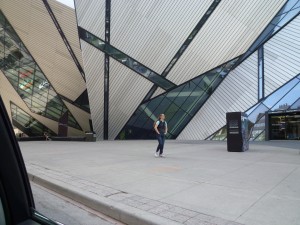 Vitruvius called architecture the mother of the arts. He meant that it encompassed the other arts—both physically, as in temple architecture, and chronologically. I  think that the maternal analogy was also meant to distance architecture from its more exuberant offspring, painting and sculpture;  "mother" implied a certain reserve and gravitas. Today, as Peter Buchanan writes in Architectural Review, the mother of the arts "has become reduced to superfluous spectacle." A few days ago I saw Daniel Libeskind's addition to the Royal Ontario Museum in Toronto. "The Crystal" summons up images of delicate transparency, instead this clumsy construction looms over the sidewalk like an alien being, in the city but not part of it. It's not much of a spectacle, either. The young woman walking by stares ahead, seemingly intent on ignoring this embarrassing architectural screamer.
Many critics have commented on the disconnect between the exterior and the interior of the new Whitney Museum of American Art. But only an article in the current issue of TIME (read in my doctor's waiting room) points out the obvious connection between the Whitney and the Centre Pompidou. Over the decades, Renzo Piano has produced so many sedate, restrained and above all polite museums that it is easy to forget that his first effort was raucous, immoderate, and (urbanistically) ill-mannered. It also wasn't really a very good museum. Piano has since learned how to design successful galleries, but in the Whitney the 77-year-old architect seems to have returned to his youthful enthusiasms. Whether he was inspired by the Chelsea surroundings, or more likely decided to confound his critics by producing something unpredictable, is anyone's guess. The Whitney dispenses with exposed plumbing—that was never a good idea—but it has some of the same bad boy demeanor of the Pompidou. You say you don't like me? Ta gueule!