Many critics have commented on the disconnect between the exterior and the interior of the new Whitney Museum of American Art. But only an article in the current issue of TIME (read in my doctor's waiting room) points out the obvious connection between the Whitney and the Centre Pompidou. Over the decades, Renzo Piano has produced so many sedate, restrained and above all polite museums that it is easy to forget that his first effort was raucous, immoderate, and (urbanistically) ill-mannered. It also wasn't really a very good museum. Piano has since learned how to design successful galleries, but in the Whitney the 77-year-old architect seems to have returned to his youthful enthusiasms. Whether he was inspired by the Chelsea surroundings, or more likely decided to confound his critics by producing something unpredictable, is anyone's guess. The Whitney dispenses with exposed plumbing—that was never a good idea—but it has some of the same bad boy demeanor of the Pompidou. You say you don't like me? Ta gueule!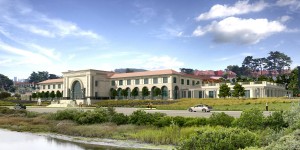 "There's nothing wrong with replicating old architecture," George Lucas said, reacting to criticisms of his proposed Museum of Narrative Art for the Presidio in San Francisco. "Basically all of Washington is a mimic of the past." As is well known, Lucas's proposal was turned down, and the museum is going to be built in Chicago instead. Many felt that the Presidio building was too large for its site, which is likely true, but there was also resistance to the architectural style, which was usually characterized as "faux Beaux Arts." The adjective is a dead giveaway; no one ever called Philip Johnson's Glass House "faux Mies," or Richard Meier's early houses  "faux Le Corbusier." The Lucas Museum was the work of EHHD, responsible for such Bay Area landmarks as the Monterey Bay Aquarium and the Exploratorium on the San Francisco waterfront. The founder of EHHD was the eminent modernist Joseph Esherick, and the firm is not known for classical work, so perhaps its heart wasn't in it. But looking at the rendering of the Lucas museum, it strikes me that this was not the kind of Beaux-Arts building that Arthur Brown, Jr., or even Bernard Maybeck, might have designed. The colonnade appears to be supported not by columns but by caryatids, recalling Michael Graves's Seven Dwarfs caryatids at the Team Disney Building. It's hard to make out, but presumably they represent Star Wars characters, or references to other fictional figures. Lucas's quirky collection—Norman Rockwell and N. C. Wyeth paintings, Flash Gordon strips, Mad magazine cartoons, movie props, Yoda models—deserves an eccentric and unpredictable building (although more refined than this rather clumsy effort). Instead, judging from the drawing released by MAD Architects of Beijing, the Lucas Museum in Chicago will be  predictable: faux Eric Mendelsohn.
Writing about the late Jon Jerde in a recent issue of Architect, Karrie Jacobs brought me up short with a wonderfully pithy phrase. She described a Jerde-designed project as "a mille-feuille of the simulated and the real, layer upon layer upon layer." Exactly. I remember visiting the newly-built Horton Plaza in San Diego, an urban shopping mall that Jerde designed in 1985. My first reaction was revulsion—this was postmodernism on steroids, cliché piled upon cliché. But then the Mille-Feuille Effect kicked in. The stagey architecture was obviously fake, but the sun and fresh air were real (the public spaces were not roofed). The ersatz arches and polychromy were artificial, yet the views of downtown buildings were real enough—this was one mall that was was not hermetically sealed off from its surroundings. And of course the people who were clearly enjoying themselves in this architectural jungle gym were real, too.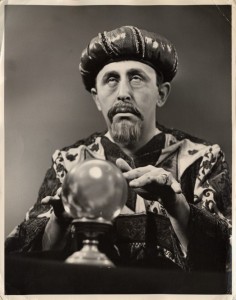 I was interviewed recently by Gil Roth for his literary-cultural podcast, The Virtual Memories Show.  At one point he asked me what I thought about the future of architecture. No one had ever posed that question directly to me before, and when I answered I realized—much to my surprise—that I was not sanguine about the prospect. It seems to me that several factors have come together to produce a perfect storm (sorry), upending this ancient art.
Education, always a difficult undertaking in any creative field, has become divorced from practice. The lingering effect of so-called history-theory has not helped, nor has the technology of the Digital Age. The study of history was for long the foundation of learning to be an architect. Because architecture is not a science, there is no "theory of architecture" undergirding practice. Rather, there is the canon of built works, which provides continued inspiration—inspiration, not models. Turning away from the past today's architects risk stranding themselves in the present—or worse, in the future. As for digital technology: ever since the Renaissance, architects used sketching, drawing, and model-making to explore architectural ideas, evolving a language of scales and graphic conventions to communicate their ideas—to themselves, and their clients. This language is in the process of disappearing. The result: we are making it up as we go along.
The effect of globalization on architectural practice cannot be understated. In the past, architectural fame was regional, in small countries it might be national; now it is worldwide. This raises the stakes considerably. "Getting the next job," as H. H. Richardson observed, was always the architect's greatest challenge. With globalization, the next job may come from anywhere in the world. Who could resist that? Of course, that has taken architects far afield, building in places and for people with whom they have no intimate connection. This does not necessarily produce better buildings.
An important side effect of globalization is the supremacy of the architect's brand. Le Corbusier and Mies were well-known, but Renzo and Zaha are global brands. If you are an Azerbajani, say, and you have commissioned (at extra cost) a brand-name architect from halfway around the world, you expect a brand-name building. A splash. An event. This produces a troubling result. What used to distinguish buildings from other artifacts was that they were built to last hundreds of years. This resulted in  a certain conservatism, less concern with the latest fashion (that was left to interior decorators) and more awareness of the long haul. Brand-name buildings are unveiled as if they were the latest models of cars, or dresses, or music videos. They are there to be immediately enjoyed, and by implication, will be disposed of when fashions change. What happens when buildings become as temporary as smart phones? The architect as a large-scale product designer is not a happy thought.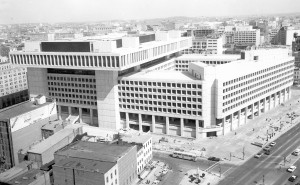 The federal government is looking for a developer to build a new suburban home for the FBI. The old FBI headquarters on Pennsylvania Avenue in Washington, DC is offered in exchange. A 41-year-old public building is going on the block. Admittedly the FBI headquarters (designed in 1975 by Charles F. Murphy & Associates) is an eyesore and won't be missed (assuming it's torn down, which seems to be its likely fate). But only 41 years! Washington is full of buildings that are two and three times as old. The first federal office building, the venerable Patent Office, designed by John Mills, opened in 1867 and still serves, albeit as an art gallery. I think that there are several reasons why so many public buildings from the 1970s have short lives. Architectural modernism promotes invention. An earlier generation would have built a generic loft building. Modernism required something more original, although the FBI building was inspired by Le Corbusier's La Tourette Dominican priory—an odd model for a government office building. "Form follows function" is another reason for short life. Tailoring buildings for one use guarantees problems when they come to be repurposed in the future—as virtually all buildings are at some point. Concrete construction also doesn't help, since it tends to create structures that are difficult to alter. And, not least, the ugly Brutalist style of the 1970s ensures that there will be no constituency militating for a building's preservation (except for a few earnest architecture critics). What a waste.