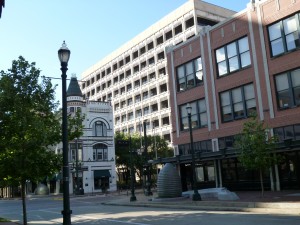 The vast majority of certified green office buildings today seem to be all-glass. That's counterintuitive, since glass lets in the sun's heat. Surely it's time to revisit one of Le Corbusier's modernist trademarks, the brise-soleil, or sunshade. Corb's sunshades tended to be made out of concrete, which is actually the wrong material, since it absorbs the sun's heat, stores it, then dissipates it long after the sun goes down. But the basic idea is sound: prevent the rays of the sun from entering and heating up the interior of the building. I was reminded of Corb during a recent visit to Houston. There are several downtown office buildings of the sixties and seventies here whose design actually acknowledges the god-awful summers. Pictured here is 1001 Preston Street, designed in 1978 by Kenneth Bentsen, a local practitioner. The ten-story precast concrete frame has a deep facade, à la SOM, and is fitted with metal louvers that act as sun shades. Of course, the newest crop of towers is all-glass. No doubt they have a LEED rating.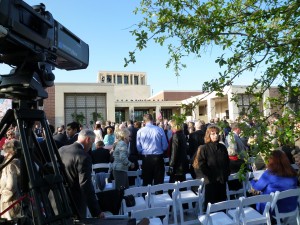 Since I was on the design committee that advised Laura Bush on the George W. Bush presidential library, I am not in a position to offer an objective review of the architecture of the building. You will have to make up your own mind. I suspect many people will do this without actually visiting the building, but when you read the reviews keep several things in mind. Presidential libraries should have an intimate quality since they are, in one measure, personal shrines. The most successful example in this regard is the FDR Library in Hyde Park, NY, a small Dutch colonial building designed by the president himself. But today's presidential libraries have grown very large (226,000 square feet in Dallas), and the challenge for the architect is how to design a building so that it doesn't overwhelm the visitor. The LBJ Library in Austin fails in this; LBJ may have been a larger-than-life figure, but Bunshaft's ponderous design is merely monumental. Scale is all. A presidential "library" actually consists of a museum, a scholarly study center, archives (largely digital, but in the Bush archive, still including 70 million pieces of paper), and here also a think tank/institute, akin to the Hoover Institution at Stanford. So, this unusual building type is also a planning challenge, since these parts function independently: some are public, some are private, some belong to the federal government, some don't. Since the Bush Center incorporates a public museum and institutional components, as well as the presidential quarters (in this case not lived in, but used for entertaining eminent visitors), the architecture must demonstrate different levels of formality and intimacy. Finally, presidential libraries are there for the long haul. No building is timeless, but the design of a presidential library should not become immediately dated, which favors a conservative approach. While some reviewers have sought to find parallels between Robert A. M. Stern's design and Mussolini's Fascist architecture, surely the real model is pre-World War II US government architecture, like Paul Cret's Federal Reserve Board Building, which was the delicate moment when Classicists adopted a modernist sensibility. New Classicism, Cret called it.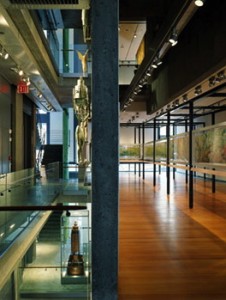 I find it hard to believe the stated rationale for the demolition of what had been the home of the American  Folk Art Museum on 53rd Street—that its blank façade does not accord with MoMA's glassy image. I'm not one to defend the inhospitable face that Williams & Tsien's design turns to the street, but MoMA itself is hardly the most considerate neighbor, as I wrote in Slate shortly after Yoshio Taniguchi's makeover opened. The truth is that the building whose announced demolition has caused such a furor, at least among architects and architecture critics, is not a very good museum. The idiosyncratic interior—mostly circulation space—with its exciting but distracting views, its multitude of materials, and its busy details, overwhelms whatever is being displayed. This may have been acceptable—just—when the museum was a kind of cabinet of curiosities; it's hard to imagine it as a place for art.
During his acceptance speech at the Driehaus Prize ceremony in Chicago a couple of weeks ago, laureate Thomas Beeby made an interesting point: architecture is turning into an uncollegial profession. Of course, architecture has always been highly competitive. Building is a zero-sum game, that is, only a limited number of commissions are available at any one time, so if one architect gets to build, another doesn't. Established, experienced practitioners have always had the inside track and access to the best jobs and the best clients; novices get whatever's left over. But Beeby was making a slightly different point. Despite the competitive nature of the profession, there have been always been periods when architects have banded together. One thinks of the Beaux-Arts-trained group who came together to create the World's Columbian Exposition in Chicago, and the McMillan Plan in Washington, D.C. Or the early modernists who formed Der Ring in Berlin in the 1920s and later CIAM, and the young firebrands who founded Team Ten in the 1950s. Beeby himself was part of a group called the Chicago Seven in the 1970s, a Midwestern equivalent to the Greys and the Whites of the East Coast. That sort of collegiality is rare today, he observed. In a period of signature styles, architectural celebrity, intense self-promotion, and design-as-biography, it is every man and woman for themselves.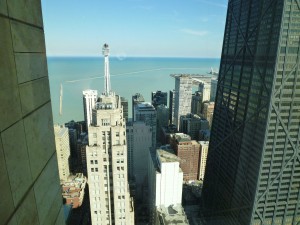 I was in Chicago recently for the Driehaus Prize ceremony, and I was staying in a hotel across North Michigan Avenue from the John Hancock Center, in fact my fortieth-floor room looked directly at the building. Built in 1969, and designed by Bruce Graham and Fazlur Khan of Skidmore Owings & Merrill, this has always been one of my favorite Chicago skyscrapers. The characteristic tapered silhouette is much more successful than the Sears Tower (another Graham-Khan collaboration), and the crisscrossing bracing remains an evocative expression of its structure. I could see Mies's 860 Lake Shore Drive from my hotel room, and the Hancock tower seemed like a perfect hommage to the master, yet making its own way. I had always seen Hancock from a distance, or from the street, but never from this vantage point. I must confess to being disappointed. The matte black curtain wall appeared crude. The heavy diagonal braces were crude too, not just in execution but in the way they relentlessly enclosed the Miesian curtain wall in a clumsy corset. You could argue that the Hancock Center was not meant to be seen close-up. Yet immediately next to it is Holabird & Root's Palmolive Building (1930), topped by the Lindbergh Beacon. This early example of a moderne style presents a lively and articulated mass that rewards close inspection. There is something appealing—dare I say humanist?—about Holabird & Root's delicately articulated skyscraper, in contrast to its burly and somewhat intimidating neighbor.