Gary Brewer, a partner at Robert A. M. Stern Architects, lectured at the Philadelphia Center for Architecture. The talk was illustrated with the firm's work, which appears to include every conceivable building type, with the possible exception of industrial buildings. These buildings represent a variety of building styles, Traditional, Modern, and Transitional. The last category is interesting, for though rarely alluded to it probably represents the majority of what is built today. Most if not all architects consider themselves either modernists or traditionalists, and develop elaborate justifications for their positions. Not Stern. As Brewer pointed out, for RAMSA, a building's appearance should not be the result of an architect's whim, but of its setting. The client has a say, too. Brewer showed a house in California, built for a man who wanted to be reminded of his old home on Long Island, and a town hall whose owners wanted to establish a sense of place where there was none. Hence the advantage of having many stylistic arrows in one's quiver. There is nothing particularly original in RAMSA's approach. Most good American architects in the first half of the twentieth century–John Russell Pope, Paul Cret, Bertrand Goodhue–regularly  worked in different styles. When Cret designed a power house in Washington, D.C., it did not resemble the Federal Reserve or Bethesda Naval Hospital. It was a matter of decorum. As the confirmed medievalist Ralph Adams Cram pointed out, a Gothic department store or movie theater would make about as little sense as "a Greek railroad train, a Byzantine motor car, a Gothic battleship or a Renaissance airplane." That was the gravest limitations of the International Style, not its inherent quality, but the fact that it was applied universally.
The words visionary and futuristic are generally used as high praise in architectural criticism. But I'm not so sure. Most architectural visions, whether it's Mendelsohn, Marinetti, or Sant'Elia have not proved accurate–how could they? Too many unpredictable things change, technologically, politically, culturally. "Cities of the future" generally look quaint, decades on. The most interesting visions are the ones that accept odd blends of past and future, like the dystopian metropolis in Blade Runner, or the techno/medieval Village in the TV series The Prisoner (whose setting was actually Sir Clough Williams-Ellis's  Portmeirion). But "visionary" architecture tends to offer a consistent aesthetic, all Erector set, or all curves, or all something. Looks great on the cover of the architecture rag, but what about in 50 years? The Futuro House, for example, designed by the Finnish architect Matti Suuronen, is a fiberglass flying saucer, and the astronautical theme is carried through in the porthole windows, the curvy interior furnishing, and the door/steps that swing down like a plane's access panel. It must have seemed like the future in the 1960s. The one pictured here, mated with a more earthbound structure, is in Pensacola Beach, Florida. It's hard to know whether to laugh or cry.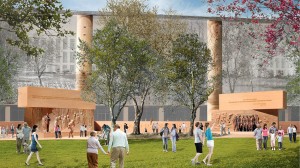 How much influence does fundraising for a president buy you? Apparently, not much. In September 2012, Frank Gehry joined Ed Ruscha, Richard Serra, Claes Oldenburg, and other prominent "Artists for Obama" in contributing to a portfolio that was presented to big donors and is estimated to have raised $4.2 million for the president's re-election campaign. This week the White House announced the appointment of the president's new representative on the commission that is overseeing the design and construction of the planned Eisenhower Memorial in Washington, D.C., which is being designed by Gehry The appointee is Bruce Cole, an art historian and former chairman of the National Endowment for the Humanities (under George W. Bush). Cole is also an outspoken critic of Gehry's  design. In The Weekly Standard, Cole called it "incoherent" and "unintelligible"; in the Washington Examiner, he went further, calling it "a cross between an amusement park and a golf course." Cole advocates terminating Gehry's contract and starting the memorial design process over, which is also the opinion of the National Civic Art Society, on whose board of advisors he serves. The NCAS has diligently stoked the public debate that has pitted conservatives–political and architectural–as well as members of the Eisenhower family, against supporters of Gehry's design such as the American Institute of Architects, and several architecture critics (including the author). President Obama has not previously expressed any strong opinions on architecture (remember the bland redo of the Oval Office?), so his endorsement of the NCAS position comes as a surprise. Not least, I imagine, to Frank Gehry.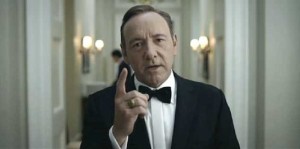 It's not often that politicians have anything penetrating to say about architecture. Even fictional politicians. Especially villainous fictional politicians. Kevin Spacey's Rep. Francis Underwood, in Netflix's House of Cards delivers this memorable aperçu: "Money is the McMansion in Sarasota that starts falling apart after ten years; power is the old stone building that stands for centuries."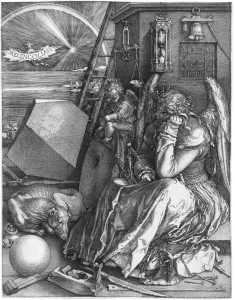 A recent article in the New York Times points out the youth and inexperience of many teachers in today's charter schools. In a related Slate piece, Sarah Mosle observes of her three years as a young Teach for America grade school teacher: "I was single, childless, and clueless about even the most basic aspects of child-rearing. My students' parents seemed like creatures from another planet, remote and distant from the job I thought I was doing. To the extent I understood family dynamics, it was solely from the perspective of the teenager I'd been just a few years before." There is a parallel here with teaching architecture. It has become increasingly common to hire young graduates, newly minted and fresh out of school, as part-time teachers in design studios. The advantages are obvious: young teachers are motivated, enthusiastic, energetic, and willing to spend long hours in the studio. And since the architect job-market is over-supplied, they are willing to work for less than full-time professors. Having been students themselves recently, young teachers are able to establish an easy rapport with their charges. I remember when I taught my first studio–I was three years out of school and I had exactly one commission under my belt, a summer cottage for my parents. The problem is that the unseasoned teacher tends to perpetuate the fictive atmosphere of the studio: clients and budgets are unimportant, practical concerns can be dispensed with, all that matters is design, the more imaginative the better. Of course, this makes the studio much more fun than dealing with the harsh and unglamorous matters that make up a large part of architectural practice. No wonder that young graduates are shocked–and often discouraged–by the exigencies of the real world. Nobody prepared them for it.