A new building for Yale's School of Management designed by Norman Foster was formally opened on January 9. New B-school facilities are sprouting like ragweed, not only in the United States but globally. The reason is not hard to find. Their alumni are among the richest on the planet, and demand for MBAs and business degrees has skyrocketed. The best schools want to improve their facilities; the newcomers want to jump on the bandwagon, and a fancy new building helps to attract students. Virtually all of these buildings are the work of prominent architects such as Norman Foster (Imperial College, London), David Chipperfield (HEC, Paris), and David Adjaye (Skolkovo, Moscow). The go-to firm in the U.S. is Robert A. M. Stern Architects, which has designed no less than a dozen B-schools, including at Harvard, the University of Virginia, and Rice. Most RAMSA business schools are traditional in style, although several (Drexel, Penn State, Ithica College) are best described as transitional—modern but not too modern. Berkeley (Moore Ruble Yudell) and Temple (Michael Graves) built PoMo buildings, although few B-schools have followed their lead. Most have opted for traditional, transitional (KPF at Wharton and Michigan), or mainstream modern (Rafael Viñoly at the University of Chicago and the University of South Carolina). KPF is edgier at Florida International and Arizona State, Enrique Norten is cooly minimalist at Rutgers. And Frank Gehry is Frank Gehry at Case Western Reserve. Not to be outdone, Columbia's B-school announced that Diller, Scofidio & Renfro, darling of the critics, will design their new home. For a while, RAMSA set the pace with its traditional designs, but Foster at Yale may signal a new design trend among B-schools. The classrooms are contained in drum-like volumes that surround an enclosed courtyard, creating the impression of an elegant high-tech watering hole. A fitting lair for the wolf pups of Wall Street.
From the ball and chain desk.
The recent demolition of Bertrand Goldberg's Prentice Hospital, and the announced demolition of Williams & Tsien's Folk Art Museum, raises the vision—or specter, depending on your point of view—of future demolitions of not-so-old buildings. What happened to the preservation of the past? I have always believed that the undoubted popularity of the historic preservation movement depends less on some abstract notion of heritage conservation and more on the actual architecture being preserved: in the past, that has meant the well-built, well-designed, and much cherished buildings of the late nineteenth and early twentieth century. Now that mid-century modern buildings are coming under the wrecker's ball, the question becomes more complex. Many of these buildings are not well-built, are cavalierly planned, and are definitely not cherished by the public—some are actively disliked. They are also designed differently. Traditionally, buildings were meant to be durable, not merely physically but aesthetically. That implied a degree of conservatism when it came to design, eschewing the latest fashion, and leaning on past precedents. When architects cut the cord to the past, and focus only on the here-and-now, architecture becomes more exciting and more fashionable, but it also becomes shorter-lived. Rough concrete, googly shapes, oval windows, and built jokes age as badly as hula hoops and pet rocks. No wonder that preservationists have a hard time garnering public support for Brutalist architecture. And postmodernism is next. The Portland City Council is considering whether to demolish the Portland Building, a postmodern landmark by Michael Graves that requires the infusion of $95 million in repairs and improvements. (No one is suggesting destroying Ray Kaskey's wonderful statue, though.) And one can imagine what will happen in a few years when deconstructivist buildings, many of which are exceedingly poorly built as well as distinctly oddly designed, are put on the block.  Spend money fixing them up, or write them off as a bad architectural moment?  Expect opposition, outrage—and more demolitions.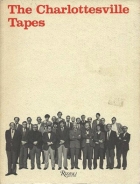 The Charlottesville Tapes is well worth a second read. In 1983, Jaquelin T. Robertson, then architecture dean at the University of Virginia, brought together two dozen architects to a private two-day confab (pointedly, no critics or historians were invited, only practitioners). It was a heavyweight group, a mixture of American, European, and Japanese architects, among them nine future Pritzker Prize winners, and four future Driehaus laureates. Each participant presented one project; discussion followed. The book is an edited version of the conversations. Reading the lively exchanges, one can only reflect on how much has changed since. Several of the participants (Philip Johnson, Paul Rudolph, Charles Gwathmey, O. M. Ungers, Carlo Aymonino) are deceased. Some reputations have risen (Toyo Ito, Tadao Ando), some have not (Kevin Roche, Cesar Pelli). Some of the tyros, like Rem Koolhaas and Robert A. M. Stern, have become household names. Stern presented a Jeffersonian dining hall at UVA—few would have guessed its traditional style would herald a comeback of classicism. Thirty years ago, postmodernism was in full bloom with Michael Graves the man of the hour. Not all the participants at the conference were as well-known: Frank Gehry was still building houses, and Léon Krier wasn't building anything at all. Much of the discussion centered on urban design. On this point, Robertson was not sanguine: "I have real doubts that the kind of media-hyped, consumer-oriented pluralism that we have today will in fact produce an elegant or an equitable urban environment," he wrote. Perhaps that was too bleak. The new urbanist movement had yet to appear, and Battery Park City, Celebration, and Poundbury were in the cards. So were iconic buildings such as the Bilbao Guggenheim and the Seattle Public Library, which would influence city development. But Robertson was right: as city building in China and the Gulf would conclusively show, good urbanism remains contemporary architecture's Achilles heel.
"Tradition does not mean guarding the ashes, but fanning the embers," observed Benjamin Franklin; similar quotations are attributed to Thomas More and Gustav Mahler. Guarding the ashes puts old fogies in their place, and fanning the embers nicely catches the sense of an active involvement with the past. One looks in vain for such involvement in much of today's architecture. Too many  architects have embraced novelty as the sine qua non of new work, perhaps under the mis-impression that they are designing products rather than buildings. But while the life of an iPhone is too short for the novelty to ever wear off, a few years at most, the life of buildings is not measured in years but in centuries. A building that merely offers the new-new thing, quickly become old-fashioned, or worse, out of fashion. Buildings that fan the embers of the past, by contrast, incorporate rich layers of meaning. During a recent visit to Louis Kahn's Kimbell Art Museum, the interior with its vaulted ceilings reminded me both of older art galleries and of ancient architecture. Because Kahn ignored the fashions of his day, his building continues to look fresh; because he observed the old conventions—symmetry, axes, a structural grid, top-light—his building suggests several time dimensions: today, 1972 when it was built, and a long, long time ago.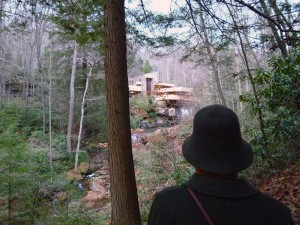 Random thoughts after a recent visit. Isn't it strange that a millionaire's plaything, a weekend house that cost a whopping $166,000 in 1937 ($2.6 million today), in which the servants outnumbered the occupants, and in which meals were served by a butler, should nevertheless have become the most popularly admired modern house in America. There are a number if explanations. I recently visited a huge (40,000 square feet) house designed by Paul Rudolph; it felt like being in a hotel lobby. Philip Johnson's Glass House is much smaller, but most people couldn't imagine living in it. Richard Meier's Rachofsky House in Dallas is a beautiful purist composition, but it resembles a museum—which is its present function. Not so Fallingwater. The enclosed space is not large (about 2,900 square feet, plus 2,400 square feet of balconies), and although the living room is sprawling, the bedrooms are very small. And compared to a modern McMansion, it's all downright Spartan; no marble bathrooms, no walk-in closets, no vast kitchen, no media room. The materials are unprepossessing, and the details are either simple or absent—there is none of that obsessive precision that makes modern houses feel like luxury cars. The luxury at Fallingwater is all in the cantilevered terraces, which feel like open-air tree houses. Like most visitors, I went down the path to experience the View. It is all one could ask for. But it is a mark of this curiously demure folly, that the iconic view is not seen as one approaches, or from any of the vantage points around the house, where the design is experienced in bits and pieces. It is as if Wright were saying, "Oh, by the way, you should see it from down there."