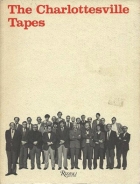 The Charlottesville Tapes is well worth a second read. In 1983, Jaquelin T. Robertson, then architecture dean at the University of Virginia, brought together two dozen architects to a private two-day confab (pointedly, no critics or historians were invited, only practitioners). It was a heavyweight group, a mixture of American, European, and Japanese architects, among them nine future Pritzker Prize winners, and four future Driehaus laureates. Each participant presented one project; discussion followed. The book is an edited version of the conversations. Reading the lively exchanges, one can only reflect on how much has changed since. Several of the participants (Philip Johnson, Paul Rudolph, Charles Gwathmey, O. M. Ungers, Carlo Aymonino) are deceased. Some reputations have risen (Toyo Ito, Tadao Ando), some have not (Kevin Roche, Cesar Pelli). Some of the tyros, like Rem Koolhaas and Robert A. M. Stern, have become household names. Stern presented a Jeffersonian dining hall at UVA—few would have guessed its traditional style would herald a comeback of classicism. Thirty years ago, postmodernism was in full bloom with Michael Graves the man of the hour. Not all the participants at the conference were as well-known: Frank Gehry was still building houses, and Léon Krier wasn't building anything at all. Much of the discussion centered on urban design. On this point, Robertson was not sanguine: "I have real doubts that the kind of media-hyped, consumer-oriented pluralism that we have today will in fact produce an elegant or an equitable urban environment," he wrote. Perhaps that was too bleak. The new urbanist movement had yet to appear, and Battery Park City, Celebration, and Poundbury were in the cards. So were iconic buildings such as the Bilbao Guggenheim and the Seattle Public Library, which would influence city development. But Robertson was right: as city building in China and the Gulf would conclusively show, good urbanism remains contemporary architecture's Achilles heel.
"Tradition does not mean guarding the ashes, but fanning the embers," observed Benjamin Franklin; similar quotations are attributed to Thomas More and Gustav Mahler. Guarding the ashes puts old fogies in their place, and fanning the embers nicely catches the sense of an active involvement with the past. One looks in vain for such involvement in much of today's architecture. Too many  architects have embraced novelty as the sine qua non of new work, perhaps under the mis-impression that they are designing products rather than buildings. But while the life of an iPhone is too short for the novelty to ever wear off, a few years at most, the life of buildings is not measured in years but in centuries. A building that merely offers the new-new thing, quickly become old-fashioned, or worse, out of fashion. Buildings that fan the embers of the past, by contrast, incorporate rich layers of meaning. During a recent visit to Louis Kahn's Kimbell Art Museum, the interior with its vaulted ceilings reminded me both of older art galleries and of ancient architecture. Because Kahn ignored the fashions of his day, his building continues to look fresh; because he observed the old conventions—symmetry, axes, a structural grid, top-light—his building suggests several time dimensions: today, 1972 when it was built, and a long, long time ago.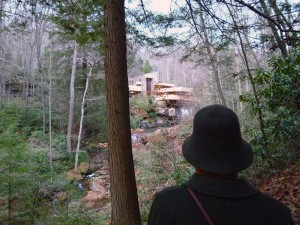 Random thoughts after a recent visit. Isn't it strange that a millionaire's plaything, a weekend house that cost a whopping $166,000 in 1937 ($2.6 million today), in which the servants outnumbered the occupants, and in which meals were served by a butler, should nevertheless have become the most popularly admired modern house in America. There are a number if explanations. I recently visited a huge (40,000 square feet) house designed by Paul Rudolph; it felt like being in a hotel lobby. Philip Johnson's Glass House is much smaller, but most people couldn't imagine living in it. Richard Meier's Rachofsky House in Dallas is a beautiful purist composition, but it resembles a museum—which is its present function. Not so Fallingwater. The enclosed space is not large (about 2,900 square feet, plus 2,400 square feet of balconies), and although the living room is sprawling, the bedrooms are very small. And compared to a modern McMansion, it's all downright Spartan; no marble bathrooms, no walk-in closets, no vast kitchen, no media room. The materials are unprepossessing, and the details are either simple or absent—there is none of that obsessive precision that makes modern houses feel like luxury cars. The luxury at Fallingwater is all in the cantilevered terraces, which feel like open-air tree houses. Like most visitors, I went down the path to experience the View. It is all one could ask for. But it is a mark of this curiously demure folly, that the iconic view is not seen as one approaches, or from any of the vantage points around the house, where the design is experienced in bits and pieces. It is as if Wright were saying, "Oh, by the way, you should see it from down there."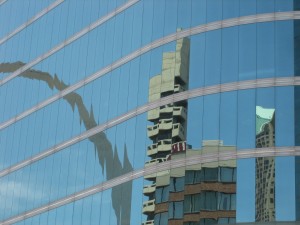 I like glass as much as the next guy, but enough is enough. Just as the sixties architects went crazy about exposed concrete, architects today can't get enough of glass. It's used in the name of transparency, reflectivity, technology, ecology. If you're a minimalist you like glass because it's not there; if you're a techie, you can accessorize it with all sorts of neat details; if you're a not-very-good architect, glass will absolve you of having to design the facade. And who thinks up those glass details? Glass walls overlapping glass walls; facades that cantilever into this air; glass butting glass. Structural glass has its place, but it's become a cliché. Gehry did a witty riff on fritted glass in the IAC Building on Manhattans Lower West Side, but most glass buildings are one-liners. Nor are glass buildings benign, as we have learnt in Dallas and London. I wonder how this glass architecture will fare in the future? Exposed concrete did not do so well, as so many unloved Brutalist buildings demonstrate. I'm not sure that glass buildings are equally disliked, but neither are they cherished. It's hard to cosy up to transparency.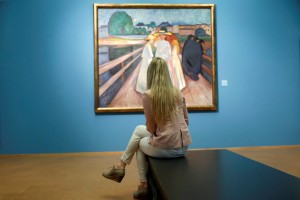 The other day, I was asked to talk to a class of architecture students who had been given  a museum as a studio project. Although architects refer to museums as "public buildings," they are public in a peculiar way, I told them. I illustrated this by comparing a museum to a theater. In a theater, being part of the audience is an integral part of the experience: the more people the better. In fact, a half-empty theater diminishes one's enjoyment of the play. Being in a museum is different: the more people you have to share it with, the worse the experience. Being in a museum first thing in the morning, before the crowds appear, is marvelous; lining up in a jostling crowd to have your twenty seconds in front of the Mona Lisa is a caricature of museum-going. For at its heart, the museum experience is intensely private, just you and the painting. At the same time, the museum is a public institution, and the challenge for the architect is to manage the transition, from the time you enter to that quiet moment, standing in front of the work of art. The Guggenheim in New York is a poor museum because the transition is too abrupt: you have a split second between gazing at the spiraling ramps and the void, and turning to look at the art. The early-twentieth-century museum handled it much better. The transition occurred as you climbed the grand staircase; at the bottom you were in the crowded lobby; by the time you reached the top you  had left that behind you, literally, and were ready to enter the galleries. Kahn, at the Center for British Art at Yale, understood. You enter a tall empty space with only glimpses of the galleries, then you climb the stair inside a confined concrete cylinder, then, finally, you are in the quiet rooms with the paintings.