A recent article on the impending demolition of the Coler-Goldwater Hospital on Roosevelt Island by the architect and photographer Charles Giraudet raises an important question. The Goldwater portion of the hospital (originally called Welfare Hospital) opened in 1939. It was designed by Isadore Rosenfield, a Harvard educated Russian immigrant who was the Chief Architect of the Department of Public Works and in charge of New York City's $100 million hospital building program. The architecture is modernist, with Art Deco motifs, and a chevron plan that presages Louis Kahn. As Giraudet, who has been documenting the empty buildings prior to their demolition, writes: "All major programming decisions — from the number of beds to the general layout of the buildings, the angled wings of the wards and the relative heights — were related to an unwavering patient-centric design approach."
Rosenfield's design bears comparison with Aalto's Paimio Sanatorium (1933) and Le Corbusier's unbuilt proposal for Venice (1966). The question raised by Giraudet's article and the evocative accompanying photographs, is why healthcare facilities are no longer built with any significant degree of architectural ambition. Most are generic environments, at best. Is it because machinery, rather than sunlight and fresh air, dominates healthcare today? Or do hospitals no longer turn to "design architects" because the latter have nothing to offer except a concern with fashion, which is of little import in a healing facility? I would like to see a hospital designed by an imaginative and thoughtful architect such as Bill Rawn or Peter Bohlin. Research into evidence-based design has shown the importance of environmental factors in health outcomes: views of nature lower stress, for example, so do natural materials. Architecture may yet re-enter the equation. Of course, a lot will depend on exactly how architects respond. Form alone won't cut it.
In the public debate over Frank Gehry's design for the Eisenhower Memorial, there have been frequent calls to scrap the current design and hold a national design competition, open to all. Again at the recent National Capital Planning Commission meeting that "disapproved" Gehry's proposal, the claim was made that national competitions are the way that Washington, D.C. memorial designs have always been chosen. Let's look at the historical record.
Washington Monument: in 1836, public competition won by Robert Mills.
Grant Memorial: design competition won by Henry Merwin Shrady, sculptor, and Edward Pearce Casey, architect.
Lincoln Memorial: an invited two-man competition between John Russell Pope and Henry Bacon, who won.
Jefferson Memorial: no competition, Pope was appointed the architect.
FDR Memorial: in 1960, open architects competition won by  William F. Pederson & Bradford S. Tilney but disapproved by Commission of Fine Arts and Roosevelt family; in 1966, an invited architectural competition of 55 leading architects won by Marcel Breuer but disapproved by CFA; in 1974, open architects competition, 90 entries, won by Lawrence Halprin.
Vietnam Veterans Memorial: open pubic competition (1,421 entries) won by Maya Lin.
Korean War Veterans Memorial: open public competition (540 entries) won by a group of students from Penn State.
World War II Memorial: open public competition (407 entries), won by Friedrich St. Florian.
Martin Luther King, Jr. Memorial: open public competition (900+ entries) won by ROMA Design Group.
Eisenhower Memorial: 44 architects selected to compete using GSA's Design Excellence Program, and Gehry chosen from among 4 finalists.
It's a mixed bag. The Lincoln Memorial was the result of a design competition between two hand-picked architects; the Jefferson Memorial had no competition at all. The Washington Memorial did have a national competition, but the final design is really the work of Col. Thomas Lincoln Casey, who was responsible for its construction. And these are the best three memorials. Conversely, the  designers of some of the least compelling memorials—FDR, Korean, WWII, MLK—were chosen through open national competitions. The open competition process was obviously influenced by the Vietnam Memorial, and the hope of uncovering an unknown young designer. Which turns out to be difficult, maybe impossible, to duplicate. One of my favorite memorials on the Mall is the District of Columbia War Memorial which honors DC residents who fell in WWI. The architect, Frederick H. Brooke, was simply given the job.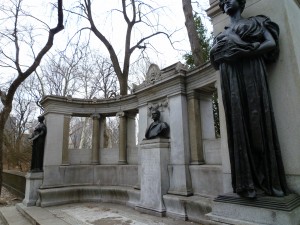 The other day, I walked by the memorial to Richard Morris Hunt that stands on Fifth Avenue, next to Central Park. Not many architects get to have a memorial. The only other one I have seen commemorates Andrea Palladio, a lifesize statue in a small square in Vicenza. Hunt's is more elaborate:  a bronze bust of the architect is set in an exedra that includes two female statues, one representing Architecture the other Art. The sculptor was Daniel Chester French; the architect, Bruce Price. The inscription reads: "To Richard Morris Hunt, October 31, 1828 – July 31, 1895, in recognition  of his services to the cause of art  in America, this memorial was erected 1898 by the art societies of New York." The societies are listed: the Century Association, to which Hunt belonged; the Municipal Arts Society, which he founded; the Metropolitan Museum, which he had designed; the Artists Artisans of New York; the Architectural League, which he helped found; the National Sculpture Society; the  National Academy of Design; the Society of  American Artists; the American Institute of Architects, of which he was a founder and the third president; the American Watercolor Society; and the Society of Beaux Arts Architects—Hunt was the first American to attend the Ecole, and founded effectively the first school of architecture in the US. Hunt designed some of the grandest of the grand houses of the Gilded Age, in New York, Newport, and Asheville, NC. But his greatest achievement, for which his friends honored him with this memorial, was to raise the social standing of the architect from that of a glorified carpenter to a fine arts professional. Later practitioners such as Charles McKim and Ralph Adams Cram  were better architects, but they all stood on Hunt's shoulders.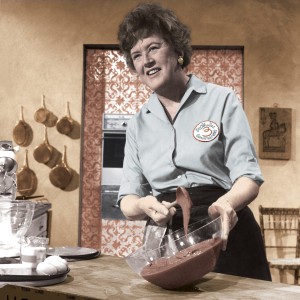 The WTTW documentary movie on Driehaus prizewinner Pier Carlo Bontempi, "A Taste for The Past," begins with food, a lunch in the architects office in Parma. The analogy between architecture and cooking has always struck me as compelling: they both combine practicality with taste, they both transform physical materials, and in both the eater/user is at the center of the experience. Food needs to be cookable (buildable) and edible (comfortable). There is innovation in cooking—nouvelle cuisine, foams, fusion—yet all cuisines have a base that, for most people, remains the foundation of everyday eating. The parallels extend to education: the novice cook starts by learning how to slice onions (remember that scene in Julia and Julia?), not by actually cooking, and needs to master the omelette before moving on to haute cuisine. There are cooking fads, but ultimately all cooking is founded in tradition, whose rich variety is the very essence of food. Marcella Hazan does not invent, she guides us through the Italian tradition. The architectural parallels are self-evident. There are traditions to be learned, techniques to be mastered. Taste needs to be cultivated. Variety is key; there are many foods; there is no morality in food, pace vegans. Repetition and replication, not invention, are the essence of cooking. And also of architecture—or should be.
I  don't always agree with Aaron Betsky, but his current Architect column about why he only writes about buildings that he has actually seen is spot on. In architecture, experience is all; photographs are a poor substitute, especially as photographers regularly crop out the surrounding context. Moreover, you should experience a building over an extended period of time, as users do, at different times of day, in different weather. And not only on press day—before the building is put to use—but several years later, when the rough edges have been worn smooth. Of course, if architectural journalists followed Betsky's dictum, magazines would be a lot thinner than they already are.
And it gets worse. Critics regularly make pronouncements about buildings that can't be visited because they don't actually exist—they are unbuilt—perhaps unbuildable. The PA Awards, for example, are given to buildings before they are built, which makes about as much sense as awarding book prizes on the basis of a proposal or outline. I would guess that this habit begins in architecture schools, where students are assessed on the basis of drawings and models, and the illusion is established that these exercises represent real architecture. They don't. As Robert Hughes once observed, "reproduction is to aesthetic awareness what telephone sex is to sex." He was talking about paintings and sculptures, but his insight applies equally—perhaps more so—to buildings.