The front page of today's New York Times carries a scathing indictment of Santiago Calatrava's buildings. The solidly researched article chronicles a record of work that is over-budget, poorly constructed, and in some cases downright dangerous to users. Many engineers have been skeptical of Calatrava's approach to design, which seems to glamorize structure, while not making a whole lot of structural sense. I had this feeling when I saw his residential tower in Malmö, Sweden, portentously called Turning Torso. The 54-story building on the Öresund Strait is intended to be a landmark, and indeed, from a distance (crossing the 5-mile-long bridge that connects Sweden and Denmark), it is an impressive site, a tall twisting form. Close-up is something else again. The structural "spine" that supposedly braces the building appears a decorative add-on; the trapedzoidal windows look not interesting but odd; and the details are unresolved and crude. The tower was built by HSB, a Swedish cooperative housing association. I was told that the elevated construction cost (reported as $250 million), meant that sales of the 147 apartments were so slow that the building had to be converted to rental. HSB suffered serious losses, and its managing director was sentenced to jail time for fraud, although he was later cleared on appeal. As for Calatrava, he got away scot-free. Until today.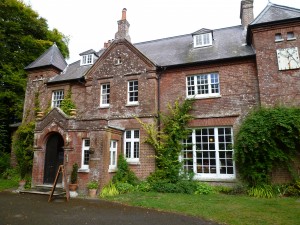 Conrad was a sea captain, Chekhov was a doctor, but Thomas Hardy is the only famous writer I know who was an architect. Born in modest circumstances, he was apprenticed to an architect as a lad, and worked in London for five year before returning to his native Dorset to devote his time to writing. Max Gate is the name of the house that he designed for himself in Dorchester. He was 45 when he built the house, and he lived there for more than 40 years, until his death–he died in the upstairs bedroom–in 1928. Here he wrote The Mayor of Casterbridge, Tess of the d'Urbervilles, and Jude the Obscure. Hardy designed the house himself. I'm not usually a fan of Victorian architecture, but Hardy's house has an appealing austerity. It is also unusually bright inside, for he made the windows exceptionally large, in part to see the extraordinary garden that surrounds the house. The building began as a rather small center hall, two-over-two plan, but over time, as Hardy's writing became popular, he was able to add the entry porch and several rooms at the rear, including a study. The sundial was designed by Hardy, although added after his death. The inscription reads QUID DE NOCTE? (What of the night?), from a Latin verse.
I recently watched Intersection, a 1994 flick with Richard Gere and Sharon Stone cast as a husband-wife architect team. We know that Gere is a creative soul–he has long, unruly hair–and that he is financially successful and glamorous–he wears Armani and drives a classic Mercedes 280SL. Stone, oddly cast as an ice queen, runs the business. So far, so good. The setting is Vancouver. The director, Mark Rydell, enlists Arthur Erickson's Museum of Anthropology (actually almost two decades old, but looking great) as a stand-in for Gere/Stone's latest architectural triumph. But except for a scene where Gere throws a temper tantrum on a building site, there is nothing in this film to suggest how an architect actually creates. On reflection, I can't think of a movie that does so successfully; not Two for the Road (although Albert Finney is appropriately self-absorbed), not Towering Inferno nor  Sleepless in Seattle, and definitely not Death Wish. Admittedly, it's difficult to portray cinematically how the various demands of a project come together in the mind of a designer–but Gere staring intently at a maquette doesn't quite cut it. My gold standard for portraying creativity is the deathbed scene in Amadeus, in which director Miloš Forman manages to capture the mystery of musical composition. Not that what he portrays is necessarily the way that composers compose, but watching Hulce/Mozart and Abraham/Salieri we get an insight into what it might be like to hear music in your head. As for Intersection, it bombed at the box-office, and I'm afraid hasn't improved with time.
Some architecture students had Louis Kahn, or Paul Rudolph, or Jose Luis Sert; I had Stuart A. Wilson. He taught the third-year design studio of McGill's six-year course. His class was famous–or infamous–as a sort of boot camp. A grueling boot camp: students regularly repeated that year; some dropped out altogether, following his advice that they would be better off in another field. Wilson gave all sorts of design assignments: book jackets, posters, graphics, as well as hands-on exercises conducted in the carpentry shop, his private domain. The semester-long design problem required each student to build a large scale framing model of their project at 1/2 inch to a foot–every stud and joist in place–and to prepare a complete set of construction drawings. Wilson insisted that architecture was grounded in construction–"Art, fart" was a favorite saying. He was a relentless design critic, sardonically probing, gruffly puncturing youthful pretense, all the while dribbling cigarette ash onto the hapless victim's drawing. At the same time he was the most accessible of teachers, always available for long conversations, ready with book recommendations–he seemed to have read everything. These talks often took place late at night, for he seemed to live in his office, which had a sleeping loft. He was rumored to have had several wives, the accumulated alimony obligations accounting for his unusual living arrangement, at least according to student lore which doubtless embroidered the facts.
The custom today is to engage callow adjunct instructors to teach beginning studios. Wilson was 50 when I encountered him. He had started teaching when he was 36, and had years of practical experience under his belt. In the 1960s, he  designed the interior of the St. Regis Tavern on St. Catherine Street, a cavernous space with an undulating Aaltoesque ceiling and hanging Bauhaus mobiles–he called them Doodle Boxes. It was an unexpected setting for a roomful of blue-collar men (taverns at that time were male preserves), noisily drinking Labatt and eating pig's knuckles. Wilson also conducted sketching school, a two-week summer camp that was required to be taken–twice–by all students. He was an accomplished watercolorist and had exhibited in galleries, although we didn't know that at the time.
In 1963, my classmate Ralph Bergman and I started a school magazine. The second issue included articles by Paolo Soleri, Christopher Alexander, and Philip Thiel. I asked Wilson if he would write something on programming. The result was "A Sordid Discussion, or Loose Talk on Programming," a make-believe bull-session on the subject set, of course, in a tavern. "In a corner, seated beside a few beers and torn crinkly packages of barbecued potato chips, a small tense group of architecture types, boys and men, rocked and rolled in their chairs and poked out arms and chins." The older man, a gruff professor, challenges the motley group of students–Owl, Mop-head, Cool, Turbulent, Passionate, Prim, and Scornful. Just another typical class. Wilson (1912-91) retired officially in 1981, but taught for another decade, a total of 43 years.
The death of architect Natalie De Blois, who worked on some of SOM's best projects in the firm's heyday–Pepsi Cola, Lever House, Union Carbide–has again raised the question of gender and architecture. We are reminded of many unheralded collaborating female architects–Marion Mahoney with Frank Lloyd Wright, Lilly Reich with Mies van der Rohe, Charlotte Perriand with Le Corbusier, Aino with Alvar Aalto–as if there were a plot to suppress giving proper credit to these women. Yet, the architectural profession, while it is a team endeavor, has always asserted the creative role of the individual practitioner. Architects themselves have fostered this useful illusion. Le Corbusier relied heavily on his engineering collaborator, Vladimir Bodiansky, as did Frank Lloyd Wright on Mendel Glickman, another Russian engineer (who worked on both Johnson Wax and Fallingwater). The wonderful light in Kahn's Kimbell Art Museum and Yale Center for British Art owes a mighty debt to lighting consultant Richard Kelly, and it is surely no coincidence that Kahn's three masterworks, Kimbell, Richards, and Salk, all involved engineer August Kommendant. Richard Rogers and Renzo Piano get the credit for the Pompidou Center, but the structural details that define that building are the work of Arup's Peter Rice, who also collaborated on the Menil Collection. Junior associates have always contributed to their employers' fame, and when this contribution feels unrewarded, they often break away to strike out on their own, as Michael Hopkins and Ken Shuttleworth did from Norman Foster, Bing Thom from Arthur Erickson, and Adrian Smith from SOM. This has always been the pattern among architects. Although art historians are mistaken in approaching architecture as if it were a personal, individual endeavor, I don't think that crediting the individual is altogether wrong. The master architect is somewhat like a film director, who marshals a large team, and relies on many collaborators; the  cameraman, the editor, the sound man, who all make crucial contributions. Yet, in the end, someone must make the final cut. That is why it is correct to refer to the oeuvre of a great director, just as it is right to see the hand (and eye) of an individual architect in his creations, no matter how many others are involved.