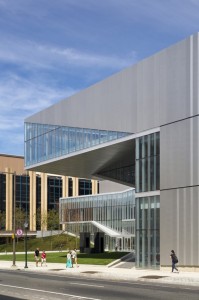 The Singh Center for Nanotechnology, designed by Weiss/Manfredi, has received glowing reviews in the Philadelphia Inquirer, Architect, and Architectural Record. But in the rush to praise, the critics have overlooked an important issue. The building is located on the edge of the Penn campus on Walnut Street, which at that point is more of a high-speed motor way than a city street, nevertheless, it is a street, something that the Singh Center barely acknowledges. The building breaks the street face with a wide opening. Not even a city square, it's mostly grass. It's true that the University of Pennsylvania occupies a leafy campus, but like most urban universities the green spaces are in secluded, inner environments, not facing the street. It's hard to know what to make of a front lawn on Walnut Street. It strikes me as a suburban gesture, but then the Singh Center seems ill at ease in its urban surroundings and with its canted, sculptural forms would be more at home on a rural site. The forecourt has another unintended effect: it highlights the façade of the physics building across the street, a distinctly ungainly Brutalist relic of the 1960s. Its facade is visible under the most striking feature of the Singh Center: a 68-foot cantilevered portion of the building. Cantilevered boxes have become a modernist cliché—one thinks of Diller, Scofidio & Renfro's ICA Building, Williams & Tsien's Barnes Museum, and Integrated Architecture's Lamar Corporate Headquarters. Unlike the windmilling terraces of Wright's Fallingwater, these recent cantilevered boxes are designed merely to impress. "Look what I can do." As an architect friend of mine commented about the Singh Center, "It seems  to me to  be an essay in exaggerated  inessentials."
London architecture office FAT has announced that it will shut down its studio next summer, after "exploring the potential of the projects as much as possible," reported Dezeen. (Architectural firms like FAT don't have offices, they have studios.) One less funny-name, I thought to myself. The big boys and girls—Foster, Gehry, Safdie, Stern, Hadid—simply use the name of the principal, as architects have always done. Piano adds "Building Workshop," which is a harmless enough affectation. Presumably, their buildings speak for themselves. Indulging oneself in a catchy, or at least memorable, moniker, is partly an attempt to stand out from the crowd, and partly a branding tactic: We are not simply a business, we are hip, artistic, creative. Hence names such as Morphosis, Asymptote, and Snøhetta, or the more outrageous BIG, MAD, and FAT. Interestingly, I can't think of a classicist firm that has adopted either faceless initials, or a funny name. Greenberg, Porphyrios, Simpson, and Appleton, follow the old convention. But perhaps that is a part of their brand: We aren't chic or fashionable, we just deliver buildings, the old-fashioned way.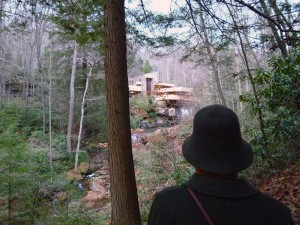 Random thoughts after a recent visit. Isn't it strange that a millionaire's plaything, a weekend house that cost a whopping $166,000 in 1937 ($2.6 million today), in which the servants outnumbered the occupants, and in which meals were served by a butler, should nevertheless have become the most popularly admired modern house in America. There are a number if explanations. I recently visited a huge (40,000 square feet) house designed by Paul Rudolph; it felt like being in a hotel lobby. Philip Johnson's Glass House is much smaller, but most people couldn't imagine living in it. Richard Meier's Rachofsky House in Dallas is a beautiful purist composition, but it resembles a museum—which is its present function. Not so Fallingwater. The enclosed space is not large (about 2,900 square feet, plus 2,400 square feet of balconies), and although the living room is sprawling, the bedrooms are very small. And compared to a modern McMansion, it's all downright Spartan; no marble bathrooms, no walk-in closets, no vast kitchen, no media room. The materials are unprepossessing, and the details are either simple or absent—there is none of that obsessive precision that makes modern houses feel like luxury cars. The luxury at Fallingwater is all in the cantilevered terraces, which feel like open-air tree houses. Like most visitors, I went down the path to experience the View. It is all one could ask for. But it is a mark of this curiously demure folly, that the iconic view is not seen as one approaches, or from any of the vantage points around the house, where the design is experienced in bits and pieces. It is as if Wright were saying, "Oh, by the way, you should see it from down there."
Gary Brewer, a partner at Robert A. M. Stern Architects, lectured at the Philadelphia Center for Architecture. The talk was illustrated with the firm's work, which appears to include every conceivable building type, with the possible exception of industrial buildings. These buildings represent a variety of building styles, Traditional, Modern, and Transitional. The last category is interesting, for though rarely alluded to it probably represents the majority of what is built today. Most if not all architects consider themselves either modernists or traditionalists, and develop elaborate justifications for their positions. Not Stern. As Brewer pointed out, for RAMSA, a building's appearance should not be the result of an architect's whim, but of its setting. The client has a say, too. Brewer showed a house in California, built for a man who wanted to be reminded of his old home on Long Island, and a town hall whose owners wanted to establish a sense of place where there was none. Hence the advantage of having many stylistic arrows in one's quiver. There is nothing particularly original in RAMSA's approach. Most good American architects in the first half of the twentieth century–John Russell Pope, Paul Cret, Bertrand Goodhue–regularly  worked in different styles. When Cret designed a power house in Washington, D.C., it did not resemble the Federal Reserve or Bethesda Naval Hospital. It was a matter of decorum. As the confirmed medievalist Ralph Adams Cram pointed out, a Gothic department store or movie theater would make about as little sense as "a Greek railroad train, a Byzantine motor car, a Gothic battleship or a Renaissance airplane." That was the gravest limitations of the International Style, not its inherent quality, but the fact that it was applied universally.
The front page of today's New York Times carries a scathing indictment of Santiago Calatrava's buildings. The solidly researched article chronicles a record of work that is over-budget, poorly constructed, and in some cases downright dangerous to users. Many engineers have been skeptical of Calatrava's approach to design, which seems to glamorize structure, while not making a whole lot of structural sense. I had this feeling when I saw his residential tower in Malmö, Sweden, portentously called Turning Torso. The 54-story building on the Öresund Strait is intended to be a landmark, and indeed, from a distance (crossing the 5-mile-long bridge that connects Sweden and Denmark), it is an impressive site, a tall twisting form. Close-up is something else again. The structural "spine" that supposedly braces the building appears a decorative add-on; the trapedzoidal windows look not interesting but odd; and the details are unresolved and crude. The tower was built by HSB, a Swedish cooperative housing association. I was told that the elevated construction cost (reported as $250 million), meant that sales of the 147 apartments were so slow that the building had to be converted to rental. HSB suffered serious losses, and its managing director was sentenced to jail time for fraud, although he was later cleared on appeal. As for Calatrava, he got away scot-free. Until today.