The on-going public debate about starchitects, in part prompted by my piece in the New York Times, was not elevated by James Russell's judgement that the debate was "stupid." Another common reaction was to affirm that the term itself is meaningless—if not actually a put-down. There have always been architectural stars, the argument goes, Palladio, or Bernini, or whoever. It is true that there have always been well-known architects, even celebrity architects, but the starchitect phenomenon is different. The term is an accurate description of a certain (small) category of practitioners today. Moreover, today's stardom is not analogous to architectural fame in the past. In his interesting new book, The Globalisation of Modern Architecture, the British architect Robert Adam quotes David Chipperfield: "It's easier to know about architects than architecture. A banker won't know about architecture but will know that 'Zaha Hadid' or 'Rem Koolhaas' is a brand." Moreover, the brand has quantifiable monetary value since it can be measured in terms of increased fund-raising, greater museum attendance, higher office rents or condo selling prices, or patron satisfaction in the case of campus buildings. In that sense, the starchitect is equivalent to the Hollywood star, an actor whose name on a film proposal makes it bankable. The analogy with Hollywood is useful: not all the best actors are stars, and the stars are not necessarily the best actors. It is not a measure of quality but of name recognition among the moviegoing pubic. So, too, in architecture; starchitects are not necessarily the "best" architects. "To be a starchitect, whether voluntarily or otherwise," Adam writes, "is to be a global brand, and star architects are chosen to give their brand value to projects."
Who was the first brand-name architect? It would surely have been Jørn Utzon, had he not resigned before the Sydney Opera House opened in 1973. My own choice would be Philip Johnson, who graced the cover of TIME magazine (January 8, 1979) with a model of the AT&T building. Most businessmen didn't know what Johnson stood for (if he stood for anything), but they recognized the name—enough to add value to Gerald Hines's Johnson-designed real estate development projects. Johnson was a national star. It would not be until 1997 and the opening of the Guggenheim Museum Bilbao that a starchitect became a global brand.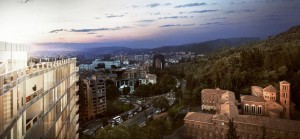 A month ago the Wall Street Journal ran an article about the current building boom in Bogotá. It described a planned luxury residential building designed by Richard Meier. Why import an architect from thousands of miles away, who has never built anything in that city? "One aspect of new construction is important to local buyers: no red brick. Exposed brick is so prevalent in Bogotá that many apartment buildings look the same." Well, Mr. Meier's building, which is white steel and glass, will certainly not "look the same." Indeed, to my eye, it will likely stick out like the proverbial sore thumb. No doubt, other "not-the-same" buildings will follow, and soon this brick city (look at those wonderful buildings on the right side of the image above), will look like everywhere else.
An account of Paul Rudolph's life would make a good opera—a tragedy. Act One. The provincial rube, son of an itinerant Methodist minister in the South, studies architecture in Alabama. He designs his first house at 22, and joins an office in Sarasota, of all places. Goes to Harvard, and studies at Gropius's knee. The war interrupts. He returns to Sarasota, becomes a partner in the firm, and begins to design remarkable houses—as if Frank Lloyd Wright had attended the Bauhaus. He completes his Harvard degree and returns to Florida and continues to build. The houses are airy, light, delicate, romantic. Act Two. Rudolph acquires a national reputation. He designs an unbuilt embassy in Jordan, a campus building at Wellesley, and an office building in downtown Boston. All striking. He is appointed head of the architecture department at Yale, and builds the Art and Architecture Building—massive, concrete, brooding. Not Form Follows Function, but Form Follows Imagination. He leaves Yale to set up an office in New York. Act Three. It is the Age of Theories—postmodernism, populism, regionalism—but Rudolph is no theoretician; he is an artist. His romantic monumentalism appears outdated and he is left behind. The Yale building, increasingly unpopular with students, burns—perhaps arson— and in some undefinable way the architect is blamed. His commissions dry up. Rudolph continues to build in Singapore and Hong Kong, but he cannot recapture the old magic. He is forgotten. The curtain descends.
Until such an opera comes along, we have Timothy M. Rohan's forthcoming The Architecture of Paul Rudolph (Yale University Press). The book shows Rudolph to have been an intensively private man, an introspective romantic, and while Rohan covers the work (although the photographs appear awfully flat to me), his subject never quite comes alive. Rudolph's buildings, on the other hand sing out, forte fortissimo.
When I was a freshly-minted architect I had no commissions, so naturally I fantasized about having an office. My imaginary studio was housed in a truck, with dome skylights and windows, and a loft at one end. "The truck-office like having an office on a boat but instead it is on the highway rivers of America," I wrote in my sketchbook. "From city to city from one project to another." My sketch shows two figures standing outside the entrance–I suppose they were meant to be clients. I had read about Ralph Erskine's office in Sweden, a converted barge that was moored near Stockholm during the winter, and sailed to an offshore island for the summer. This is surely the most romantic office one can imagine, but architects have often made their workplaces special. Foster has a huge single room overlooking the Thames; Gehry has a similar "big room," although it doesn't overlook anything as scenic. Safdie's office in Somerville is in the shell of what was a factory, today covered with an ivy scrim. Bing Thom's studio is likewise in a renovated factory—at the foot of the Burrard Bridge in downtown Vancouver. But these are exceptions, most architects work in anonymous office buildings. It brings to mind the French saying: "Les cordonniers sont toujours les plus mal chaussés." Shoemakers always have the worst shoes.
Reed Sparling is with Scenic Hudson, an environmental organization opposing plans by LG Electronics to construct a corporate headquarters atop the Hudson River Palisades. LG's architect, HOK, proposes an 8-story slab that critics, such as Michael Kimmelman of the New York Times, maintains will despoil the scenic beauty of this National Natural Landmark. "LG is receiving the blame for constructing this building, and rightfully so," writes Sparling in an email. "But does/should an architect have moral or civic responsibility to say no if a potential design threatens highly valued (and irreplaceable) natural resources?" It's a good question. Architects are a service profession, and as such they tend to shed primary responsibility for the projects they design. "If we don't do it someone else will," is a common rationale. Or, as Philip Johnson famously put it, "Architects are pretty much high-class whores. We can turn down projects the way they can turn down some clients, but we've both got to say yes to someone if we want to stay in business."  Of course, architects say no regularly for a number of reasons: too small budget, too small project, too much other work. I remember as a student attending a lecture by Shadrach Woods. He made the claim that there were projects that architects should refuse to do on ethical grounds, and described an example of his firm (Candilis, Josic & Woods) turning down a commission for a parking garage. I think that Woods was right. Architects can't have it both ways. They are quick enough to claim the moral high ground when they design affordable housing or green roofs, so they can hardly claim immunity when they carry out projects with harmful environmental or social side effects.