Frei Otto (1925-2015) is an inspired choice for the Pritzker Prize. When I was a young architect, he was the man of the moment. I thought that his German pavilion at Montreal's Expo '67 was the best building of the exhibition. The sense of fluid, uncompartmented space created by the tent structure was something entirely new. That was just a warm-up for his breathtaking Olympic Stadium in Munich. I saw that building in 1972 and wrote about it—my second ever published article. Otto was later overshadowed by postmodernism, and by celebrity-driven architecture, but his lightweight architecture prepared the way for architects such as Piano, Foster, and Grimshaw. Otto—an engineer as well as an architect—never used structure as a fashion statement; his solutions were always rooted in iron-clad logic.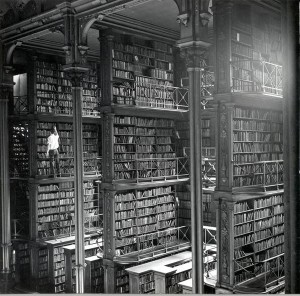 MessyNessyChic, a blog about libraries and books, recently featured the old Cincinnati Main Library, built in 1874 and demolished in 1955, less than a century later. The period photographs show a building of subtlety and sophistication. The four-story facade on downtown's Vine Street is pragmatically built up to the sidewalk (like Chicago's Harold T. Washington Library), and gives nothing away about the extraordinary space within. It is a "room full of books" what better image for a library than that? The architect was James W. McLaughlin (1834-1923). Born in the city, he apprenticed with a prominent local architect, James Keys Wilson (1828-1894). In addition to the library, McLaughlin also designed the city's art museum and zoo. The most prolific Cincinnati architect of that period was probably the British-born Samuel Hannaford (1835-1911), who designed the city hall and the Music Hall. By the second decade of the twentieth century, there seems to have been a sense that outside architectural expertise was required, especially for the new building type: the skyscraper. Cass Gilbert was brought in to build what was then the tallest office building outside New York City, Delano & Aldrich designed a soaring moderne slab that anticipated Rockefeller Center, and Paul Cret was consulting architect on the beautiful Art Deco railroad terminal. Since then, this trend has continued as many civic buildings have been designed by imported stars: Michael Graves, Cesar Pelli, and Zaha Hadid. This sometimes makes for good buildings, but one can still look back fondly to a time when local architects produced splendid designs like the old Main Library.
The on-going public debate about starchitects, in part prompted by my piece in the New York Times, was not elevated by James Russell's judgement that the debate was "stupid." Another common reaction was to affirm that the term itself is meaningless—if not actually a put-down. There have always been architectural stars, the argument goes, Palladio, or Bernini, or whoever. It is true that there have always been well-known architects, even celebrity architects, but the starchitect phenomenon is different. The term is an accurate description of a certain (small) category of practitioners today. Moreover, today's stardom is not analogous to architectural fame in the past. In his interesting new book, The Globalisation of Modern Architecture, the British architect Robert Adam quotes David Chipperfield: "It's easier to know about architects than architecture. A banker won't know about architecture but will know that 'Zaha Hadid' or 'Rem Koolhaas' is a brand." Moreover, the brand has quantifiable monetary value since it can be measured in terms of increased fund-raising, greater museum attendance, higher office rents or condo selling prices, or patron satisfaction in the case of campus buildings. In that sense, the starchitect is equivalent to the Hollywood star, an actor whose name on a film proposal makes it bankable. The analogy with Hollywood is useful: not all the best actors are stars, and the stars are not necessarily the best actors. It is not a measure of quality but of name recognition among the moviegoing pubic. So, too, in architecture; starchitects are not necessarily the "best" architects. "To be a starchitect, whether voluntarily or otherwise," Adam writes, "is to be a global brand, and star architects are chosen to give their brand value to projects."
Who was the first brand-name architect? It would surely have been Jørn Utzon, had he not resigned before the Sydney Opera House opened in 1973. My own choice would be Philip Johnson, who graced the cover of TIME magazine (January 8, 1979) with a model of the AT&T building. Most businessmen didn't know what Johnson stood for (if he stood for anything), but they recognized the name—enough to add value to Gerald Hines's Johnson-designed real estate development projects. Johnson was a national star. It would not be until 1997 and the opening of the Guggenheim Museum Bilbao that a starchitect became a global brand.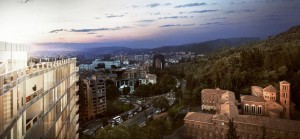 A month ago the Wall Street Journal ran an article about the current building boom in Bogotá. It described a planned luxury residential building designed by Richard Meier. Why import an architect from thousands of miles away, who has never built anything in that city? "One aspect of new construction is important to local buyers: no red brick. Exposed brick is so prevalent in Bogotá that many apartment buildings look the same." Well, Mr. Meier's building, which is white steel and glass, will certainly not "look the same." Indeed, to my eye, it will likely stick out like the proverbial sore thumb. No doubt, other "not-the-same" buildings will follow, and soon this brick city (look at those wonderful buildings on the right side of the image above), will look like everywhere else.
An account of Paul Rudolph's life would make a good opera—a tragedy. Act One. The provincial rube, son of an itinerant Methodist minister in the South, studies architecture in Alabama. He designs his first house at 22, and joins an office in Sarasota, of all places. Goes to Harvard, and studies at Gropius's knee. The war interrupts. He returns to Sarasota, becomes a partner in the firm, and begins to design remarkable houses—as if Frank Lloyd Wright had attended the Bauhaus. He completes his Harvard degree and returns to Florida and continues to build. The houses are airy, light, delicate, romantic. Act Two. Rudolph acquires a national reputation. He designs an unbuilt embassy in Jordan, a campus building at Wellesley, and an office building in downtown Boston. All striking. He is appointed head of the architecture department at Yale, and builds the Art and Architecture Building—massive, concrete, brooding. Not Form Follows Function, but Form Follows Imagination. He leaves Yale to set up an office in New York. Act Three. It is the Age of Theories—postmodernism, populism, regionalism—but Rudolph is no theoretician; he is an artist. His romantic monumentalism appears outdated and he is left behind. The Yale building, increasingly unpopular with students, burns—perhaps arson— and in some undefinable way the architect is blamed. His commissions dry up. Rudolph continues to build in Singapore and Hong Kong, but he cannot recapture the old magic. He is forgotten. The curtain descends.
Until such an opera comes along, we have Timothy M. Rohan's forthcoming The Architecture of Paul Rudolph (Yale University Press). The book shows Rudolph to have been an intensively private man, an introspective romantic, and while Rohan covers the work (although the photographs appear awfully flat to me), his subject never quite comes alive. Rudolph's buildings, on the other hand sing out, forte fortissimo.