From the Plus Ca Change Desk.
Have people read A. Trystan Edwards? Edwards (1884-1973) was a Welsh architect and town planner who studied at Liverpool, and articled under Sir Reginald Bloomfield. In 1924 he published an extraordinary book, Good and Bad Manners in Architecture that discusses many of the issues currently raised by the current New Urbanism movement. You can get an idea of the book from the frontis page: "This book asks the novel question, How do buildings behave towards one another? It contrasts the selfish building, the presumptuous building and the rude building with the POLITE and SOCIABLE building; and it invites the public to act as arbiter upon their conflicting claims." The "rude building" is very good. There should be an annual prize for the Rude Building of the Year. Edwards also wrote Architectural Style, which is likewise worth reading. Both are out of print, so either a good library or AbeBooks.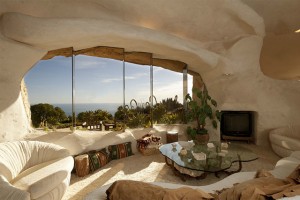 My friend Hugh Hartwell sent me a link to a CNN Money story on the late Dick Clark's house in Malibu. The organic grotto-like home, designed by architect Phillip Jon Brown, is inevitably described by the media as a Fred Flintstone-style house. It really is a version of an idea pioneered by the Austrian architect Frederick Keisler (1890-1965). Keisler was born in what is now Ukraine, studied in Vienna, knew Loos, and was a member of the De Stijl group. In 1926, he moved to New York City, where he lived the rest of his life, working as a window decorator, writing manifestoes, designing visionary projects, teaching at Columbia, and leading the existence of an avant-garde gadfly. His only built work, as far as I know, is the Shrine of the Book in Jerusalem, a rather beautiful urn-shaped building housing the Dead Seas Scrolls. What I recall is studying his Endless House, whose maquette was exhibited at MoMA in 1958-59. Blob architecture, before the fact. A couple of years later, I built my own version, out of chicken wire and plaster of Paris, as a student assignment. Keisler never realized the Endless House, except in model form. Maybe he should have moved to Malibu.
This weekend's Washington Post magazine has a cover story on Frank Gehry and his design for the Eisenhower memorial. Philip Kennicott has done a fine job explaining the ins and outs on this only-in-Washington teapot tempest, but what struck me was the wonderful photo by Matt McClain of Gehry in his LA studio, surrounded by architectural models. It captures not only the architect's working method, and the intensity of exploration that the scores of models represent, but also the sense of this remarkable artist in his own world. It reminds me of Joseph Michael Gandy's 1818 painting of a room piled full with models of all the buildings designed by John Soane, a small figure barely visible in the foreground.
An architectural competition for the National Art Museum of China (NAMOC) is currently underway. The site of the vast (128,000 m2) museum is Beijing, not far from Herzog & de Meuron's Olympic stadium. This promises to be one of the largest and most ambitious museums since the Getty Center and the Bilbao Guggenheim. Judging from some websites, unsuccessful entrants in the first stage included Koolhaas's Office for Metropolitan Architecture and Ben van Berkel's UNStudio. Not clear who else competed, but one supposes the usual suspects. Four firms have reached the final stage: Gehry Partners, Ateliers Jean Nouvel, Zaha Hadid Architects, and Safdie Architects. Three Pritzker Prize winners, and an outlier. Although Safdie has had an amazing year with the US Peace Institute, Crystal Bridges in Arkansas, the Sikh Cultural Center in Punjab, and the Marina Bay Sands complex in Singapore. The winner is expected to be announced shortly.
The New York Times article about the Paul Rudolph county government center in Goshen, N.Y. that is threatened with demolition, has fueled a keen (and since this is 2012, a rather rude) debate. Many conservationists' attitude to old buildings is that they should be treated like art, that is, carefully preserved. The problem is that buildings, unlike paintings, are fixed in place. Art that falls out of favor doesn't have to be destroyed, it can simply be taken out of the front room and put in the back, or in a museum's open storage, or ultimately in a suburban warehouse. It is available to be pulled out, if the need arises, that is if tastes change. One thinks of French pompier art of the late 19th century. It was popular—everything starts by being popular with whoever paid for it—then fell out of favor, then was resurrected (see the Musée d'Orsay). Musical compositions can be played, or not played, or rediscovered and played anew. But a building is a part of one's world, like it or not. It must be lived in and with. One argument is to err on the side of conservation, assuming that at some future time someone will see something that eludes us. Certainly was the case with Frank Furness, and with Rudolph today. But maintenance and change are an essential part of a building's life. A building that is unloved will have a hard time of it; it will not be taken care of, and it will be insensitively altered. Maybe Rudolph's building shouldn't be demolished, but should it be conserved?