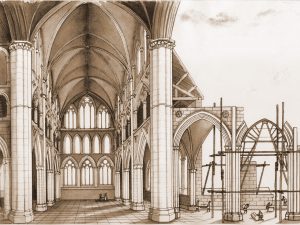 There is a long tradition of architectural research in structures—one thinks of Nervi, Candela, Torroja, and Frei Otto, the pioneers of concrete like Perret, and much earlier the Byzantine and Gothic builders. Architects have sometimes experimented successfully with new building techniques and materials (Rudolph invented striated concrete blocks; Foster was the first to use structural glass fins). But research into how people use buildings is rare. The profession has always recognized the value of so-called post-occupancy evaluation, and the need for knowledge based on how people actually behave in and use buildings. The problem has been that this kind of research is extremely complicated, time-consuming, and expensive. Moreover, it fits into practice with difficulty. There is no advantage to a practitioner in showing the long-term deficiencies of his design decisions. Negative feedback is merely embarrassing. There is a professional reluctance to "tell tales out of school" and to reveal clients' confidences, or to suggest that what the client got was less than perfect. A scientist can publicly document experiments that failed without risk—indeed, that is the basis of the scientific method—but an architect's reputation would suffer were he to do so. (I learned about this when I wrote The Biography of a Building, about the Sainsbury Center for Visual Arts.)
It would require a sort of unbiased consumer protection agency to do true post-occupancy evaluation. But who would fund it? Not the original designer, whose reputation can only be hurt. Not the client, who may be criticized for misuse of funds. Not the building industry, which may be legally liable for deficiencies. Not the current building owner who will only risk reaping bad pubicity. A government-funded consumer agency seems like a long shot in the current climate. The most likely areas for intensive research into human behavior in buildings would be focused on specific subjects of vital public concern: thermal comfort related to energy conservation, crowd behavior in building disasters, the health effects of healthcare environments.
What is the alternative? In the past, architects were relatively conservative when it came to innovation. Palladio researched archaeological ruins, and innovated in formal aspects of building, but the plans of his villas follow tried and true models. Architects based their work on a Canon—buildings that were considered exemplary and provided field-tested models. I have many friends who are "traditionalists" and  "classicists." What distinguishes their work from that of the self-styled avant-garde is that they tend to lean on historic precedent and traditional types for design decisions, rather than conjuring up novel forms and building arrangements out of thin air. This is true both in building design and urban design. Slow and steady wins the day.
"Dwelling narrowly on the legacy of designers gives the impression that architectural history concerns great men, not great places," writes Lance Hosey in the Huffington Post. Hosey was commenting on an essay that I wrote recently in Architect, in which I speculated about what might have happened if certain celebrated unbuilt projects had actually been realized. It is fashionable to think that architecture is not the creation of great men—or great women—but is it true? Does anyone really believe that the spirit of Louis Kahn did not manifest itself in his designs? When he died, that spirit died with him. When Eero Saarinen died, Kevin Roche and John Dinkeloo continued the practice, but Saarinen's mercurial creativity was absent. The art of building is a peculiar art that relies on team work—in that sense it resembles film-making rather than novel-writing. But as in film-making, the auteur is often present. I remember working for Moshe Safdie in the 1970s. There were a dozen or so people in the office, but when Safdie was away, a certain inertia set in as people waited for him to return and make decisions. The decisions might concern alternatives developed by someone else, but there was never any doubt about who would have the final word.
There has been much excitement in the Twittersphere concerning the appointment of Tod Williams Billie Tsien Architects to design the Obama presidential library. A no-drama president has picked no-drama architects is the gist of it. No drama? Putting an 8-story blank wall on 53rd Street, as they did in the American Folk Art Museum is nothing if not dramatic. So is designing a skylight in the form of a glass box, then theatrically cantilevering it out at each end, as they did in the new Barnes Foundation. A less well known building, Skirkanich Hall at the University of Pennsylvania presents a half-blank brick wall to the street, and in case you miss it, the shiny glazed brick is green, unlike every other brick building on that campus. Skirkanich stands out in other ways; to further call attention to itself it breaks the building line of the street, like a pushy person in a queue. The neighboring Moore School Building (on the right in the photo), which was altered by Paul Cret in 1926, is much more urbanistically circumspect—and much lower key architecturally, after all, its just a workaday engineering teaching building, not a monument. But TWBTA tends to make a fuss when they build, whether it's a facade or a simple bench. "Look at me, I've been designed" seems to be the message. Implicitly this privileges the person doing the designing. But this is exactly not what a presidential library needs; its subject should take center stage.
I came across the following passage recently.
There have always been dazzling personalities that flashed out of the surrounding gloom like the writing on the wall at the great king's feast; but they are not manifestations of healthy art. They are phenomena. The sanest, most wholesome art is that which is the heritage of all the people, the natural language through which they express their joy of life, their achievement of just living; and this is civilization,—not commercial enterprises, not industrial activity, not the amassing of fabulous wealth, not increase of population or of empire. These may accompany civilization, but they do not prove it.
This was written by Ralph Adams Cram, the introduction to his Church Building, published in 1899. I read this at the same time as numerous fulsome encomia appeared in the media on the occasion of the death of Zaha Hadid, certainly a "dazzling personality." She was also, in Cram's sense, a phenomenon. Like so many leading architects today, her work was personal, eccentric, and idiosyncratic, the very opposite of a natural language, a popular heritage. Not an architecture grounded in a particular place, like Gaudí's equally eccentric buildings, but global in nature, built in faraway lands for faraway people often of fabulous wealth. Accompanying civilization, but not proving it.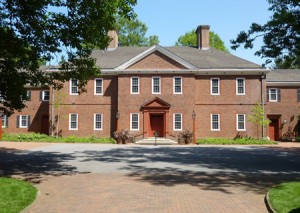 The other day we drove to Mount Cuba, a horticultural center in Delaware. The forest garden is part of an estate built in the 1930s by Lammot du Pont Copeland and his wife Pamela, a branch of the mighty Delaware family. We went to look at the trillium garden, but I was also impressed by the house, a very large Colonial Revival mansion that was completed in 1937. The beautiful brick architecture was exquisite, simple to the point of distillation. The design was the work of Victorine and Samuel Homsey. Samuel (1904-1994), a native of Boston, graduated from MIT and met and married Victorine du Pont (1900-98), who had studied at the Cambridge School of Domestic and Landscape Architecture for Women. They set up shop in Delaware, which is where Victorine had family contacts; theirs was probably the first husband-and-wife practice in the United States. In addition to Mount Cuba they were responsible for several building on the nearby Du Pont estate, Winterthur, as well as the Delaware Art Museum. The Museum of Modern Art selected their house design to represent the International Style for the 1938 Paris Exhibition, but they were not modernist converts. "We certainly are not modern if that means following worshipfully the so called functional or international style," wrote Victorine. "Nor do we follow with blind admiration the great designers of earlier periods. We try to work out each job as a totally separate problem and to divorce from our minds any preconceived idea of style." Eclecticism is maligned today, but looking at Mount Cuba one can only admire its rigor and sense of conviction.