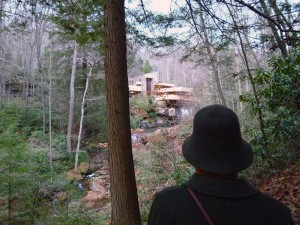 Random thoughts after a recent visit. Isn't it strange that a millionaire's plaything, a weekend house that cost a whopping $166,000 in 1937 ($2.6 million today), in which the servants outnumbered the occupants, and in which meals were served by a butler, should nevertheless have become the most popularly admired modern house in America. There are a number if explanations. I recently visited a huge (40,000 square feet) house designed by Paul Rudolph; it felt like being in a hotel lobby. Philip Johnson's Glass House is much smaller, but most people couldn't imagine living in it. Richard Meier's Rachofsky House in Dallas is a beautiful purist composition, but it resembles a museum—which is its present function. Not so Fallingwater. The enclosed space is not large (about 2,900 square feet, plus 2,400 square feet of balconies), and although the living room is sprawling, the bedrooms are very small. And compared to a modern McMansion, it's all downright Spartan; no marble bathrooms, no walk-in closets, no vast kitchen, no media room. The materials are unprepossessing, and the details are either simple or absent—there is none of that obsessive precision that makes modern houses feel like luxury cars. The luxury at Fallingwater is all in the cantilevered terraces, which feel like open-air tree houses. Like most visitors, I went down the path to experience the View. It is all one could ask for. But it is a mark of this curiously demure folly, that the iconic view is not seen as one approaches, or from any of the vantage points around the house, where the design is experienced in bits and pieces. It is as if Wright were saying, "Oh, by the way, you should see it from down there."
Gary Brewer, a partner at Robert A. M. Stern Architects, lectured at the Philadelphia Center for Architecture. The talk was illustrated with the firm's work, which appears to include every conceivable building type, with the possible exception of industrial buildings. These buildings represent a variety of building styles, Traditional, Modern, and Transitional. The last category is interesting, for though rarely alluded to it probably represents the majority of what is built today. Most if not all architects consider themselves either modernists or traditionalists, and develop elaborate justifications for their positions. Not Stern. As Brewer pointed out, for RAMSA, a building's appearance should not be the result of an architect's whim, but of its setting. The client has a say, too. Brewer showed a house in California, built for a man who wanted to be reminded of his old home on Long Island, and a town hall whose owners wanted to establish a sense of place where there was none. Hence the advantage of having many stylistic arrows in one's quiver. There is nothing particularly original in RAMSA's approach. Most good American architects in the first half of the twentieth century–John Russell Pope, Paul Cret, Bertrand Goodhue–regularly  worked in different styles. When Cret designed a power house in Washington, D.C., it did not resemble the Federal Reserve or Bethesda Naval Hospital. It was a matter of decorum. As the confirmed medievalist Ralph Adams Cram pointed out, a Gothic department store or movie theater would make about as little sense as "a Greek railroad train, a Byzantine motor car, a Gothic battleship or a Renaissance airplane." That was the gravest limitations of the International Style, not its inherent quality, but the fact that it was applied universally.
The front page of today's New York Times carries a scathing indictment of Santiago Calatrava's buildings. The solidly researched article chronicles a record of work that is over-budget, poorly constructed, and in some cases downright dangerous to users. Many engineers have been skeptical of Calatrava's approach to design, which seems to glamorize structure, while not making a whole lot of structural sense. I had this feeling when I saw his residential tower in Malmö, Sweden, portentously called Turning Torso. The 54-story building on the Öresund Strait is intended to be a landmark, and indeed, from a distance (crossing the 5-mile-long bridge that connects Sweden and Denmark), it is an impressive site, a tall twisting form. Close-up is something else again. The structural "spine" that supposedly braces the building appears a decorative add-on; the trapedzoidal windows look not interesting but odd; and the details are unresolved and crude. The tower was built by HSB, a Swedish cooperative housing association. I was told that the elevated construction cost (reported as $250 million), meant that sales of the 147 apartments were so slow that the building had to be converted to rental. HSB suffered serious losses, and its managing director was sentenced to jail time for fraud, although he was later cleared on appeal. As for Calatrava, he got away scot-free. Until today.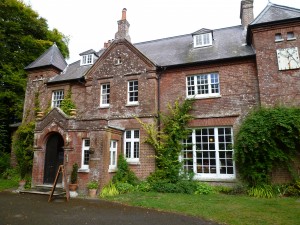 Conrad was a sea captain, Chekhov was a doctor, but Thomas Hardy is the only famous writer I know who was an architect. Born in modest circumstances, he was apprenticed to an architect as a lad, and worked in London for five year before returning to his native Dorset to devote his time to writing. Max Gate is the name of the house that he designed for himself in Dorchester. He was 45 when he built the house, and he lived there for more than 40 years, until his death–he died in the upstairs bedroom–in 1928. Here he wrote The Mayor of Casterbridge, Tess of the d'Urbervilles, and Jude the Obscure. Hardy designed the house himself. I'm not usually a fan of Victorian architecture, but Hardy's house has an appealing austerity. It is also unusually bright inside, for he made the windows exceptionally large, in part to see the extraordinary garden that surrounds the house. The building began as a rather small center hall, two-over-two plan, but over time, as Hardy's writing became popular, he was able to add the entry porch and several rooms at the rear, including a study. The sundial was designed by Hardy, although added after his death. The inscription reads QUID DE NOCTE? (What of the night?), from a Latin verse.
I recently watched Intersection, a 1994 flick with Richard Gere and Sharon Stone cast as a husband-wife architect team. We know that Gere is a creative soul–he has long, unruly hair–and that he is financially successful and glamorous–he wears Armani and drives a classic Mercedes 280SL. Stone, oddly cast as an ice queen, runs the business. So far, so good. The setting is Vancouver. The director, Mark Rydell, enlists Arthur Erickson's Museum of Anthropology (actually almost two decades old, but looking great) as a stand-in for Gere/Stone's latest architectural triumph. But except for a scene where Gere throws a temper tantrum on a building site, there is nothing in this film to suggest how an architect actually creates. On reflection, I can't think of a movie that does so successfully; not Two for the Road (although Albert Finney is appropriately self-absorbed), not Towering Inferno nor  Sleepless in Seattle, and definitely not Death Wish. Admittedly, it's difficult to portray cinematically how the various demands of a project come together in the mind of a designer–but Gere staring intently at a maquette doesn't quite cut it. My gold standard for portraying creativity is the deathbed scene in Amadeus, in which director Miloš Forman manages to capture the mystery of musical composition. Not that what he portrays is necessarily the way that composers compose, but watching Hulce/Mozart and Abraham/Salieri we get an insight into what it might be like to hear music in your head. As for Intersection, it bombed at the box-office, and I'm afraid hasn't improved with time.