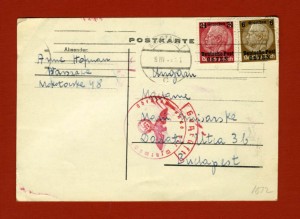 I collected stamps as a boy. Mostly I was imitating my father. He collected only Polish stamps, and his collection begins with the outbreak of the Second World War. The earliest stamp is postmarked "Warszawa 1940." It is not Polish but German, and bears the stern countenance of Paul von Hindenburg. The stamp is overprinted Osten, meaning East, that is, occupied Poland. My father's collection includes poignant stamps issued by the provisional Polish government in London, as well as military stamps of the Polish II Corps in Italy, where he served in the SOE. Most of the stamps date from the postwar period and are rather dull in appearance. They portray Polish heroes: Copernicus, Chopin, Madame Curie, and equally predictably, Karl Marx and Stalin, for Poland was then in thrall to Soviet Communism. The album is homemade, the pages, carefully ruled in pencil, have space for every stamp, and include the date of issue, denomination, image, color, and the Stanley Gibbons catalog number. My father was an engineer and he liked everything just so. The entries are in Polish except for the colors which—unaccountably—are in English: "dull purple," "deep green." Perhaps it is an early sign of an émigré's cultural dichotomy. I suppose the collection, which peters out in 1954 shortly after the family emigrated from Britain to Canada, was a way of keeping in touch with the homeland from which he had been rudely separated by the war. Or maybe it was just a way of introducing some small order into a disordered life.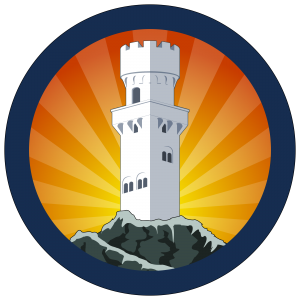 In a New York Times op-ed on the failed political career of Michael Ignatieff, the intellectual who had a short-lived stint as leader of  Canada's Liberal party, David Brooks argues that academics are ill-suited to be politicians."In academia, you are rewarded for candor, intellectual rigor and a willingness to follow an idea to its logical conclusion," he writes. "In politics, all of these traits are ruinous." Candor, intellectual rigor? This rosy view of the academic world is obviously that of an outsider, for academia is rife with obfuscation and intellectual fashions—and with politics. Teachers woo the electorate (the students), who annually vote (fill out teaching evaluations) on performance. Assistant professors wangle for promotion and tenure (tenure is like a safe political seat); old professors just wrangle. There are endless committees since, like the House and the Senate, university departments are self-administering. The university administration (White House) tries to steer the faculty (Congress); the faculty stymies these efforts whenever possible. When I watch House of Cards, the plotting and back-stabbing remind me of faculty meetings and search committees, although in the ivory tower nobody actually dies. As Henry Kissinger, who was a Harvard professor for almost 20 years, observed: "University politics are vicious precisely because the stakes are so small."
The Washington, DC Public Library System, which is planning a makeover of the Martin Luther King, Jr. Memorial Library, has released what it calls "preliminary design concepts" by the three architecture firms competing for the job: Studios  Architecture and the Freelon Group; Patkau Architects, Ayers Saint Gross, and Krueck + Sexton Architects; and Mecanoo and Martinez+Johnson. The MLK Library (1966) is a late work of Mies van der Rohe, completed after the master's death in 1969, although designed while he was still active, simultaneously working on the unbuilt Mansion House Square project in London. Usually I don't like to comment on unbuilt designs, but since the library is built, I will make an exception. The MLK Library is not a masterpiece, but it deserves better than the shabby treatment is receives from Studios and Mecanoo, who place fashionably skewed boxes above (and overlapping) the existing building in feeble attempts to bring excitement to the work of an architect who intentionally avoided excitement. "I don't want to be interesting, I want to be good," he once said. Only Patkau seems to have grasped that deference rather than contrast is the right design strategy. (Patkau adds a floor whose design is almost Miesian.) The library has announced that it "will work with community input to develop a redesign." Commendable but also scary. It requires architectural sophistication to square the circle that is the particular design challenge of this project. Subtlety is not the usual product of public meetings, where the noisiest often prevail. Poor old Mies.
Update: The library passed over the low-key Patkau proposal and chose the "exciting" Mecanoo scheme. It will be interesting to see if such an insensitive defacement of a modernist landmark will pass muster with the Commission of Fine Arts and the National Capital Planning Commission. Let's hope not.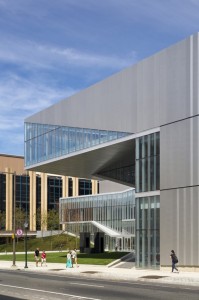 The Singh Center for Nanotechnology, designed by Weiss/Manfredi, has received glowing reviews in the Philadelphia Inquirer, Architect, and Architectural Record. But in the rush to praise, the critics have overlooked an important issue. The building is located on the edge of the Penn campus on Walnut Street, which at that point is more of a high-speed motor way than a city street, nevertheless, it is a street, something that the Singh Center barely acknowledges. The building breaks the street face with a wide opening. Not even a city square, it's mostly grass. It's true that the University of Pennsylvania occupies a leafy campus, but like most urban universities the green spaces are in secluded, inner environments, not facing the street. It's hard to know what to make of a front lawn on Walnut Street. It strikes me as a suburban gesture, but then the Singh Center seems ill at ease in its urban surroundings and with its canted, sculptural forms would be more at home on a rural site. The forecourt has another unintended effect: it highlights the façade of the physics building across the street, a distinctly ungainly Brutalist relic of the 1960s. Its facade is visible under the most striking feature of the Singh Center: a 68-foot cantilevered portion of the building. Cantilevered boxes have become a modernist cliché—one thinks of Diller, Scofidio & Renfro's ICA Building, Williams & Tsien's Barnes Museum, and Integrated Architecture's Lamar Corporate Headquarters. Unlike the windmilling terraces of Wright's Fallingwater, these recent cantilevered boxes are designed merely to impress. "Look what I can do." As an architect friend of mine commented about the Singh Center, "It seems  to me to  be an essay in exaggerated  inessentials."
Tom Kligerman, of Ike Kligerman Barkley, was showing me his new 3D printer the other day. His firm specializes in high-end houses, mostly though not exclusively traditional in design. Their printer, about the size of a Smart Car, is used to produce iterative study models that are extremely detailed, as if made by a Swiss watchmaker or a particularly obsessive ship-in-the-bottle hobbyist. 3D printers are all the rage in architecture schools. I can see why they're popular with students. It's sort of like having an in-house professional modelmaker—he can make even your half-baked efforts look good. But is it a good learning tool? I doubt it. 3D printers are capable of printing anything, buildable or unbuildable, functional or dysfunctional, sensible or nonsensical. It is not that acquiring modelmaking skills makes you a better architect, but the process of building models—like the act of sketching—does teach you about design. It takes several hours to print a complex shape, and I suspect that the demand on 3D printer time in schools will preclude them being used as iterative design tools. They will just make pretty models.