When I was a freshly-minted architect I had no commissions, so naturally I fantasized about having an office. My imaginary studio was housed in a truck, with dome skylights and windows, and a loft at one end. "The truck-office like having an office on a boat but instead it is on the highway rivers of America," I wrote in my sketchbook. "From city to city from one project to another." My sketch shows two figures standing outside the entrance–I suppose they were meant to be clients. I had read about Ralph Erskine's office in Sweden, a converted barge that was moored near Stockholm during the winter, and sailed to an offshore island for the summer. This is surely the most romantic office one can imagine, but architects have often made their workplaces special. Foster has a huge single room overlooking the Thames; Gehry has a similar "big room," although it doesn't overlook anything as scenic. Safdie's office in Somerville is in the shell of what was a factory, today covered with an ivy scrim. Bing Thom's studio is likewise in a renovated factory—at the foot of the Burrard Bridge in downtown Vancouver. But these are exceptions, most architects work in anonymous office buildings. It brings to mind the French saying: "Les cordonniers sont toujours les plus mal chaussés." Shoemakers always have the worst shoes.
Reed Sparling is with Scenic Hudson, an environmental organization opposing plans by LG Electronics to construct a corporate headquarters atop the Hudson River Palisades. LG's architect, HOK, proposes an 8-story slab that critics, such as Michael Kimmelman of the New York Times, maintains will despoil the scenic beauty of this National Natural Landmark. "LG is receiving the blame for constructing this building, and rightfully so," writes Sparling in an email. "But does/should an architect have moral or civic responsibility to say no if a potential design threatens highly valued (and irreplaceable) natural resources?" It's a good question. Architects are a service profession, and as such they tend to shed primary responsibility for the projects they design. "If we don't do it someone else will," is a common rationale. Or, as Philip Johnson famously put it, "Architects are pretty much high-class whores. We can turn down projects the way they can turn down some clients, but we've both got to say yes to someone if we want to stay in business."  Of course, architects say no regularly for a number of reasons: too small budget, too small project, too much other work. I remember as a student attending a lecture by Shadrach Woods. He made the claim that there were projects that architects should refuse to do on ethical grounds, and described an example of his firm (Candilis, Josic & Woods) turning down a commission for a parking garage. I think that Woods was right. Architects can't have it both ways. They are quick enough to claim the moral high ground when they design affordable housing or green roofs, so they can hardly claim immunity when they carry out projects with harmful environmental or social side effects.
Marco Velardi invited me to contribute to a small exhibition called Source Material, that he was organizing with Jasper Morrison and Jonathan Olivares during this year's Salone del Mobile in Milan. "We request from you an object of personal value; a reference, keepsake, object, that has informed, provoked, and stimulated your work," is what he wrote. I sent a pencil and a scale. Here is what I wrote:
I have used many tools as an architect—T-squares, triangles, compasses, protractors, and ruling pens—but the essential tools for me remain a pencil for drawing and sketching, and a scale for measuring. They are a reminder that while the product of architectural design is a building, architects don't actually build, they draw. I have had many mechanical and wooden pencils over the years, but my favorite is this fat 5B lead holder. Pencils, especially sketching pencils, are particularly personal since they are the intermediate between the hand and the eye, between seeing and recording. This one is made by Bohemia Works and I bought it on a trip to Prague about 40 years ago. The scale has accompanied me since I was an architecture student. The concept of scale is central to design since it allows the architect to record information, for himself and for others. There is something magic about shrinking reality so precisely. Of course, in a digital age pencils and scales have become almost antiques. But after 40 years my sketching pencil still does its job as well as ever. And you don't need batteries.
Source Material included contributions by David Chipperfield, Naoto Fukasawa, Edwin Heathcote, and Richard Sapper.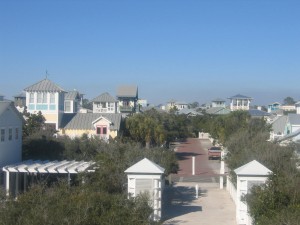 The other day a visiting Polish architect asked me what I thought of the new urbanism movement. It is a good question. On the one hand, the continued expansion and growth of the Congress for a New Urbanism is impressive. I recall the first meeting, in Alexandria, Virginia, in 1993. Barely filled a small room. Today the annual conventions attract halls full of enthusiastic members. New urbanism  was jump-started by Seaside, whose celebrity and undoubted success—financial as well as architectural—encouraged real estate developers, community and neighborhood groups, city planners and architects, to take a long hard look. Many liked what they saw. But while new urbanists have attempted to shed their small town/suburban/Truman Show image, they have had no similarly successful and exemplary big-city project. No High Line. No Disney Hall. No Fifteen Central Park West. What are the important ideas that have affected American cities in the last 20 years? The development of waterfronts. The renaissance in constructing urban parks. The move of genXers and retirees into downtowns. High-rise urban living and Vancouverism. The popularity of urban bicycling and bike-rental programs. Ditto for Zipcars. Urban farmers markets and community gardens. Urban charter schools. The dramatic expansion in attendance of urban cultural institutions, especially art museums. Urban tourism. Downtown trophy buildings. The emergence of influential big-city mayors. Have any of these been the result of the new urbanism movement?
A recent article on the impending demolition of the Coler-Goldwater Hospital on Roosevelt Island by the architect and photographer Charles Giraudet raises an important question. The Goldwater portion of the hospital (originally called Welfare Hospital) opened in 1939. It was designed by Isadore Rosenfield, a Harvard educated Russian immigrant who was the Chief Architect of the Department of Public Works and in charge of New York City's $100 million hospital building program. The architecture is modernist, with Art Deco motifs, and a chevron plan that presages Louis Kahn. As Giraudet, who has been documenting the empty buildings prior to their demolition, writes: "All major programming decisions — from the number of beds to the general layout of the buildings, the angled wings of the wards and the relative heights — were related to an unwavering patient-centric design approach."
Rosenfield's design bears comparison with Aalto's Paimio Sanatorium (1933) and Le Corbusier's unbuilt proposal for Venice (1966). The question raised by Giraudet's article and the evocative accompanying photographs, is why healthcare facilities are no longer built with any significant degree of architectural ambition. Most are generic environments, at best. Is it because machinery, rather than sunlight and fresh air, dominates healthcare today? Or do hospitals no longer turn to "design architects" because the latter have nothing to offer except a concern with fashion, which is of little import in a healing facility? I would like to see a hospital designed by an imaginative and thoughtful architect such as Bill Rawn or Peter Bohlin. Research into evidence-based design has shown the importance of environmental factors in health outcomes: views of nature lower stress, for example, so do natural materials. Architecture may yet re-enter the equation. Of course, a lot will depend on exactly how architects respond. Form alone won't cut it.