Two Cultures
During my nineteen years at Penn I have served as a faculty member in two departments, architecture in the School of Design, and real estate in the Wharton School. I discovered many small differences: the real estate faculty is more social, with a Christmas party and an end of year barbecue; architects are less punctual and more long-winded than economists; the business school has better box lunches at faculty meetings. But what struck me most was the differences in academic cultures.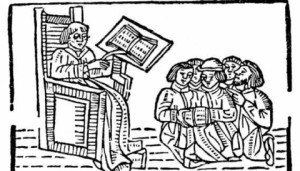 Medical schools do medical research, business schools advance the theoretical state of the art, but architecture schools don't produce architecture—except on paper, and that work is done almost entirely by students. The design studios are the heart of the program, and the exhibition of student work is a highlight of the academic year. Like most programs, Penn's department also produces an annual catalog of student work, but one cannot imagine an annual real estate publication devoted to student course assignments. In the real estate department, although all the faculty teach large lecture courses and teaching is what "pays the rent" for the department, the emphasis is on faculty research. Many faculty do all their teaching in one semester, in order to have the second free for their own work.
It is not that the real estate department doesn't pay attention to teaching, quite the opposite. Attendance is more firmly enforced, assignments are more demanding, and grading is stricter than in architecture, at least in my experience. US News and World Report, which is basically a student consumer guide to university programs, regularly rates Wharton as one of the best B-schools in the country. How do they teach? Real estate faculty teach the same courses, year-in and year-out, refining and updating but not drastically altering the content. The content of architecture design studios, on the other hand, changes from year to year. Who teaches? The real estate department makes minimum use of adjunct teachers, considering them unreliable amateurs. By contrast, in architecture programs there is a long tradition, dating back to the Ecole des Beaux-Arts, of practitioners teaching on a part-time basis. In the Penn architecture department, for example, scores of adjuncts and lecturers far outnumber the dozen or so standing faculty.
Architecture curricula are in a constant state of flux, influenced by changing fashions, and torn between the profession's demands for new skills, and emerging scholarly theories. It would be easy to say that the real estate curriculum is more focused. But the narrow aim of B-schools is to expose students to course content—theories and methods. The goal of a design school is to teach creativity, which is an elusive goal. Especially as talent, rather than merely hard-work, is the key variable—and talent is always in short supply.
3 Responses to Two Cultures