COMMUNITY-ORGANIZER-IN-CHIEF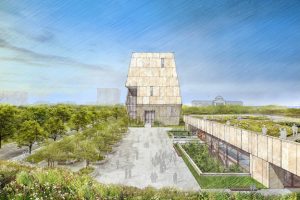 According to a report in Politico, unlike all previous presidential libraries since FDR's, the Obama "library" will not contain any presidential papers; the actual archives will be located elsewhere. This means that the  building in Lincoln Park will not be owned and operated by the National Archives and Records Administration (NARA).
Why did Obama opt for this unusual solution? According to Politico, the rationale may have been financial. "If the Obama Center chose to include a "presidential archival facility," the private Obama Foundation would be required to provide NARA with an endowment equal to 60 percent of the total cost to build and equip that facility for ongoing operation and maintenance expenses," it reported. "For a library that has been estimated to cost more than a billion dollars, such a move could save hundreds of millions." Or perhaps Obama simply preferred that control of the facility not pass to the federal government. The Obama Presidential Center, as it is to be called, is intended to function more like a community center than a traditional presidential archive-cum-shrine, which may be appropriate for the president who was the Community-Organizer-in-Chief.
Which brings us to the recently unveiled preliminary design. Like many Williams & Tsien projects, the centerpiece is a striking if somewhat mysterious form. It recalls a funerary urn. Is this meant to suggest that the building is a memorial to its subject? The press release that accompanied the design described the complex as "a recreational destination and center for gathering on the South Side for families, community members and visitors alike." So what is it to be, a national icon or a neighborhood center? Squaring that particular circle will not be easy.