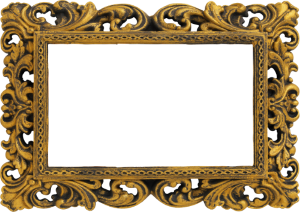 "Architecture is the picture frame and not the picture" is a memorable quote attributed to the mid-century California modernist, William Wurster. Wurster, a notable teacher as well as an architect, was reminding his students that architecture is always a setting, not the main event. I thought of Wurster's observation recently when I was writing an essay for Architect on the challenges of architectural biography. Why are there so few first-rate biographies of architects, I asked? Or, to put it another way, why don't first-rate biographers such as David McCullough, Edmund Morris, and Walter Isaacson, take the life of an architect as their subject? Is it that there are simply too few readers who are interested in what architects actually do? People are fascinated by cars, for example, but they are not that interested in how—and by whom—they are designed. You can count recognizable car designers on one hand: Ferdinand Porsche (Volkswagen Beetle), Alec Issigonis (Mini), Raymond Loewy (Studebaker Commander), Harley Earl (1953 Corvette), Pinninfarina (Giulietta Spider). Similarly, people recognize iconic buildings (the White House, the Empire State, San Francisoco City Hall) without necessarily knowing—or caring—who built or designed them. Or, as a friend suggested, perhaps architects are just not that important in the overall scheme of things. After all, what would you rather read about, the person who made the picture frame, or the one who painted the picture?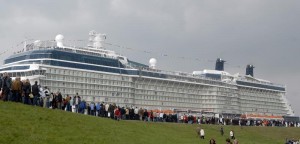 Architects such as Norman Foster, Frank Gehry, and Zaha Hadid have been commissioned to design luxury yachts, but it is cruise ships that beg for an architect's touch. In fact, these maritime behemoths already resemble buildings—very big buildings. Granted their designs are generally banal, but it is easy to imagine them styled by high-fashion architects. This would solve another pressing problem. Every city seems to want an iconic building designed by a starchitect. Now they could lease a floating icon instead of saddling themselves with a potential permanent eyesore. One can imagine the waterfront of Dubai, or London, or Chicago, as a maritime parking lot with the latest architectural glams. After several years, when the shine begins to fade—literally as well as figuratively—the icon ships could sail off to a lesser urb,  Glasgow, or Riga, or Lagos; even an impoverished city could afford a Nouvel or a Piano for a month or two. Since the current architectural icons are largely placeless, they are perfectly suited to such a nomadic existence. At home everywhere—and nowhere.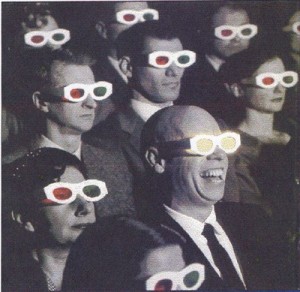 I was complaining to my friend Anthony Alofsin the other day about the current tendency to review buildings as if they were movies, that is, as if they could be digested at one sitting rather than over an extended period of time. "Reviewing the latest as the greatest fits into the mode of consumer entertainment," he responded in an email. "Like, which Netflix special do I see next? Unfortunately, it is the current moment that sells and is in demand,  not the long view." He is exactly right. The infatuation with the "current moment" explains why as-yet unbuilt projects receive so much attention. The next new thing is the all-consuming topic. Actual construction appears to be almost an extraneous step—an afterthought. My local AIA chapter awards a silver medal to an "unbuilt project of the most exemplary design quality." Apparently design quality can be recognized absent performance. As long as it looks like fun.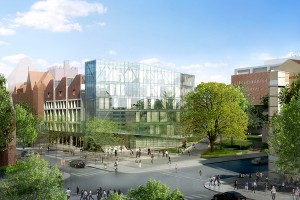 I heard a word the other day that brought me up short: contemporize. It was uttered by an architect who was describing a university building of the late 1960s that was being renovated. He was not referring to the updating of mechanical and environmental systems—that happens all the time in older buildings—he was describing changes to the architecture itself. The undistinguished Sixties building is mainly brick and concrete. In this case, contemporizing—an ugly invented word—seemed to consist of adding as much glass as possible. Glass is the materiel du jour; it is transparent, open, inviting, progressive, not like fusty old brick or dull grey concrete. Perhaps in fifty years glass, too, will be replaced—by recycled plastic or reconstituted wood, whatever is the fashion of the future. But for the moment glass sends the message "We are up to date."  The B-side of the message is "We are just like everybody else."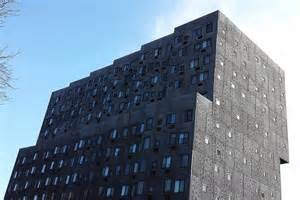 I came across a new term the other day: NOAH. It stands for "naturally occurring affordable housing" and it was coined by Howard Husock and Alex Armlovich of the Manhattan Institute. Their paper is focused on New York City, specifically Mayor Di Blasio's plan to build 80,000 new "permanently affordable" rental units over ten years. The researchers found that there are almost 50,000 NOAHs already in existence, that is, "apartments that overlap in price with the mayor's affordability targets but that are currently available and require no additional government investment." These apartments are in less expensive parts of the city, as one would expect. Husock and Armlovich's general thesis is interesting. Advocates of affordable housing usually take it for granted that any solution requires building new housing. New publicly-financed housing is more expensive than existing market housing, in part because it involves public agencies, architects, social workers, etc., in part because affordable housing standards usually exceed what the market provides, and in part simply because new housing costs more than existing housing (by the same logic, lower-income people tend to drive used cars not this year's model). Just how much more expensive was demonstrated by the Sugar Hill Development (illustrated) which was praised by New York magazine as "the kind of high-design, low-cost housing that the city needs." Built by a non-profit in Harlem, and designed (in hip, forbidding black by David Adjaye), the project reached a cost of $550,000 per unit, well above the city average. High-design, maybe, but definitely not low-cost.