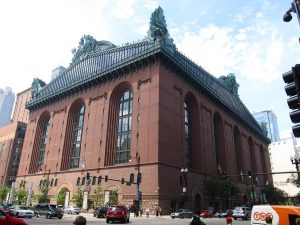 Ever since 1969, the American Institute of architects has bestowed a Twenty-Five Year Award that recognizes a "design of enduring significance." The only exception was in 1970, when no building was found to merit such recognition. And now in 2018 the same. According to the AIA, "Unfortunately, this year the jury did not find a submission that it felt achieved twenty-five years of exceptional aesthetic and cultural relevance while also representing the timelessness and positive impact the profession aspires to achieve." Really? No building in the 1983-93 window is good enough? Well, perhaps not Philip Johnson and John Burgee's AT&T Building (1984), or the Beverly Hills Civic Center (1990) by Charles Moore, but Michael Graves's Humana Building (1985) in Louisville merits an award, surely more so than Pietro Belluschi's Equitable Savings & Loan Building in Portland (which won in 1982), or I. M. Pei and Partner's Hancock Tower in Boston (which won in 2011). And what about Hammond, Beeby & Babka's Harold Washington Library Center (1991) in Chicago, or Venturi Scott Brown's Sainsbury Wing (1991) in London, considered by many, including the author, to be that firm's finest work? In 1971, the award was given to Baldwin Hills Village in LA, a planned community whose design team included Clarence Stein of Radburn fame. In the same vein, surely Seaside, which was realized largely during the 1983-93 time frame and kick-started the New Urbanism movement, deserves recognition? But Seaside's architecture is traditional in design, so is the Chicago Library,  while the Sainsbury Wing is —despite Venturi's protests—postmodern. Whatever the AIA jury thought of these two approaches to design it was petty and narrow-minded to eliminate them out of hand as seems to have been the case. That's just not good enough.
Reading a recent monograph on the work of John Simpson, I am struck again by the difference between British and American classicism. For one thing, the former is rooted in a much shorter tradition. Moreover, it is a tradition that is, in a sense, academic. Or, at least bookish. In the first instance it derived from (British) pattern books, which were the main source of information for the early colonial builders. Nineteenth-century American classicism, on the other hand, was chiefly the product of the Ecole des Beaux-Arts, where many American architects of that period were trained. Although there were many talented self-taught architects such as Stanford White, Ralph Adams Cram, Bertram Goodhue, and Horace Trumbauer, the leading figures—Richard Morris Hunt, Charles McKim, John Russell Pope, and Thomas Hastings—were EBA alumni, and brought a correct and sometimes rather dry approach to classicism. This is in contrast to nineteenth-century British classicism, which was not based in the academy but in practice. The influence of  architects such as John Nash, John Soane, and C. R. Cockerell is evident in Simpson's designs which are more self-assuredly original than those of many of his American contemporaries which can be often more concerned with correctness than with invention. It is also, interestingly, often more urban, as in this photo (below) of a new residential development along Old Church Street in London's Chelsea.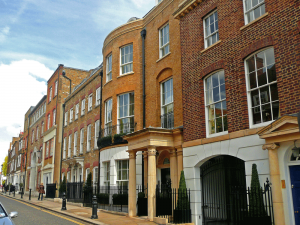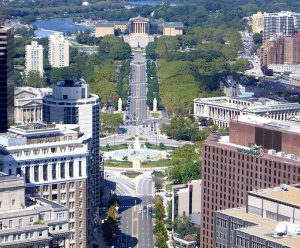 Last year was the centenary of the design of the Benjamin Franklin Parkway in Philadelphia. Designed by the Parisian landscape architect, Jacques Gréber in 1917, the avenue slashed diagonally across William Penn's grid, connecting Logan Circle to Fairmount, a hill which would be the site of the Philadelphia Museum of Art. Gréber was a notable figure. He worked with Horace Trumbauer (the architect of the future museum) on several mansions, including the Versailles-like Whitemarsh Hall, and collaborated with Paul Cret on the Rodin Museum. (Trumbauer and Cret first proposed the idea of a parkway.) Gréber, who was the chief planner of the 1937 Paris International Exposition, was also responsible for laying out scenic drives in Ottawa.

The Benjamin Franklin Parkway (originally the Fairmount Parkway) is said to have been based on the Avenue des Champs-Elysées, but that is misleading. This is a parkway on the Olmstedian model. The highlight of Gréber's Ottawa plan is a drive along the Ottawa River, not so different from Philadelphia's Kelly Drive (named after Jack Kelly, a gold medal Olympic rower and the brother of the famous actress) that wends its way beside the Schuylkill River through Fairmount Park. That the Parkway is to be read as an introduction to this scenic drive is emphasized by the gatelike Civil War Soldiers' Monument at its entrance.
Landscaped drives and parkways were a feature of an age when car ownership was on the rise, and people drove for recreation. Little did Gréber imagine that his parkway would become a commuter speedway, however. Another use that Gréber did not intend, but which has become a Philadelphia institution, is the Parkway as the setting for great public events—musical concerts, the beginning and end of the Philadelphia Marathon, a Papal mass, the NFL draft. On such occasions the traffic lanes are closed and the parkway becomes a pedestrian place. There have been recent proposals to permanently "boulevardize" the Parkway, but these plans have inevitably faltered. It would be better to concentrate on reinforcing the adjacent neighborhoods and let the Parkway be what it was intended to be—a place to experience from behind the wheel.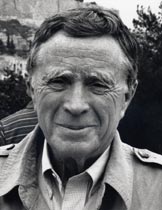 I never attended any of Vincent Scully's legendary Yale architecture classes but I did hear him speak several times in Montreal, part of the Alcan lecture series that Peter Rose organized in the 1970s. So I could understand when people spoke of his influence. Scully introduced a Celtic passion to the sometimes dry subject of architectural history and his lectures were bravura performances that brought old buildings—and their builders—to life. He was an activist historian in the mold of Siegfried Giedion, and he influenced the contemporary scene, being an early advocate of the work of Louis Kahn and Robert Venturi. I wonder if his obituaries will recall that he made a major volte-face late in life, becoming a critic of mid-century modernism's negative impact on the city (especially his city, New Haven) and a proponent of New Urbanism. Humanism was at the core of his architectural beliefs.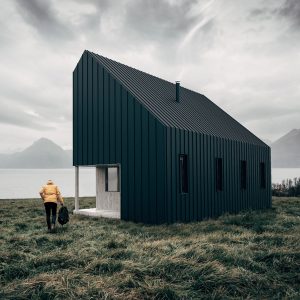 What's with all the black houses that have appeared in recent years? The all-black exteriors—blackened timber, black stain, or simple black paint—have become ubiquitous. Rural or urban, even old buildings are getting black-faced. Traditionally, architects avoided black facades, which not only look lugubrious but virtually eliminate shadows, which are—or were—one of the architect's most effective tools. Modern houses tend not to have moldings and relief work, of course, so there are no shadows. And black does seem to be the modernist architect's favorite fashion shade (Richard Rogers excepted). But fundamentally I think this phenomenon is a symptom of laziness—it's a cheap way of standing out. Slap on a coat of Benjamin Moore's Black Beauty and even the most pedestrian design looks striking.