Petula Dvorzak of the Washington Post called me recently and asked me what I thought of a memorial to the victims of school shootings. I'm not keen on the current fashion for memorializing victims, which has became an almost knee-jerk response to any calamity these days. In my own city, Philadelphia, only a few blocks from where I live, a memorial is under construction. The 125-foot by 25-foot memorial park will commemorate the six people who were killed on June 5, 2013, when a slipshod demolition resulted in a building collapsing on top of a Salvation Army thrift store. A tragedy for those concerned, no doubt, but does it really warrant a memorial? I am sympathetic to the temporary memorials that relatives and friends of victims place after shootings and traffic accidents. These fulfill an important immediate function, especially for those mourning, and their temporariness is part of their character. But formal memorials are forever. We remember soldiers' sacrifice in war memorials, or those who give their lives in the line of duty. I'm not sure that the innocent victims of muggings—or school shootings—are in the same category. Surely a simple plaque would be more appropriarte?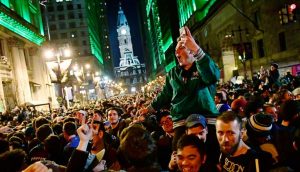 The New Yorker waxes emotional—and rather sappy—about the Philadelphia Eagles parade. The article doesn't describe the suburban Golden Horde that descended on the center of the city. Hardly two to three million as was cheerfully forecast, but still a very large crowd. Or, rather, a mob. Somehow being part of a large group releases inhibitions. We won, we can do what we like! Throw our bottles and beer cans where we like, go where we like, piss where we like. And for some reason, climb up whatever we like. Slate monitored a police scanner: "On the southeast corner the pole is about to collapse. There are about 40 of them on there . . . We have a light pole down. On the east side of Macy's corner. We have live wires . . . A man jumped off the light pole and landed on his head." Late in the afternoon I saw the crowd returning to catch trains at Thirtieth Street Station. Some were carrying street signs and Stop signs, booty to decorate a basement rec room. The next day the city was almost back to normal—the clean-up will take a bit longer.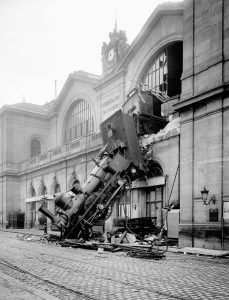 "I cannot think of anything more ludicrous than the idea that modernism somehow got off the track and was a monstrous mistake that should simply be canceled out," wrote Ada Louis Huxtable in The Unreal America. "Revolutions in life and technology can never be reversed." The last statement is demonstrably untrue—just ask the Russians, the East Europeans, the Cambodians, and the Chinese. Turning back the modernist clock admittedly will be difficult, but the idea that modernism was a monstrous mistake seems to me anything but risible. The suggestion that an industrial age required a different sort of architecture was hardly unreasonable. As Ralph Adams Cram wrote in 1936, it would have been as foolish to look to history for models for new building types such as garages, cinemas, and skyscrapers, as it would be to design "a Greek railroad train, a Byzantine motor car, a Gothic battleship or a Renaissance airplane." But Cram insisted that it was equally irrational to radically re-imagine buildings such as homes, college dorms, or places of worship, whose function was unaffected by industrialization. His argument fell on deaf ears. Revolutions require simple slogans and wholesale change, and so we got houses that resembled machines, and college quadrangles that resembled factories. The requirement that modern buildings do away with moldings, decoration, and ornament—the whole apparatus of what for centuries had constituted architecture—was most definitely a mistake. And it was monstrous, for it left architecture mute, without a vocabulary. The "language" of modernism resembled Esperanto, and, as Esperanto would have done had it ever been adopted, an invented language cuts its users off from the past. Modern writers in English use the language of Shakespeare, Austen, and Trollope to express their ideas, which inestimably enriches their work. Modern architects make-do with a cobbled-together shorthand that has limited range of expression except, at best, to demonstrate how a thing was made. The saddest aspect of the modernist revolution is that it was unnecessary. As architects such as Raymond Hood, Paul Cret, and Bertram Goodhue showed in the 1920s, it was perfectly possible to design buildings that were modern and "of their time" without throwing out the baby with the bathwater.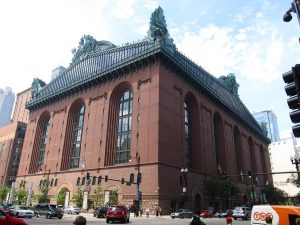 Ever since 1969, the American Institute of architects has bestowed a Twenty-Five Year Award that recognizes a "design of enduring significance." The only exception was in 1970, when no building was found to merit such recognition. And now in 2018 the same. According to the AIA, "Unfortunately, this year the jury did not find a submission that it felt achieved twenty-five years of exceptional aesthetic and cultural relevance while also representing the timelessness and positive impact the profession aspires to achieve." Really? No building in the 1983-93 window is good enough? Well, perhaps not Philip Johnson and John Burgee's AT&T Building (1984), or the Beverly Hills Civic Center (1990) by Charles Moore, but Michael Graves's Humana Building (1985) in Louisville merits an award, surely more so than Pietro Belluschi's Equitable Savings & Loan Building in Portland (which won in 1982), or I. M. Pei and Partner's Hancock Tower in Boston (which won in 2011). And what about Hammond, Beeby & Babka's Harold Washington Library Center (1991) in Chicago, or Venturi Scott Brown's Sainsbury Wing (1991) in London, considered by many, including the author, to be that firm's finest work? In 1971, the award was given to Baldwin Hills Village in LA, a planned community whose design team included Clarence Stein of Radburn fame. In the same vein, surely Seaside, which was realized largely during the 1983-93 time frame and kick-started the New Urbanism movement, deserves recognition? But Seaside's architecture is traditional in design, so is the Chicago Library,  while the Sainsbury Wing is —despite Venturi's protests—postmodern. Whatever the AIA jury thought of these two approaches to design it was petty and narrow-minded to eliminate them out of hand as seems to have been the case. That's just not good enough.
Reading a recent monograph on the work of John Simpson, I am struck again by the difference between British and American classicism. For one thing, the former is rooted in a much shorter tradition. Moreover, it is a tradition that is, in a sense, academic. Or, at least bookish. In the first instance it derived from (British) pattern books, which were the main source of information for the early colonial builders. Nineteenth-century American classicism, on the other hand, was chiefly the product of the Ecole des Beaux-Arts, where many American architects of that period were trained. Although there were many talented self-taught architects such as Stanford White, Ralph Adams Cram, Bertram Goodhue, and Horace Trumbauer, the leading figures—Richard Morris Hunt, Charles McKim, John Russell Pope, and Thomas Hastings—were EBA alumni, and brought a correct and sometimes rather dry approach to classicism. This is in contrast to nineteenth-century British classicism, which was not based in the academy but in practice. The influence of  architects such as John Nash, John Soane, and C. R. Cockerell is evident in Simpson's designs which are more self-assuredly original than those of many of his American contemporaries which can be often more concerned with correctness than with invention. It is also, interestingly, often more urban, as in this photo (below) of a new residential development along Old Church Street in London's Chelsea.