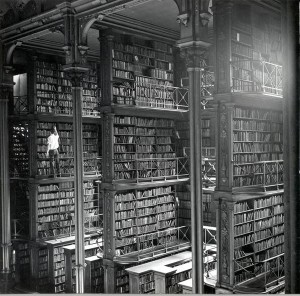 MessyNessyChic, a blog about libraries and books, recently featured the old Cincinnati Main Library, built in 1874 and demolished in 1955, less than a century later. The period photographs show a building of subtlety and sophistication. The four-story facade on downtown's Vine Street is pragmatically built up to the sidewalk (like Chicago's Harold T. Washington Library), and gives nothing away about the extraordinary space within. It is a "room full of books" what better image for a library than that? The architect was James W. McLaughlin (1834-1923). Born in the city, he apprenticed with a prominent local architect, James Keys Wilson (1828-1894). In addition to the library, McLaughlin also designed the city's art museum and zoo. The most prolific Cincinnati architect of that period was probably the British-born Samuel Hannaford (1835-1911), who designed the city hall and the Music Hall. By the second decade of the twentieth century, there seems to have been a sense that outside architectural expertise was required, especially for the new building type: the skyscraper. Cass Gilbert was brought in to build what was then the tallest office building outside New York City, Delano & Aldrich designed a soaring moderne slab that anticipated Rockefeller Center, and Paul Cret was consulting architect on the beautiful Art Deco railroad terminal. Since then, this trend has continued as many civic buildings have been designed by imported stars: Michael Graves, Cesar Pelli, and Zaha Hadid. This sometimes makes for good buildings, but one can still look back fondly to a time when local architects produced splendid designs like the old Main Library.
I spent a weekend in Seaside, the emblematic small beach town that launched a thousand traditional neighborhood developments. Seaside is now more than thirty years old and looks it—in a good way. It is not merely a question of mature landscaping and weathered materials, but also of the indefinable small adjustments that take place when a place grows into itself. Unexpected things have happened, of course, not least a real estate bonanza. At Seaside, modest wood-frame houses on small lots regularly go for well over a million dollars. A beachside house designed by the late Aldo Rossi—nothing spectacular—is on the market for $11 million. And the town center is a runaway commercial success; it was crowded with people on a Sunday in November, which is not the high season in this part of Florida.
The architectural influence of Seaside is visible up and down Route 30A, the coastal highway, in houses, roadside eateries, even strip malls. There are also second generation Seaside-type resort developments such as WaterColor, Rosemary Beach and Alys Beach. They make an interesting comparison. WaterColor is a commercialized, scaled-up, mainstream version of Seaside. Both WaterColor and Seaside are riffs on a homegrown Southern vernacular: shady porches, shuttered windows, tin roofs. Think Thornton Wilder, Norman Rockwell, and Frank Capra. Rosemary Beach and Alys Beach, on the other hand, are spicier mixtures. Rosemary Beach is part Caribbean and—weirdly—part Bavarian, with rustic woodwork and steep roofs. Alys Beach is a combination Mediterranean village, Moorish coastal town, with a dash of Casablanca. Stucco walls, patterned tiles, wooden screens, hidden courtyards with trickling fountains. What started in Seaside as an earnest search for roots has turned into a fusion of exotic images that have little to do with a "sense of place," or, at least with a sense of this actual place. That is unexpected, too.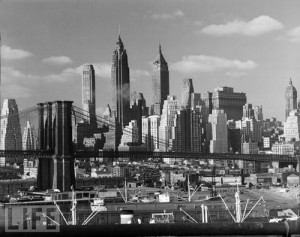 There was a Q and A after my Landmark West! lecture on New York's Upper West Side. One person wanted to know what I thought about the exceptionally tall residential towers that are radically changing Midtown's skyline. One57, Christian de Portzamparc's skinny 75-story condominium, under construction on West 57th Street is an example. I've written about this new trend. The current phenomenon is a function of globalization and real estate, and has little to do with  architecture. But, then, that was always the case with Manhattan. As late as the 1940s, the high-rise real estate development projects of numerous entrepreneurs produced a memorable skyline: animated, varied, and quite beautiful. But that skyline was a happy accident; there was no master plan, no rules, no grand design. This time around, I'm less sure of the outcome.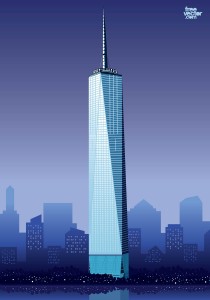 There are many problems with 1, World Center, its brutal and uninspiring silhouette, the rather bland curtain wall (that of 7, World Trade Center, by the same architects (SOM), is much better), its weak-kneed mast. But what scuttles it as a skyscraper is the chamfered geometry of its form. It leads the eye up and down at the same time. Towers should soar; in this one, the upward thrust of one facade is cancelled out by the downward thrust of the next. As a result it looks like an object, rather than a spire.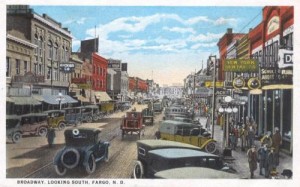 As this postcard shows, downtown Fargo, North Dakota in 1924 was a busy place. Broadway is not as crowded today, but it's much more lively than when I was here last, more than 20 years ago. The North Dakota energy boom is taking place a two-and-a-half hour drive away, but in some ineffable way the prosperity has trickled down. I am told that real estate values are way up, and apartment builders can't keep up with demand. The architecture school of North Dakota State University is celebrating its centennial and I am giving a keynote talk tonight at the Fargo Theater. In 1940, Duke Ellington's orchestra played a gig in Fargo, and the resultant  legendary recording is considered one of Duke's best. I hope I can do even half as well.