"Tradition does not mean guarding the ashes, but fanning the embers," observed Benjamin Franklin; similar quotations are attributed to Thomas More and Gustav Mahler. Guarding the ashes puts old fogies in their place, and fanning the embers nicely catches the sense of an active involvement with the past. One looks in vain for such involvement in much of today's architecture. Too many  architects have embraced novelty as the sine qua non of new work, perhaps under the mis-impression that they are designing products rather than buildings. But while the life of an iPhone is too short for the novelty to ever wear off, a few years at most, the life of buildings is not measured in years but in centuries. A building that merely offers the new-new thing, quickly become old-fashioned, or worse, out of fashion. Buildings that fan the embers of the past, by contrast, incorporate rich layers of meaning. During a recent visit to Louis Kahn's Kimbell Art Museum, the interior with its vaulted ceilings reminded me both of older art galleries and of ancient architecture. Because Kahn ignored the fashions of his day, his building continues to look fresh; because he observed the old conventions—symmetry, axes, a structural grid, top-light—his building suggests several time dimensions: today, 1972 when it was built, and a long, long time ago.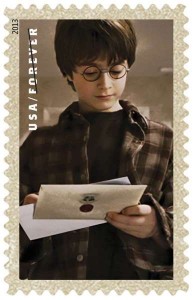 On November 19 the U.S. Post Office issued a series of 20 stamps honoring . . . Harry Potter. There has been a bit of a kerfuffle, since the commission that normally reviews the subjects of new stamps was by-passed in the process, and also because of the non-American subject. I have no objection to honoring a foreigner, after all, Vietnam has recently issued a 10,500 dong (roughly 50 cents) stamp honoring Ernest Hemingway, so why not commemorate a British subject. But instead of celebrating the author J. K. Rowling, the U.S. stamps honor her fictional characters—including Hedwig the Owl—moreover, the images are not illustrations that suggest reading or books, but stills from the Warner Bros. movie. The commercial nature of this misguided venture is underlined by the place where the stamps are being issued: Orlando, home of a Harry Potter theme park. Apparently, the cash-strapped Post Office has been keeping an eye on its counterpart in New Zealand, which last year issued a set of six stamps commemorating characters from the movie version of The Hobbit. The Vietnamese Hemingway stamp looks downright classy by comparison.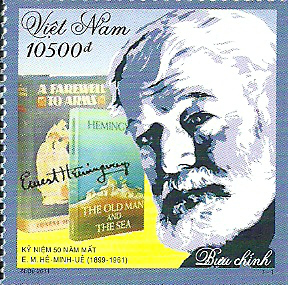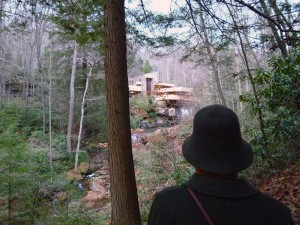 Random thoughts after a recent visit. Isn't it strange that a millionaire's plaything, a weekend house that cost a whopping $166,000 in 1937 ($2.6 million today), in which the servants outnumbered the occupants, and in which meals were served by a butler, should nevertheless have become the most popularly admired modern house in America. There are a number if explanations. I recently visited a huge (40,000 square feet) house designed by Paul Rudolph; it felt like being in a hotel lobby. Philip Johnson's Glass House is much smaller, but most people couldn't imagine living in it. Richard Meier's Rachofsky House in Dallas is a beautiful purist composition, but it resembles a museum—which is its present function. Not so Fallingwater. The enclosed space is not large (about 2,900 square feet, plus 2,400 square feet of balconies), and although the living room is sprawling, the bedrooms are very small. And compared to a modern McMansion, it's all downright Spartan; no marble bathrooms, no walk-in closets, no vast kitchen, no media room. The materials are unprepossessing, and the details are either simple or absent—there is none of that obsessive precision that makes modern houses feel like luxury cars. The luxury at Fallingwater is all in the cantilevered terraces, which feel like open-air tree houses. Like most visitors, I went down the path to experience the View. It is all one could ask for. But it is a mark of this curiously demure folly, that the iconic view is not seen as one approaches, or from any of the vantage points around the house, where the design is experienced in bits and pieces. It is as if Wright were saying, "Oh, by the way, you should see it from down there."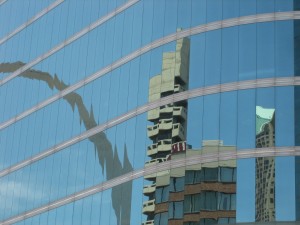 I like glass as much as the next guy, but enough is enough. Just as the sixties architects went crazy about exposed concrete, architects today can't get enough of glass. It's used in the name of transparency, reflectivity, technology, ecology. If you're a minimalist you like glass because it's not there; if you're a techie, you can accessorize it with all sorts of neat details; if you're a not-very-good architect, glass will absolve you of having to design the facade. And who thinks up those glass details? Glass walls overlapping glass walls; facades that cantilever into this air; glass butting glass. Structural glass has its place, but it's become a cliché. Gehry did a witty riff on fritted glass in the IAC Building on Manhattans Lower West Side, but most glass buildings are one-liners. Nor are glass buildings benign, as we have learnt in Dallas and London. I wonder how this glass architecture will fare in the future? Exposed concrete did not do so well, as so many unloved Brutalist buildings demonstrate. I'm not sure that glass buildings are equally disliked, but neither are they cherished. It's hard to cosy up to transparency.
A group of us had dinner in a Chicago garage last night surrounded by Richard H. Driehaus's car collection. The collection of about 50 cars, I would guess, includes classics such as a 1948 Tucker Torpedo, one of only 51 built, and a 1954 Kaiser Darrin, a 2-seater with weird pocket doors and a fiberglas body. There were a number of concept and customized cars. A 1941 Lincoln Continental V-12 rebuilt by Raymond Loewy, includes a removable plexiglas top and porthole windows. One of my favorites was a 1934 Ford Brewster Town Car, which resembled a high-tech insect. There was much talk among us about these old cars as works or art, and artistry was much in evidence in the sculptural shapes. But what struck me as setting these cars apart from today's somewhat insipid models, is character. The last car I owned that had real character was  Citroen 2CV. I have owned many safer, more comfortable, more dependable—and God-knows faster—cars since. But none that had more personality.