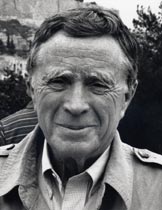 I never attended any of Vincent Scully's legendary Yale architecture classes but I did hear him speak several times in Montreal, part of the Alcan lecture series that Peter Rose organized in the 1970s. So I could understand when people spoke of his influence. Scully introduced a Celtic passion to the sometimes dry subject of architectural history and his lectures were bravura performances that brought old buildings—and their builders—to life. He was an activist historian in the mold of Siegfried Giedion, and he influenced the contemporary scene, being an early advocate of the work of Louis Kahn and Robert Venturi. I wonder if his obituaries will recall that he made a major volte-face late in life, becoming a critic of mid-century modernism's negative impact on the city (especially his city, New Haven) and a proponent of New Urbanism. Humanism was at the core of his architectural beliefs.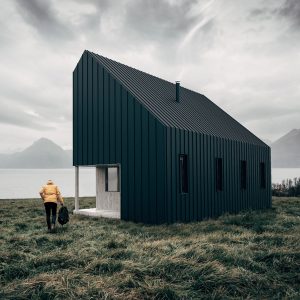 What's with all the black houses that have appeared in recent years? The all-black exteriors—blackened timber, black stain, or simple black paint—have become ubiquitous. Rural or urban, even old buildings are getting black-faced. Traditionally, architects avoided black facades, which not only look lugubrious but virtually eliminate shadows, which are—or were—one of the architect's most effective tools. Modern houses tend not to have moldings and relief work, of course, so there are no shadows. And black does seem to be the modernist architect's favorite fashion shade (Richard Rogers excepted). But fundamentally I think this phenomenon is a symptom of laziness—it's a cheap way of standing out. Slap on a coat of Benjamin Moore's Black Beauty and even the most pedestrian design looks striking.
In a recent article in Common\Edge, Duo Dickinson compares Eero Saarinen's Morse and Stiles Colleges and Robert A. M. Stern's Franklin and Murray Colleges and calls them "two well-built, rigorously planned dormitories." Rigorously planned? I have read that Morse and Stiles have the least amount of fenestration per wall area of any of the Yale colleges (i.e. the rooms are dark), which may account for their unpopularity with students. And can a building that requires a $100 million dollar renovation after only 50 years really be "well-built"? I couldn't find the original construction cost of Morse and Stiles, but another Saarinen college dorm, Hill College House at Penn, cost $4 million to build in 1958 ($33 million in current dollars). The building was just renovated for no less than $80.5 million. This covered not only improvements such as air-conditioning, but repairs to crumbling brickwork—after only 58 years! In a recent filmed interview, Kevin Roche, who was Saarinen's chief design assistant at the time of Hill College House and Morse and Stiles, said "You're lunging out into the future and so you do things that, in retrospect, may or may not work. That's the nature of any experimental architecture." It is, of course, the nature of experiments that they occasionally fail. Let us hope that the Stern Yale colleges fare better.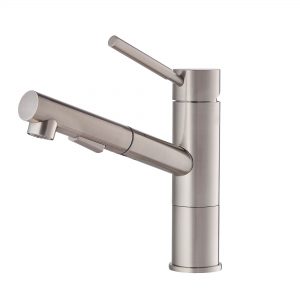 We recently replaced a kitchen faucet. The product is a typical example of globalization. The ceramic cartridge—the soul of a faucet—is made in Hungary, the aerator comes from Italy, and the rest of the faucet was manufactured and assembled in China. The company that markets the faucet, despite its name—Kräus—is not German but American, based on Long Island. I believe that the design is American, too, although the inspiration is German. It reminds me of the door and window handles that Walter Gropius designed in 1923. By the way, it's an excellent faucet.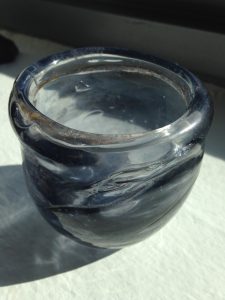 Aaron Betsky writes about the latest fashion among architecture students—Triple O, or Object-Oriented Ontology. Betsky is generally enthusiastic about intellectual fads, but even he seems to be uneasy about exactly what Triple O means in the context of architecture. That aside, this raises an important pedagogic issue, that is, Learning to Walk Before You Run. Many years ago I spent a month in Frauenau, Bavaria, with the great glassblower Erwin Eisch. For reasons that now elude me, I wanted to learn his craft, and he generously allowed me to work in his studio (which was next to the family-owned glassworks). The nature of molten glass is such that you must work quickly to shape it. I immediately got carried away by the endless organic possibilities of the material. After a while Erwin suggested, "Why don't you just make a glass." It took me the rest of the day—and many failed attempts—to produce a single, rather misshapen bowl-shaped object. I remember that event when I look at student work today, vainglorious attempts to invent a new architecture by neophytes who have never built anything. They should just try making a glass—or maybe a shack